Ukraine court ruling propels Yushchenko to power
(Agencies)
Updated: 2005-01-20 13:19
Ukraine's Supreme Court on Thursday upheld Western-leaning Viktor Yushchenko's victory in a presidential poll re-run, clearing the way for his inauguration and ending weeks of turmoil in the former Soviet republic.
Court Chairman Anatoly Yarema, issuing the ruling just before 3 a.m. (8 p.m. EST Wednesday) after days of deliberation, said the judges had rejected an appeal by Viktor Yanukovich, Yushchenko's rival in the Dec. 26 election, that the ballot was unfair.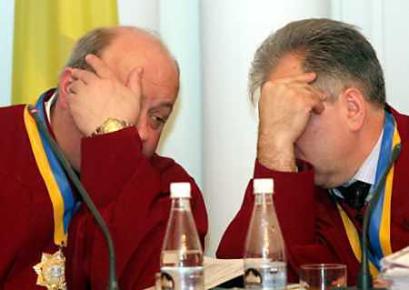 Ukraine's Supreme Court Chairman Anatoly Yarema (L) listens to a judge during a hearing at the court in Kiev, January 19, 2005. Ukraine's Supreme Court upheld Yushchenko's victory in last month's presidential election re-run, clearing the way for his inauguration. [Reuters]

"This decision is final and not subject to appeal," Yarema said after Yanukovich failed to win his case that the poll was distorted by weeks of street protests by Yushchenko supporters against mass cheating in the first ballot in November.

Yushchenko, who wants to move Ukraine closer to Europe while maintaining traditional links with neighboring Russia, had to fight an earlier court battle to get the November vote -- which Yanukovich won -- annulled.

He beat Yanukovich, a former prime minister initially backed by Moscow, by eight percentage points in the Dec. 26 election but only after the political standoff in the country of nearly 50 million had briefly stoked old East-West tensions.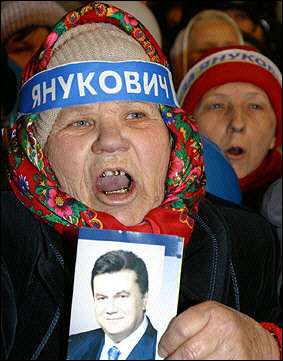 Supporters of former Ukrainian Prime Minister Viktor Yanukovich shout during a rally in downtown Donetsk. Ukraine's supreme court justices began their deliberations over the final appeal of Viktor Yushchenko's election as president. [AFP]

Yushchenko, another former prime minister and also a one-time central banker, intends to turn his inauguration ceremony into a national celebration to be attended by leaders of the G8 leading industrialized countries, including Russia.

Parliament is required by law to set the inauguration date but it is expected to be in the next few days.

Yushchenko has already decided to pay a visit during his first days in office to the Council of Europe -- a major European human rights body.

He also plans to attend ceremonies in Poland on the 60th anniversary of the Soviet Army's liberation of the Auschwitz death camp, alongside Russian President Vladimir Putin.

The European Union has said it will work with Yushchenko to reform Ukraine's economy and improve human rights with a view to upgrading ties and ultimately preparing the country for membership. Ukraine borders the 25-nation bloc.

The country has a four-year track record of booming, export-driven economic growth and a large trade surplus. This month it announced record gross domestic product growth last year of 12 percent, Europe's best.

But in the past private investors have been worried about bureaucracy, corruption and lack of transparency.

During a bruising election campaign, Yushchenko pledged to improve what he called strategic relations with Russia -- which ran Ukraine's affairs for 300 years prior to independence in 1991 from Soviet rule.

Ukraine's Soviet-era industry depends heavily on imports of gas and oil from Russia itself or through Russian pipes.




Today's Top News
Top World News

Iraqi clerics help seek Chinese hostages' freedom




Airlines sign ground service pact




Japan touts high-speed rail caliber




Asian tsunami death toll tops 226,000




Four more years of Bush agitates world




Nation's net surfers top 94 million