Sharon revives ties with Abbas, officials meet
(Agencies)
Updated: 2005-01-20 08:54
Israeli Prime Minister Ariel Sharon lifted a ban on contacts with the Palestinians after new leader Mahmoud Abbas ordered Gaza security forces to halt attacks on Israelis, and officials from both sides met within hours.
Sharon's decision could revive hope for steps toward Middle East peacemaking stirred by Abbas's Jan. 9 election on a platform of ending bloodshed, but dimmed by persistent militant violence in defiance of his calls for a cease-fire.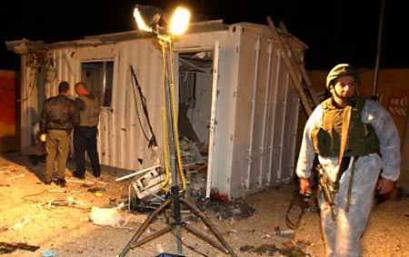 Israeli soldiers inspect the site where a Palestinian suicide bomber blew himself up at an Israeli army military base in Gush Katif January 18, 2005. Palestinian security forces will fan out near Gaza's borders with Israel within days to enforce President Mahmoud Abbas's order to halt militant attacks on Israelis, their top commander said on January 19. [Reuters]

Sharon opted to restore contacts with the Palestinians after his inner cabinet "received information from intelligence sources that Hamas (militants) were starting to cooperate with the Palestinian Authority," a political source said.

Abbas delivered a blunt message to his security apparatus.

"Abbas told security chiefs he will accept no excuses for lack of action. He wants serious effort, follow-up work, and no tricks and games since this is a new era," a Palestinian official said, adding:

"Those who fail in doing their jobs will be punished."

Sharon's office said initial contacts would involve only security officials and there would be none with Abbas on diplomatic issues until after "Palestinians take real steps to stop terrorist operations and rocket and mortar fire."

REINING IN VIOLENCE

Cleared by the cabinet, Israeli top brass met Palestinian counterparts on Wednesday night to discuss the Gaza deployment and halting the violence.

Israel plans to reopen Gaza's Rafah border crossing with Egypt on Friday to allow thousands of stranded Palestinians to return home in what Israel described as a "goodwill gesture."

The crossing was closed on Dec. 12 after Palestinian militants killed four Israeli soldiers at a nearby outpost.

The Palestinian security commander in Gaza, Major-General Abdel-Razek al-Majaydeh, said security units would fan out near the territory's borders within two days to enforce Abbas's plan.

"We want to make sure the Israelis know where our men are, so they don't get shot by accident," a Palestinian security official said, referring to the evening security talks.

Palestinian militant chiefs in Gaza said earlier on Wednesday they were discussing with Abbas his demand for a cease-fire but sporadic violence continued on the ground.

Israeli troops shot dead two militants near Gaza's fenced border, a rocket wounded two soldiers near Erez crossing and two mortar bombs crashed into a Jewish settlement, injuring no one.

Aides to Abbas said he had discussed with militant leaders the need for restraint to help ensure that Israel pulls Jewish settlers out of Gaza this year as planned -- a step it says it will not take "under fire."

But Palestinian Foreign Minister Nabil Shaath said a truce could not transpire unless Israel reciprocated by stopping raids to kill or capture wanted militants.




Today's Top News
Top World News

Iraqi clerics help seek Chinese hostages' freedom




Asian tsunami death toll tops 226,000




Nation's net surfers top 94 million




Airlines sign ground service pact




HBV victims face improved job chances




Japan touts high-speed rail caliber