Some 94 million Chinese on the mainland became Internet users by the end of last year, a new survey shows.

The number represents year-on-year growth of 18.2 per cent, Director of China Internet Network Information Centre (CNNIC) Wang Enhai said Wednesday in Beijing.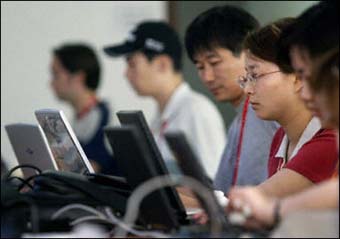 People surf the Internet in Jinan, eastern China's Shandong province. A new survey shows 94 million Chinese on the mainland became Internet users by the end of last year. [AFP/file]


"We have been in fast lane in terms of number of Netizens and the rapid momentum will continue subsequent years," said Wang, when unveiling a report on the survey.

But other surveys have found the number of Internet users in Hong Kong and Macao have not changed dramatically in the past 5 years with 51 per cent and 46 per cent of local residents already online in the two special administrative regions at the end of last year.

Jonathan Zhu, a researcher with Hong Kong University, said the number of Internet users in Hong Kong "will not achieve a breakthrough in the near future" because the rate is already the second highest in the Asia-Pacific region. The highest rate is in South Korea.

He also said Hong Kong residents have been allowed increasingly easy access to the Internet since 2001.

Since then, Hong Kong and Macao have joined the biannual survey, which the mainland started in 1997.

On the mainland, female represent 39.4 per cent of netizens, while males are at 60.6 per cent of the total. In Hong Kong and Macao, the totals are split in half.

More than half of Internet users are below 25 on the mainland, while the rate of users below 25 in Hong Kong is 39 per cent and 51 per cent in Macao.

Among users in the mainland, 32 per cent are students, 12 per cent of are professionals and 9 per cent are from the business and service sectors.

Nearly 67.9 per cent of Netizens say they visit the web mainly at home. About 40 per cent surf in offices, Internet bars and schools.

E-mail services, reading news and searching for information are top objectives of Internet users. Nearly nine out of 10 users said e-mail service is the most important function of the Internet.

About 65 per cent of them believed that obtaining news is the second most important convenience offered.

The survey also found that more and more users rely on web to gain knowledge. About 6.3 per cent of those surveyed responded that they use the Internet as an education tool. The survey conducted by CNNIC last July found that only 5.8 per cent of them have received education in on-line uses.

However, the number of users using cyberbank services did not rise much because of security concerns in cyberspace. Only 5 per cent of respondents said they use cyberbank services in their daily lives.

But Cyberbank Section Manager Wang Gang of the Industrial and Commercial Bank of China believes the coming 10 years will become a "golden period" of cyberbank development in the mainland, with E-commerce increasingly becoming thriving.