Chow Yun-fat's new pirate style revealed
(Shenzhen Daily)
Updated: 2005-01-19 08:54
Hong Kong action hero Chow Yun-fat has been hiding from the media for some time in an attempt to keep his image for his role in the upcoming Pirates of the Caribbean sequel a secret.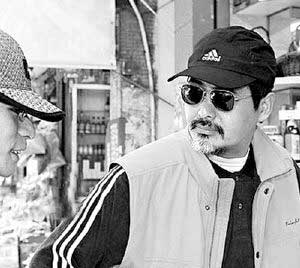 Hong Kong movie star Chow Yun-fat raises mustache preparing for his new role in the the next two sequels of the box office smash Pirates of the Caribbean. [sohu]


However, the attempt proved to be in vain as the Hong Kong media caught him yesterday, sporting a thick mustache and a goatee.

According to Chinese newspapers, Chow is preparing for the next two sequels of the box office smash Pirates of the Caribbean, which he is set to star in next month.

To keep his image in the films secret, as requested by the contract, Chow reportedly shunned a photo exhibition in which his works were displayed and declined invitations to show up at fund-raising performances for tsunami victims.

The actor is reported to appear with silver hair and grey beard and will play the famous 15th century Chinese pirate Cheung Po-tsai for the second and third installments of the film series.

In the films, Chow will join returning cast members Johnny Depp, Keira Knightley and Orlando Bloom.

Producer Jerry Bruckheimer is pushing to have both sequels filmed back-to-back. The savvy filmmaker says, "We hope that we can do it as well as Lord of the Rings did it."

The first Pirates of the Caribbean was a massive success, taking in US$720 million worldwide in 2003.




| | |
| --- | --- |
| | |
| Pepsi Music Chart Awards kicks off | |

| | |
| --- | --- |
| | |
| Chinese women and their contraceptive choices | |

| | |
| --- | --- |
| | |
| Virgin eyes gyms, casino, double beds on A380 jet | |
Today's Top News
Top Life News

Rice: US seeks candid, constructive ties with China




Eight Chinese nationals kidnapped in Iraq




Explorers conquer 'inaccessible pole'




Airlines give Taiwan flight details




US, EU must manage China differences: Straw




Regulator mulls steps to aid stock market