Cell-phone cameras forbidden at Sydney beaches
(Agencies)
Updated: 2005-01-18 16:03
There's no law against photographing the beauty of an Australian beach. But Sydney authorities have drawn a line in the sand where it comes to people photographing near-naked beauties who frequent those beaches with cell-phone cameras.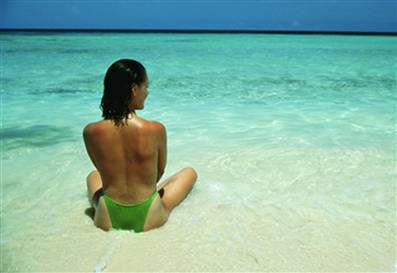 First-rate beaches where bikini tops are optional [Forbes.com]


After a man was fined for secretly taking pictures with his cell phone of a woman sunbathing topless, authorities are considering new laws to restrict such photography due to privacy concerns about the new phone technology.

Peter MacKenzie, 25, of Sydney was fined 500 Australian dollars (US$380; euro290) last month after pleading guilty to offensive behavior in taking the pictures at the city's Coogee Beach.

Police said another man, who has not been named, will face court next month after allegedly being caught last week at the same beach with 75 images of topless women in his phone.

Law expert Noric Dilanchian said the plan by the local Waverley Council to ban cameras from parts of Sydney's famed Bondi Beach seemed almost impossible to enforce.

"We all take cameras to the beach, phone or otherwise," Dilanchian said. "It would be an impracticable law."

He noted that a few decades ago, women going topless on a Sydney beach would have been arrested for offensive behavior.

These days, they can do so with legal protection from being filmed in a "state of undress" in "circumstances where a reasonable person would reasonably expect to be afforded privacy."

As such, the line was already clear in New South Wales state law on acceptable behavior in taking photographs at the beach, he said.

Others also saw the proposed ban was an overreaction. "This is an internationally famous landmark and people, particularly tourists, come here from all over the world and take photographs on the beach," said Cameron Murphy, president of the State Council of Civil Liberties. "People should be entitled to take photographs on a public beach."

Waverley Deputy Mayor George Newhouse said the proposed camera ban was also aimed at protecting children from perverts.




| | |
| --- | --- |
| | |
| Guo Jingjing trapped in media | |

| | |
| --- | --- |
| | |
| Amateur fashion show in Chongqing | |

| | |
| --- | --- |
| | |
| Love also a personal matter for stars | |
Today's Top News
Top Life News

PetroChina reports record oil production last year




Inquiry says Taiwan's Chen faked shooting




Taiwanese applaud charter flight pact




32 Chinese stowaways found in LA container




Britain, China unite in hi-tech research




Plan intends to make life better for Beijingers