Japanese emperor's only daughter to wed
(Agencies)
Updated: 2004-12-31 09:17
Japan ended a year of disasters on a happy note with the royal family announcing that the emperor's only daughter Princess Sayako will marry, a piece of good news delayed twice by tragedy.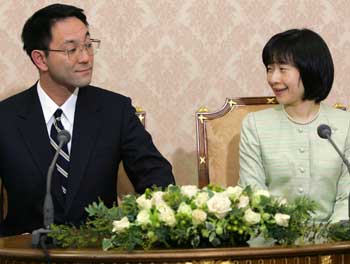 Yoshiki Kuroda (L), 39, and Japan's Princess Sayako, 35, look at each other during a press conference regarding their engagement at the Imperial Household Agency in Tokyo December 30, 2004. Princess Sayako, the only daughter of Japan's emperor and empress, has become engaged to Kuroda, a commoner and will marry late next year, the nation's top courtier said on Thursday. [Reuters]

Sayako, 35, will marry Yoshiki Kuroda, 39, a commoner who is an urban planner for the Tokyo metropolitan government, with the wedding expected sometime in late 2005.

Japan had eagerly anticipated the wedding of Sayako, who had earlier said she would think about marriage "in my own way at my own speed" amid a national trend of settling down late.

"I was drawn to his sincerity and that he has his own firm thoughts about things," Sayako said of her fiance at a press conference with him.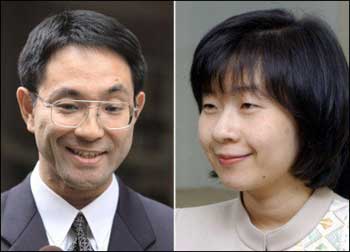 Japanese Princess Sayako (R) and Yoshiki Kuroda (L). Japan put on hold the long-awaited announcement that Princess Sayako would become the last of the emperor's children to marry after the oldest royal, Princess Kikuko, died at age 92. [AFP/file]

"Although we have few common interests and hobbies, I feel at ease with him, knowing that we share the same values and share the same sense of what is important," said the princess, sporting a pastel green and pink suit and a pearl necklace.

Prime Minister Junichiro Koizumi will head an eight-member government panel that will tap into state funds for the wedding, including a dowry payment for Sayako, who by custom will give up royal status upon marrying the commoner.

News of Sayako's engagement had been in the media since mid-November but the palace twice delayed announcing it -- first when an earthquake killed 40 people in central Japan and then when 92-year-old Princess Kikuko died hours before a press conference on the engagement was to be held on December 18.

On Thursday, the press conference went ahead but again coincided with tragedy, with the princess offering condolences for victims of the massive Indian Ocean tsunami and of the October earthquake.

Sayako, an avid bird watcher who works at an institute for ornithology, said on her 35th birthday in April that she found it "natural" for modern women to marry late and have few children.

Sayako and Kuroda, who have known each other since they were children, said they began to consider each other as potential partners when they met in January 2003 through Prince Akishino, the princess' older brother.

"When I met her after not seeing her awhile, I noticed her thoughtfulness and consideration for others," said Kuroda, wearing a dark navy blue suit with a striped tie.

"As I spent more time with her, I came to feel great peace of mind. After meeting her several times, I came to think about marriage," Kuroda said.

"Around the begining of this year, I asked the princess to marry me," Kuroda told reporters.

Kuroda lives a middle-class life, staying with his 69-year-old mother Sumiko in a 45-square-meter (484-square-feet) apartment and reportedly earning seven million yen (67,600 dollars) a year.

"Since he entered elementary school he has been able to wake up by himself with one alarm clock. I haven't had to wake him up even a single time," Sumiko Kuroda said in a statement.

His father, who worked for Toyota Motor Corp., died in 1986.

"I," Kuroda said, "hope to build a family that is comforting and peaceful. Building a happy family would be my way of expressing thanks to my mother."

Empress Michiko reportedly approved of Kuroda's wedding proposal because she has known "Kuro-chan" since he was a boy.

The engagement comes as the Chrysanthemum Throne, the world's oldest royal line, comes under an unprecedented spotlight.

Crown Prince Naruhito, the eldest of Emperor Akihito's three children, went public in May with concerns that his wife Masako, a former career woman, was being stifled by royal life.

The marriage will involve a series of elaborate ceremonies including Sayako visiting three Shinto shrines and Kuroda sending a messenger to the palace to announce the wedding date.




Today's Top News
Top World News

Third Chinese confirmed dead; assistance rushing in




Asian tsunami toll jumps to over 125,000




Farming trade deficit hits record




China rings alarm over possible flu pandemic




Yao Ming tops NBA All-Star voting




FM: Six-party talks to advance