43 Chinese missing in Phuket after tsunami
(Xinhua)
Updated: 2004-12-29 13:41
Forty-three Chinese tourists remained missing in tsunami-hit Thailand' Phuket, an official of the Chinese Embassy to Thailand said on Wednesday.
Among the 43 missing tourists, five are from the Chinese mainland, 30 from China's Hong Kong Special Administrative Region and eight from China's Taiwan Province, Pan Guangxue, a counselor of the embassy, told Xinhua at the relief center in Phuket.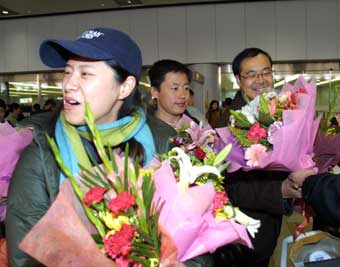 The 107 Beijing tourists stranded in Phuket, Thailand, after the tsunami returned home safely Wednesday morning by an Air China chartered plane. [newsphoto]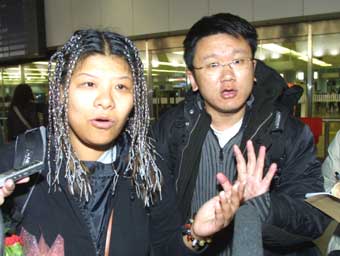 Two tourists, among 107 Beijing tourists stranded in Phuket, Thailand, recount the terrible story upon their arrival home December 29, 2004 by an Air China chartered plane. [newsphoto]

He said the Chinese Embassy is trying its best to search for them, and all the injured mainland tourists have been sent back to China for medical treatment.

So far, 486 mainland tourists have left Phuket for home and the rest will go back soon, he said.

More than 63,000 people were confirmed or presumed killed in Sunday's tsunamis triggered by a strong earthquake in the Indian Ocean.

According to China's Seismological Bureau, the earthquake, with a magnitude of 8.7 on the Ritcher scale, occurred at 06:58 a.m. local time (0058 GMT) Sunday off the west coast of the Indonesian island of Sumatra.

Identity of HK citizen killed in tsunami confirmed

A spokesman for the Hong Kong government said Wednesday that the identity of a Hong Kong man who died in tsunami in Phuket, Thailand, has been confirmed.

According to the spokesman, the deceased was identified as Mr. Leung, 39, who held a Hong Kong identity card and a British passport.

Hong Kong Immigration Officers in Phuket Tuesday evening received report from a lady of foreign nationality that her husband was killed in the tsunami attack.

The lady informed immigration officers that she had identified the corpse of her husband and had informed the British Embassy in Thailand about her husband's death. Immigration officers at Phuketare keeping close contact with the lady and will provide necessary assistance to her.

Hong Kong Chief Executive Tung Chee Hwa Tuesday called for efforts to assist Hong Kong residents affected by the tsunamis in Sumatra, Indonesia and other places.

According to Hong Kong Chief Secretary Donald Tsang, 64 Hong Kong people had returned to Hong Kong from tsunami-hit areas by Tuesday afternoon, while another 200-odd could not be contacted yet.

More Hong Kong immigration officers will be sent to Thailand to provide assistance to and facilitate the safe return of Hong Kong people.




Today's Top News
Top China News

Asian tsunami toll jumps to over 125,000, fear lingers




3rd Chinese confirmed dead; aid rushing in




Farming trade deficit hits record




China rings alarm over possible flu pandemic




Yao Ming tops NBA All-Star voting




Fishing fleet cutback preserves resources