China rushes aid to tsunami battered countries
By Qin Jize & Eddie Luk (China Daily)
Updated: 2004-12-28 00:43
With nationals still missing, China has joined the international aid effort in South and Southeast Asia -- a rescue mission which is set to become the world's biggest after tsunamis death toll climbed above 44,000 lives.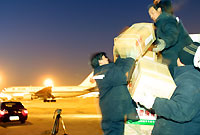 Rescuing goods are loaded at the Beijing Capital airport. [newsphoto]

China has sent blankets, tents, bedding, food and medical equipment, Foreign Ministry spokesman Liu Jianchao said yesterday.

"The government is to provide over 21 million yuan (US$2.6 million) in aid for victims in Asian countries hit by the massive earthquake and devastating waves," said Liu.

First-batch relief aid left for Sri Lanka yesterday afternoon and will arrive in the early hours of today. A second plane with aids is to take off today from Guangzhou, South China.

"We have been informed that aid will arrive in Colombo at about 4 to 5 am local time today," Cao Xiaojian, an official with the Chinese Embassy in Sri Lanka, told China Daily.

"More aid will be sent out to more countries over the coming days," Liu said.

He confirmed no other Chinese deaths except a Taiwan province national.

Liu said the ministry was also concerned about the safety of the residents from Hong Kong, Macao and Taiwan, believed to be missing.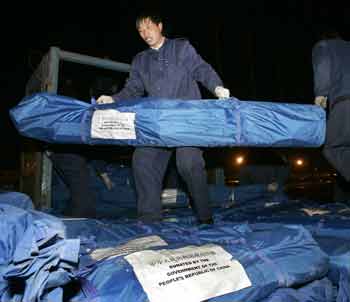 Chinese workers load tents at the Beijing Capital International Airport Tuesday, part of the aid in the form of food. tents, blankets and cash headed to India, Indonesia, Thailand, Sri Lanka and Maldives. [newsphoto]
Missing Chinese
According to a government release yesterday, at least 213 Hong Kong tourists have not yet contacted their families.
About 170 of them went missing in the Phuket island in Thailand, 10 in Sri Lanka and the remainder in Maldives, Indonesia and Malaysia.
The total number of missing Chinese in those struck countries might be higher than the estimate because tourist information collected by the authority is not comprehensive.
Chief Secretary for Administration Donald Tsang said yesterday at a press conference: "As some information we gathered is rather blurred and not comprehensive, we don't have the exact number on how many Hong Kong residents still remain missing in those countries."
Neither could Liu in Beijing confirm the exact number of missing mainlanders and those from Taiwan.
In Phuket, most Chinese visitors to the island have returned home, an official from the Chinese Embassy said yesterday.
At the municipality hall, where the largest relief centre formed by rescue teams from more than 20 countries and regions was established, minister Pan Guangxue confirmed that about 1,200 tourists from the Chinese mainland visited Phuket on December 23-26.
Among them, seven injured tourists have recovered and gone back home. A woman who got her bone broken was still receiving treatment at a local hospital.
Task force
Liu Jianchao said a Chinese task force of 40 rescue and aid experts were on standby to head to worst hit areas. "We have to see if those countries will put forward such requests," Liu said.
Guo Xun, an earthquake expert, who arrived Sri Lanka yesterday to join a six-strong United Nation evaluation team told Chinese media via phone he had begun assessing the scenes of destruction and death.
"I will go to an area near Colombo to see the damage of the infrastructure, including house, bridges and roads," he said.
The Red Cross Society of China expects to offer emergency aid of US$150,000 to affected countries.
Today's Top News
Top China News

PLA troops active in tsunami relief




Al-Zarqawi reportedly arrested in Iraq




US$3 million private aid ready for victims




Chinese avoid weddings in Year of Rooster




Shares greet 2005 by ending at 5-year nadir




Baghdad governor slain; 5 US troops die