Drought may hit hard next year
By Liang Chao (China Daily)
Updated: 2004-12-22 22:57
China is likely to experience a catastrophic drought, the worst threat to national water supply and grain production, next year, a leading water official warned yesterday.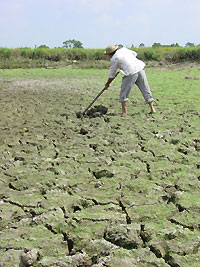 A farmer works on the cracking earth, as a severe drought hit Southern China's Guangdong province in the autumn of 2004. [newsphoto]

Wang Shucheng, minister of water resources, urged water supply authorities to prepare for the possible disaster to mitigate losses.

The drought may threaten the country's farming and water as well as efforts to rehabilitate fragile eco-systems, he said.

"From now on, water authorities must take whatever measures they can to increase water storage facilities and promote water conservation to ensure the water supply for the upcoming year," said Wang at a national conference on water resources.

Higher temperatures, which have already been observed this winter, may lead to a worsening lack of water, he said.

Over the past few weeks, rains and snowfalls have eased up a dry-spell that has lingered since autumn in much of the North. The persistent drought lowered water levels in most majors reservoirs during the past few years.

"The shortage of water supply has, so far, not fundamentally turned for the better in the North," Wang said, adding water authorities "must be ready to deal with a worsening situation next year."

This year, South China, particularly provinces and autonomous regions of Guangdong, Guangxi and Hainan, have, since early autumn, been ravaged by the worst drought since 1951.

To date, the drought is still threatening the water supply of some 15 million people in the cities of Zhuhai, Zhongshan, Foshan, Shunde and Jiangmen.

Zhu Zhaohua, deputy-director of Guangdong Water Resources Bureau, told China Daily that runoffs of the Xijiang River, a major tributary to the Pearl River, have dropped by 15 per cent this year with only 40 per cent of water levels at local reservoirs replenished.

"Guangdong can usually benefit from considerable downpours brought by two to three seasonal typhoons in autumn even if water levels fall drastically in rivers and reservoirs. But, not a single typhoon has been seen so far this year," Zhu said.

As a result, Guangdong has been forced to limit the use of water in some of the drought-stricken areas. Among the measures, Guangdong has stopped using water to generate electricity to ensure enough water for people in urban areas.

"Although only 53 per cent of water is held in a large reservoir in Shenzhen, a major water source for Hong Kong, the water supply to the special administrative zone has not been affected through effective management within Guangdong," Zhu said.

The ploughing season next spring, when about 20 per cent of Guangdong's water supply is scheduled to be used for irrigation, may be affected by the worst drought in 53 years, he said.

Drought is the worst disaster threatening China's farming and grain yields as well as the regional water supply to urban and rural residents when compared with other calamities like deluges.

This year, 23.4 million people have been affected by seasonal shortages of drinking water at least once and 16 million hectares of crops have been affected by the drought. The lack of water damaged 23 million tons of grain and caused 26.1 billion yuan (US$3.17 billion) in losses.




Today's Top News
Top China News

Baby born in taxi; driver may face fines




Snowfall shuts airports, highways




Industrial firms see profit decline




Japan has first case of bird flu in human




Net closes in on corrupt officials




Costly lessons from the CAO scandal