Japan delays sanctioning North Korea
(Agencies)
Updated: 2004-12-17 20:51
IBUSUKI, Japan - Japan decided Friday to delay imposing economic sanctions on North Korea, a move the nation had said it would consider a declaration of war.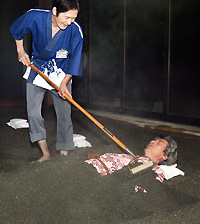 Japanese Prime Minister Junichiro Koizumi, in a yukata kimono, is covered with hot sand as he relaxes in a hot sand bath after dinner with South Korean President Roh Moo-hyun in Ibusuki, a hot springs resort about 900km southwest of Tokyo December 17, 2004. [Reuters]

Prime Minister Junichiro Koizumi said Japan wants to give North Korea more time to explain the fate of Japanese nationals abducted by Pyongyang decades ago.

"We will have to see how North Korea responds to demands for the truth. Once we have that, we would then consider what sort of sanctions to impose," Koizumi said at a news conference after talks with South Korean President Roh Moo-hyun.

South Korea is opposed to the sanctions, fearing they could set back multinational talks aimed at persuading the North to scrap its nuclear weapons programs.

Tokyo and Seoul have pursued independent contacts with the North, in addition to participating in three rounds of six-nation talks also involving the United States, China and Russia. The talks have produced no breakthroughs.

Koizumi is under growing pressure from the Japanese public to get tough with Pyongyang.

North Korea has returned five of 13 Japanese citizens it admitted abducting in the 1970s and 80s. It said the eight others were dead, but Japan suspects they may be alive, especially because the North has failed to turn over their remains.

Twice now the North has turned over remains that Japanese forensic scientists found were not those of the missing Japanese, contrary to the North's claims.

Japan's Foreign Minister Nobutaka Machimura said Thursday that economic sanctions are now a "likely option." But he did not specify when or how Japan would apply sanctions.

North Korea warned on Wednesday that it would consider sanctions by Japan "a declaration of war."

Japan's media urged Tokyo and Seoul not to let Pyongyang divide them.

"By sticking to their anti-nuclear stance, Japan and South Korea can drive North Korea to give up its nuclear programs," the national Asahi newspaper said in an editorial.

Koizumi and Roh met for two hours Friday at the hot spring resort of Ibusuki in southern Japan. They last met in July on South Korea's resort island of Jeju, where they put on a rare display of friendliness.

Japan ruled Korea as a colony from 1910 until 1945, and Tokyo-Seoul relations remained bitter for decades. Many South Koreans have been angered by what they perceive as Japan's attempts to whitewash its wartime atrocities in school textbooks and lessons.

Recently, however, freer cultural exchanges, the threat posed by North Korea and China's emergence as a military and economic force in Asia have brought the two closer.

Trade is one area Tokyo and Seoul want to expand, and the two sides have agreed to work out a free-trade deal by 2005.

Japan is now South Korea's third-biggest trading partner, with two-way shipments valued at $54 billion in 2003.




Today's Top News
Top World News

Country plans to enact anti-secession law




GM charges Chery for alleged mini car piracy




More cash allotted to cut poverty




Unemployment rate lower than expected




Info chief promises media better service




New law to improve civil servant system