Rooney's appology to Eriksson for huff
(sportinglife.com)
Updated: 2004-11-19 09:31
England striker Wayne Rooney has apologised to Sven-Goran Eriksson for his loss of self-control in Madrid.
But the Manchester United player has stopped short of issuing a public apology to Emlyn Hughes' family for disrespecting his memory by flinging a black armband, worn in tribute to the former England captain, to the ground.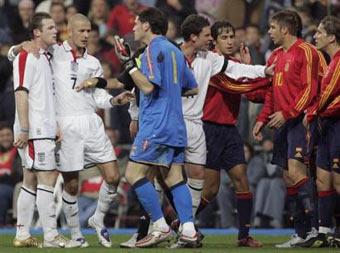 England's captain David Beckham, second left, holds back his teammate Wayne Rooney, left, after Rooney had an incident with Spains goallie Iker Casillas, center, during their friendly international soccer match in Madrid, Wednesday, Nov.17, 2004. [AP]


Eriksson spent time talking to Rooney on the squad's flight back from Madrid, ensuring he was left in no doubt about the need to learn from his flashes of indiscipline.

The 19-year-old striker was only prevented from being sent off by Eriksson's decision to remove him from the fray three minutes before half-time.

Eriksson has nevertheless taken the view that Rooney realised his mistake and has apologised to him for his behaviour, including his failure to shake hands with his replacement, Alan Smith.

"He's young and he's learning and he was sorry in the dressing-room afterwards to Alan Smith and me. That's good," revealed the England coach.

While Rooney would have been better served by apologising publicly for throwing the armband to the ground, Eriksson accepts he did not mean to cause any offence, least of all to Hughes' family.

Indeed, former Liverpool striker Michael Owen added: "I'm sure it was frustration with himself. I'd never label that against him. I'm sure he has got a lot of respect for Emlyn Hughes.

"He must have been frustrated coming off and that's understandable. But I think if you asked him about that, he would say it was nothing to do with that."

Eriksson was nevertheless joined by David Beckham in urging Rooney to learn to channel his fiery aggression in the right manner.

Beckham, who had to learn to control his own hot-blooded nature, declared: "People have got to realise is that Wayne is only 19.

"He looks like a man, and holds himself like a man, but sometimes things like that happen when he is so young.

"It's not about cutting it out of his game completely because that is part of his game and that's what makes him a great player and loved by so many people.

"But by experience, and with the people he has got around him to help him, he will calm it down as he goes on in his career.

"I think a few players - including myself - had a word with him on the pitch towards the end of the first half.

"Wayne will learn for himself. But it is not going to change Wayne Rooney as a player because he is still one of the best forwards in the world."

Eriksson was heartened by Rooney's subsequent apology to him, insisting that he has no long-term concerns over the teenager's temperament.

"I think it's almost the first time for England. It will be good as I think he has learned a lot," he added.

"He needs to learn. I hope it will not happen any more but I'm not that worried about it, to be frank.

"He's still very young and it was his first time in a stadium like this. Normally, he is very cool.

"I would say that his age is an excuse for me. He has to learn and he is playing for a big club so he will learn there.

"Wayne should use his temperament in the right way - and I think he will do that."




Today's Top News
Top Sports News

Mystery illness outbreak in HK identified




Housing prices surge in first 10 months




Arafat's diagnosis may soon be revealed




Personnel, railway ministries misuse funds




China, Japan leaders agree to meeting




Chinese soccer given red card