Coal mining: Most deadly job in China
By Zhao Xiaohui & Jiang Xueli (Xinhua)
Updated: 2004-11-13 15:01
China produced 35 percent of the world's coal last year, but reported 80 percent of the total deaths in coal mine accidents, according to statistics with the State Administration of Work Safety (SAWS).
This means that coal mining has become the most deadly job in China.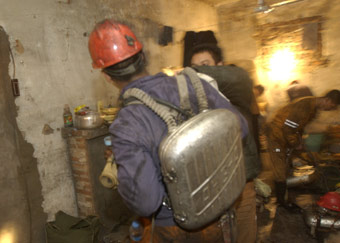 Chinese rescue workers prepare their equipment prior to a rescue mission after a huge gas blast in a coal mine in central Henan province Friday, November 12, 2004. Bodies of 33 miners have been recovered as rescue work goes on. The exact number of miners working underground when the blast occured still remains unclear. [newsphoto]


Among accidents occurred from January 2001 to October 2004, there were 188 each with death toll of more than 10, about one death every 7.4 days, said SAWS Wang Xianzheng at a national meeting on coal mine safety.

In the past one month along, the country reported a series of coal mine accidents, causing over 200 deaths.

The frequency of coal mine accidents in China is still very high, said Wang at the meeting that ended Friday in Beijing.

In 2003, the average coal miner in China produces 321 tons of coal a year; this is only 2.2 percent of that in the United States and 8.1 percent that of South Africa. The death rate for every 100 tons of coal, however, is 100 times of that of the US and 30 times of the South Africa.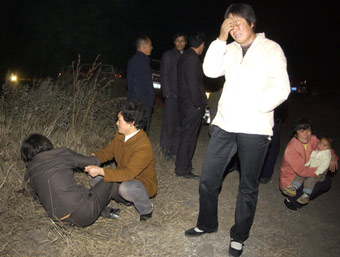 Families of the miners killed in a coal mine explosion in central Henan province mourn beside the accident site Friday, November 12, 2004. [newsphoto]


Working conditions for China's coal miners need to be improved, said Wang. He said about 600,000 miners to date are suffering from pneumoconiosis, a disease of the lungs caused by long-continued inhalation of dust. And the figure increases by 70,000 miners every year.

The government has taken a lot of measures to improve work safety at coal mines. In 2000, China set up a national surveillance system to keep a close eye on the safety conditions of coal mines. In the following years, the government earmarked more than 4 billion yuan (over US$480 million) to help state-owned and small local coal mines in gas explosion prevention and monitoring.

Compared with the past, China's coal mine safety has improved, said Wang. In the first nine months this year, the number of reported coal mine accidents dropped by 242 cases or 8 percent year-on-year. The death toll dropped 13.2 percent.

Following the present situation, the death toll in coal mine accidents this year is expected to drop by 1,400, or 22 percent over last year, said Wang.

He also predicted that China's coal output in 2004 would reach above 1.9 billion tons, twice of that in 2000, but the death rate of every 100 tons would be put under three, lower than 5.77 in 2000.

Even so, China lags far behind developed countries in coal mine safety, said Wang.

Facing severe coal mine safety situation, the General Office of the State Council has issued a circular earlier this month to strengthen surveillance of coal mine safety.

The circular further clarifies responsibilities of surveillance departments and has decided to set up local surveillance bureaus in five provinces and regions of Hebei, Guangdong, Guangxi, Qinghai and Fujian.

Chinese State Councilor Hua Jianmin said at Thursday's meeting that China will take tough measures to rectify coal mine industry this winter, vowing to improve the country's coal mine safety.




Today's Top News
Top China News

Nation likely to be 3rd largest trading power




Nutritional imbalance plagues people




Mine blast kills 33, injures 6 in Henan




Coal mining: Most deadly job in China




Shen and Zhao win Cup of China




Consumer price remains stable in October