Afghan militants say to hold talks on UN hostages
(Agencies)
Updated: 2004-11-07 15:38
Militants holding three U.N. workers hostage in Afghanistan said they expected to hold talks via intermediaries with U.N. and government negotiators on Sunday while the U.N. repeated a call for their immediate release.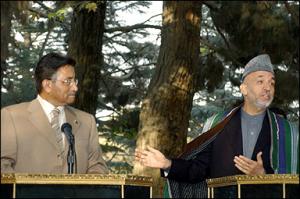 Afghanistan President Hamid Karzai (R) gestures as he addresses a press conference with Pakistan's President Pervez Musharraf at The Presidential Palace in Kabul.[AFP]

The talks were expected to start by 1 p.m (0830 GMT) at an undisclosed location, a spokesman for the Taliban splinter group Jaish-e Muslimeen (Army of Muslims) said late on Saturday.

Spokesmen for the group could not immediately be reached on Sunday. U.N. and Afghan government officials have declined to comment on any talks and Major Scott Nelson, a spokesman for the U.S. military in Afghanistan, said on Saturday he could not comment given the sensitivity of the situation.

The kidnappers had threatened to kill Filipino diplomat Angelito Nayan, Annetta Flanigan from Northern Ireland and Kosovan woman Shqipe Hebibi unless their demands were met by Saturday night.

The little-known splinter group has demanded the release of Taliban prisoners, the withdrawal of U.S. troops from Afghanistan and the suspension of U.N. operations in the country.

The three U.N. workers were kidnapped on Oct. 28 as they were returning to a U.N. guest house in Kabul from a center where votes from Afghanistan's presidential polls were being tallied.

Jaish spokesman, Sayed Khalid Agha, said the deadline had been extended because of the time taken for the U.N. and government negotiators to arrive, but he said the kidnappers had not moderated their demands.

"We are very hopeful that our demands will be met," the spokesman said. "Our demands are the same, we have not diluted them. We hope the delegation is capable and has the necessary authority and that the talks will not just be to buy time."

The talks would be conducted through intermediaries, he said.

U.N. APPEAL

The kidnappers say the health of the hostages, who have now been held for 10 days, has deteriorated and they are suffering from the cold.

The United Mations repeated a call for their release.

"The concern of their families, friends and colleagues increases every day, every hour and every minute that goes by and they are still being kept away from them," U.N. spokesman Manoel de Almeida e Silva told a regular news briefing.

"People who claim to have control over our three colleagues have been telling the press that they are not in good health.

"If that is the case, the best response, for their need of medical attention is their immediate release. Those who are holding Annetta, Shqipe and Angelito are responsible for their welfare and we call on them not to harm them."

A videotape broadcast by Arab television station al Jazeera on Oct. 31 showed the distressed hostages answering questions from a captor whose face was hidden by a scarf.

The abductions have raised fear among the 2,000-strong Western community in Afghanistan that militants have begun copying tactics of insurgents in Iraq.

They have also cast a shadow over President Hamid Karzai's election victory, and raised questions about the security of U.N. workers helping to prepare for parliamentary polls next April.

There is speculation Jaish-e Muslimeen may be seeking ransom and publicity. It says it wants to fan the Taliban insurgency against 28,000 U.S. and NATO-led troops, though mainstream Taliban spokesmen have distanced themselves from the kidnapping.

The government has previously negotiated the release of several foreigners kidnapped by Taliban guerrillas, some by paying ransoms.




Today's Top News
Top World News

Nation likely to be 3rd largest trading power




Nutritional imbalance plagues people




Mine blast kills 33, injures 6 in Henan




Coal mining: Most deadly job in China




Shen and Zhao win Cup of China




Consumer price remains stable in October