Crying shame of the baby-milk fraudsters
By Bai Xu and An Bei (China Daily)
Updated: 2004-11-03 09:41
Breast-feeding within the first four months of childbirth in China stood at 48.7 per cent in cities and 60.4 per cent in rural areas in 2002.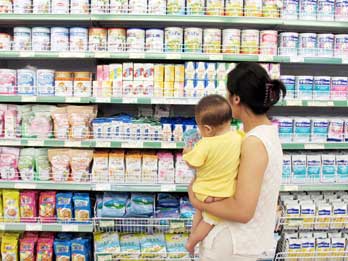 A mother shops for formula milk in a supermarket. The brest-feeding rate among Chinese mothers is dropping and experts fear a generation may be harmed. [newsphoto/file]
These may not be too discouraging figures. But to Wang Huishan, pediatric expert with the Chinese Centre for Disease Control and Prevention, they are alarming. She says they show a huge drop. In 1997 corresponding rates were 53.7 per cent and 76.6 per cent.
"It is worrying when more people in developed countries have come to realize the significance of breast-feeding, while many Chinese mothers surrender to formula milk," says the doctor.
Zhang Bin is one such mother feeding substitute milk to her newborn.
She gave birth to her daughter last June in a hospital in Beijing. To stop her baby crying doctors gave her a bottle of formula milk. But when Zhang later tried to breast-feed, her daughter rejected the natural milk.
"I know that breast milk is better than formula milk," says the young mum. "But seeing her crying because of starvation, my heart aches. I have to feed her with whatever milk is available and which she likes."
Zhang Bin is not alone. Liu Juan a presenter with Beijing Radio Station hosts a nursing programme and receives many phone calls from new and mums-to-be.
"More than four-fifths of them call in to ask for advice on what to do if their breast milk is not enough," says Zhang.
Wang notes that immediately after delivery, a baby should be placed on its mother's chest or abdomen, skin to skin, and that the first feeding should take place within 30 minute to an hour of delivery. "Theoretically, over 90 per cent of women have enough milk for their children so long as they feed them in the right way," she says.
An early taste of breast milk could stimulate the baby to feed better later. And a baby's suckling could increase the production of prolactin, a hormone that stimulates the cells of a woman's breast to make milk; the more one nurses, the more milk her body produces.
But a baby fed with formula milk after birth is likely to remember and become familiar with it - making the habit hard to break later on. Zhang Bin had little knowledge about this before. "I am working in a foreign company and I have had little time to attend classes for would-be mothers. The only information I get is from my acquaintances, who advise me to breast-feed my baby and, if breast-feeding is not successful, to buy particular brands of formula milk," she says.
Radio hostess Liu Juan also used to be ignorant of correct baby feeding. When she gave birth to her son in 1997 at a hospital in Beijing, she like many other young mums, found her breast milk was not enough to stop the baby crying. Anxious and worried, she consulted a doctor in an infant health care clinic.
She was advised to add some formula milk into her expressed breast milk. The baby accepted 30 ml of formula to 60 ml of natural.
From then on during feeding, her baby would occasionally start to choke and began to foam at the mouth.
"Many infants choke," she thought. But results from a regular physical examination of the baby stunned her. Her infant had contracted pneumonia because he wasn't digesting the milk properly, and was hospitalized.
Since the scare, Liu started to learn more about breast-feeding and invited many experts to appear on her radio nursing programme.
One of her regular guests is Dai Yaohua, a professor with the Capital Institute of Pediatrics. The World Health Organization advocates that breast-feeding be offered at least in the first half year of childbirth and that babies continue to be fed with breast milk till two years old, she tells listeners.
Breast milk, which is prepared by a mother especially for her baby provides daily all the energy and nutrients in the first six months for essential growth of its body and brains, and up to half or more of a child's nutritional needs during the second half of the first year, she says.
In addition, breast milk contains protective substances that are absent in formula milk. Such substances, Dai says, protect babies against certain chronic diseases and infections like ear infections, allergies, diarrhea and pneumonia, and make for a quicker recovery during illness.
"Breast-feeding provides physical contact, warmth and closeness which help create a special bond between a mother and her baby. It also helps burn more calories so that mothers can regain their pre-pregnancy weight more quickly, and reduces the risk of getting ovarian or breast cancer," Dai says.
For Liu Juan, her personal experience and her work as a radio hostess have compelled her to dig deep into the subject. She is sympathetic to young mothers who know little of the advantages of breast-feeding or how to breast-feed their babies. Many in fact are encouraged to feed their babies with formula milk, similar to Zhang Bin.
Harmful hype
Ignorant mothers are vulnerable to the wide-spread promotion by formula milk producers. Zhang Bin recalls when she was hospitalized waiting for operation, a salesperson entered the ward handing out trial packages of formula milk. After she returned home, her telephone rang incessantly as telesales staff tried to sell her more milk.
Inspections by the Ministry of Health in the last three years have found that in many hospitals in big cities like Beijing, Shanghai and Guangzhou, formula milk producers are allowed to enter, distribute leaflets and talk to new mothers face-to-face. Infant food shelves have been erected even in the halls of some hospitals, including several so-called "baby-cherishing" ones, which are supposed to promote breast-feeding.
Wei Kun, a reporter of Nanjing-based Jiangnan Times, once made a secret investigation into some local hospitals. Disguised as a would-be mother, she received "advice" from some doctors and nurses as what brand of milk to use. "They gave me leaflets, telling me to buy formula milk with the sheets."
A salesperson she chatted with revealed that one of the tasks is to establish "good relations" with doctors and nurses in departments of gynecology, obstetrics and pediatrics.
"Once a doctor expresses a willingness to take on 'a second vocation,' meaning the promotion of a particular brand of formula milk, he or she could receive 10-30 yuan for each tin of milk powder sold," Wei says.
To young mothers lacking knowledge about breast-feeding, doctors have great authority. Zhang Bin suffered a similar experience. "When the doctor who visited to examine the health of my baby recommended a brand of formula milk, I used it, taking for granted that it was good for her," she says.
Then, a tragedy rang the alarm bell. Last May, in the notorious low-quality milk powder scandal in Fuyang, Anhui, 13 babies died and 171 fell sick after prolonged intake of milk powder that contained almost no nutrients.
Changing the law
Yang Qing, an official with the Ministry of Health, stressed that implementation of Rules Governing the Administration of Breast-milk Substitutes promulgated in 1995 will henceforward be vigorously enforced. According to the rules, doctors have the duty to promote the advantages of breast-feeding.
And, according to Wang Huishan, the Law on the Healthcare of Mothers and Infants, which became effective in June 1995, is expected to be amended.
The law states hospitals are duty-bound to provide advice and guidance for new mothers with regard to nursing and taking care of their babies.
"It is not specific enough," says the doctor. "Amendments will make it more specific, especially with regards to the promotion of breast-feeding."
Save the Children, a British-based charity, endeavors to promote an International Code on the Marketing of Breast-milk Substitutes, which was adopted in 1981 by the International Health Conference.
The code stipulates that no free samples of breast-milk substitutes should be sent to mothers, and that company personnel shall not contact mothers directly. Labels of substitutes shall not be attached with pictures or words idealizing artificial feeding. Emma Roberts, nutrition councillor in the Asia-Pacific Region of the charity, went to Fuyang last August to promote the international code.
But, in the eyes of Liu Juan, the ultimate solution is the popular acceptance of breast-feeding as the best practice for both the mother and the baby. "There are a lot we need to do to promote breast-feeding among people," she says.
She is busy registering for a "breast-feeding association" to spread the word and teach the benefits.
"I hope what I am doing is helpful to young mothers and prevents them from repeating my mistake," she says.