Avery Johnson announces retirement
(Agencies)
Updated: 2004-10-29 09:52
Avery Johnson announced his retirement Thursday, officially ending his 16-year playing career and becoming a full-time assistant coach for the Dallas Mavericks.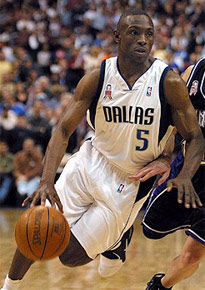 Avery Johnson, seen here in 2002, retired from the players ranks of the Dallas Mavericks to focus on his duties as an assistant coach to Don Nelson. [AFP]

The 39-year-old Johnson played for Dallas in 2002-03, then re-signed with the Mavericks on Sept. 30 as a player-coach with no expectation of playing significant minutes.

He decided during the last few days to become a full-time coach.

Johnson will be the top assistant to 64-year-old Don Nelson, who has tapped Johnson to take over when the head coach retires. Nelson's son, Donnie, has been his father's top assistant since 1998, but the younger Nelson will leave the bench to focus on his duties as the Mavericks' president of basketball operations.

Johnson played for six different teams and was a key member of San Antonio's 1998-99 NBA championship club. He averaged 8.4 points and 5.5 assists in 1,054 regular-season games and appeared in 90 playoff games, averaging 10.5 points and 6.2 assists.

"We know I played for a lot of teams in this league, but this is where I wanted to be," Johnson said.

Mavericks owner Mark Cuban said Johnson's retirement opens a spot on the 15-man roster for guard Dan Dickau. Cuban said Dickau, who averaged 12 points for Dallas in the first seven preseason games, would have been cut if Johnson had stayed as a player.




Today's Top News
Top Sports News

Interest rates raised for first time in a decade




Nation takes firm stance on arable land




More job vacancies reported in third quarter




China raises pension for enterprise retirees




Traffic law shores up road safety




Sick Arafat heads to Paris, cancer suspected