Japan insisted it would not bow to the demands of Islamic militants in Iraq who threatened to behead a young Japanese unless Tokyo withdraws its troops from the country within 48 hours.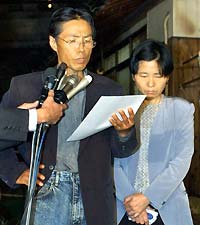 Masumi Koda, father of Shosei Koda, identified as the Japanese man taken hostage and threatened to be beheaded by al-Qaeda-linked militants in Iraq, speaks to reporters with his weeping wife Setsuko outside their home in Nogata, southern Japan October 27, 2004. [Reuters]

"The Self-Defence Forces will not withdraw," Prime Minister Junichiro Koizumi, a staunch US ally, said as he went ahead with a tour of typhoon damage in western Japan. "We must not bow to terrorism."

The al-Qaeda-linked group of Iraq's most wanted man Abu Mussab al-Zarqawi released a video overnight on the Internet of a shaggy-haired Japanese-speaking man in a white T-shirt, at the feet of three armed and masked men.

"We are giving the Japanese government 48 hours in which to withdraw its troops from Iraq, otherwise this infidel will join the others (executed)," a militant said in the video.

Among the others, the militant mentioned the American Nicholas Berg and Briton Kenneth Bigley, who were both decapitated.

The Japanese man said on the video: "Mr Koizumi, they demand the Japanese government withdraw the Japanese Self-Defence Forces from Iraq or they will chop off my head.

"I'm sorry, but I want to come back to Japan," he said unemotionally in Japanese.

Japan identified the hostage as Shosei Koda, a 24-year-old from southern Fukuoka province who "has been wandering around many countries", said Chief Cabinet Secretary Hiroyuki Hosoda, the government spokesman.

Koda had been in New Zealand on a working holiday until July but had not been in contact since, his father said, according to the foreign ministry.

The incident marked the second hostage crisis faced by Koizumi, a close supporter of US President George W. Bush, since his historic decision to deploy troops to Iraq despite widespread domestic opposition.

In April militants kidnapped three Japanese aid workers and two journalists in Iraq but they were released unharmed after days of mediation.

Ambushes by Iraqi insurgents killed two Japanese diplomats last year and two Japanese journalists in May.

Koizumi told parliament late Wednesday that Japan's involvement in Iraq to help with humanitarian and reconstruction work was "understood by the general public in Iraq.

"Regardless of this, captors are trying to remove the Self-Defence Forces from the country by taking Mr Koda hostage," Koizumi said.

The military deployment to Iraq is Japan's first since World War II to a country where fighting is going on.

Katsuya Okada, leader of the main opposition Democratic Party of Japan, who has criticized the dispatch as a violation of the pacifist constitution, said there is "no reason to listen to the kidnappers' demands".

However, some 120 peace activists protested outside parliament demanding Japan withdraw its troops.

Documentary filmmaker Hiroshi Shinomiya told public broadcaster NHK he met Koda at a hotel in the Jordanian capital Amman on October 19. Koda told him he would take a public bus the next day to Iraq "simply because he wanted to see it".

"I told him he should not go, but he replied saying, 'No, I'll be just fine'," Shinomiya said.

The foreign ministry said it had learned of Koda's plans from fellow hotel guests in Amman and had spent the past week trying to find the young man and persuade him it was too dangerous to stay in Iraq.

Foreign Minister Nobutaka Machimura appealed for Koda's release over the Arabic satellite network al-Jazeera, saying he had absolutely nothing to do with the Japanese government and military.

"Japan is Iraq's friend. The entire Japanese nation and I are pleading for the immediate release of Mr Shosei Koda," Machimura said in an interview with al-Jazeera and other international media including CNN.

Senior Vice Foreign Minister Shuzen Tanigawa was sent to Amman to set up a taskforce on the hostage-taking.

John Bolton, the US undersecretary of state for arms control who was in Japan for a multinational exercise on weapons seizures, urged Japan not to back down.

"I know Japan will persevere," he said.