Japan quake kills 18; aftershocks strike fear
(Agencies)
Updated: 2004-10-24 10:30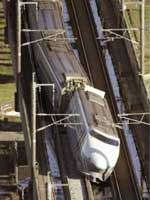 An aerial view shows a lopsided carriage of a high-speed bullet train in Nagaoka, northwestern Japan, derailed by Saturday's powerful earthquake October 24, 2004. Eight carriages of the train derailed, but there were no injuries, a Transport Ministry official said.[Reuters]

Aftershocks shook northern Japan on Sunday, a day after a powerful earthquake killed at least 18 people and injured about 1,000 as houses collapsed and landslides devastated a village, stranding hundreds of people.

Tens of thousands of fearful residents in the rural Niigata prefecture spent the night in evacuation centers or outdoors after the initial quake with a magnitude of 6.8 hit at 5:56 p.m. on Saturday.

As daylight broke, the full scale of the damage to the area, some 150 miles north of Tokyo, became evident.

Roads buckled, a bullet train was derailed, and many landslides hit the largely mountainous region.

Aerial pictures on television showed that a mudslide had engulfed houses, roads and cars in the small village of Yamakoshi, cutting off some about 600 residents.

TV showed soldiers in khaki uniforms trying to rescue a mother and a son trapped in a house wrecked by a landslide, using chain saws to cut their way through the rubble.

In the city of Ojiya, the apparent scene of much of the damage, a large area of land under a rail line had caved in, forming a crater-like hole and leaving train tracks dangling.

Elsewhere, the lopsided leading carriage of a bullet train rested on the side of its track, the first derailment since the high-speed service was introduced 40 years ago.

Eight carriages of the train derailed, but there were no injuries, a Transport Ministry official said.

"We are desperately in need of food, water and blankets for the local residents," said an official in Ojiya, which has a population of 40,000.

The quake knocked out power and phone services to at least 278,000 homes and water and gas services were disrupted.

Many residents huddled under blankets in schools and other temporary shelters while some spent the night outside or in cars as temperatures fell to around 41 degrees Fahrenheit.

More than 240 aftershocks that could be felt by humans had struck since the initial quake, the Meterological Agency said, and officials warned of further strong tremors.

The quake and aftershocks shook buildings in Tokyo but there were no reports of any injuries or major damage in the capital.




Today's Top News
Top World News

BHP: China, India will sustain global economy




Japan quake kills 18; aftershocks strike fear




China to launch solar telescope in 2008




Bush and Kerry trade barbs over security




Rural dwellers get better medicare service




Deepening reform after coal mine accident