Bush and Kerry trade barbs over security
(Agencies)
Updated: 2004-10-24 08:50
US Democrat John Kerry sought to undercut President Bush on national security Saturday by charging that he was trying to scare voters with talk of terrorism. Bush portrayed his opponent as indecisive and suffering from "election amnesia" with conflicting stands on Iraq.
Racing toward a finish line 10 days away in an election too close to call, Bush hopscotched by Marine helicopter to rallies in Republican-friendly areas of Florida, the state that put him in the White House four years ago. His chopper landings on baseball fields, before thousands of cheering supporters, underscored Bush's ability to use the powers of the presidency for his campaign.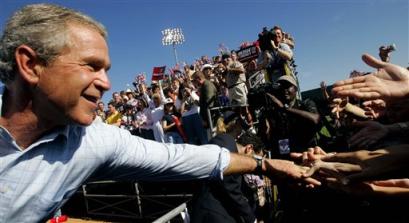 US President Bush reaches across to shakes hands with supporters at a campaign rally at the City of Palms Park Saturday, Oct. 23, 2004 in Fort Myers, Florida. [AP]
And if the helicopter arrivals weren't showy enough, Bush had Air Force One fly over the NFL football stadium in Jacksonville where tens of thousands of people were waiting to hear him speak.
Iraq and the war on terrorism dominated the campaign debate, reflecting voters' anxieties as the election nears. Kerry's advisers acknowledged that the issues play to Bush's political strength as commander in chief, but said confronting the president may be the best way to weaken his standing.
For hundreds of thousands of voters, the time of decision is over already. Thirty-two states allow for some form of early voting, either in person or by absentee ballot, and many voters are taking advantage of the opportunity.
Bush mocked Kerry for criticizing him on Iraq, saying the senator now calls it the "wrong war" after voting to authorize force and calling it the right decision when U.S. troops invaded.
"Sen. Kerry seems to have forgotten all that as his position has evolved during the course of the campaign," Bush said. "You might call it election amnesia."
In Farmington, N.M., Vice President Dick Cheney said if Kerry had been president in the 1980s and 1990s, the Soviet Union might still exist and Saddam Hussein might control the Persian Gulf and possess nuclear weapons. "I think it's a good thing that he wasn't in charge," Cheney said.
Kerry opened the day in Pueblo, Colo., asking voters to choose what he described as his optimistic outlook. "Vote your hopes, not the fears that George Bush wants you to feel," Kerry said. "Vote your hopes for our nation. Vote the possibilities of our country."
Kerry's southwestern swing briefly touched Bush's adopted home state of Texas, but only as an airport landing before a rally in Las Cruces, N.M.
"This president keeps going around the country trying to scare people," Kerry said. "The only thing he wants to talk about is terror, the war on terror, national security. If that's the debate we want to have, I'm prepared to have that debate because I can wage a better war on terror than George Bush has."
Bush campaign spokesman Steve Schmidt said Kerry "has run a relentlessly negative and pessimistic campaign. He has no positive agenda for the future of our country."
Kerry spokesman Phil Singer returned Bush's criticism of the senator. "As much as we'd all like to forget the last four years of George Bush's failed policies and wrong choices, voters aren't going to have amnesia when it comes time to vote on Election Day," Singer said.
A majority of likely voters approve of Bush's handling of the war on terror and foreign policy. They are evenly split on who would do the best job in Iraq.
Kerry criticized Bush for not chasing down Osama bin Laden but stopped short of asserting, as he had a day before, that he would have captured or killed the reputed mastermind of the Sept. 11 attacks.
Bush said the choice voters face "could not be clearer. You cannot lead our nation to the decisive victory on which the security of every American family depends if you do not see the true dangers of the post-Sept. 11 world."
In terms of the horse race between Bush and Kerry, they are close. National polls show Bush and Kerry even, or Bush slightly ahead. One surprise was a poll showing Bush and Kerry even at 43-43 in traditionally Democratic Hawaii.
Four years ago, Bush won Florida by 537 votes. On Saturday he tried to energize Republicans in counties he carried in 2000, stopping in Fort Myers and Lakeland, on the west side of the state, at Melbourne on the east coast, and finally in Jacksonville, situated in the heavily Republican northeast.
In an aggressive bid for some of the election's biggest electoral prizes, Bush is expected to attend six more events in Florida before Election Day and seven more in Ohio, chief political adviser Karl Rove said. The president also plans four new versions of his campaign speech, including a closer ¡ª a final argument at the end.
Amid worries of a close election left undecided on Nov. 2, as happened four years ago, courts already are grappling with the counting of provisional ballots ¡ª the ballots that are supposed to be a backup for eligible voters whose names are missing when they show up at the polls. For the first time, provisional balloting is required in all states this year.
A federal appeals court is expected to rule within days on counting provisional ballots, and the next step would be the Supreme Court, which settled the last presidential election.
In a decision rendered Saturday, the Supreme Court refused to place independent presidential candidate Ralph Nader on the ballot in Pennsylvania, upholding a state court finding of flawed signatures on voter petition sheets.
Today's Top News
Top World News

BHP: China, India will sustain global economy




Japan quake kills 18; aftershocks strike fear




China to launch solar telescope in 2008




Bush and Kerry trade barbs over security




Rural dwellers get better medicare service




Deepening reform after coal mine accident