"Bicycle Kingdom" abolishes bike registration system
(Xinhua)
Updated: 2004-10-23 02:04
China's more than 1.3 billion people may directly ride their new bicycles from the store to the roads without first going to the police for registration.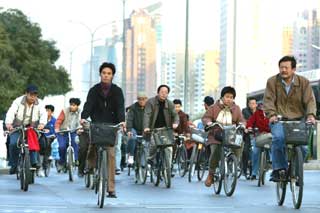 Chinese residents cycle along a busy business district in Beijing October 22, 2004. [Reuters]

New road traffic safety rules were passed in Beijing Friday, abolishing the bicycle registration system which had been in place for nearly half a century.

Similar reforms have been carried out in some other places in the country, including Sichuan Province and Zhoushan City in Zhejiang Province.

Bicycle has been an indispensable vehicle for common Chinese. The populous country produced 78 million bicycles last year, about one third of the global total. In 2002, every Chinese urban family owned an average of 1.4 bicycles.

Before the reforms, people would have to apply for bicycle plates or face penalty. They had to turn in tax each year and the police would take care of the registered bicycles' safety. The annual tax was four yuan (0.48 US dollars) for one bicycle in Beijing.

The abolishment of the bicycle registration system was underpinned by dwindling value of bicycle, which was once a major treasure of the Chinese. Also the registration brought too much trouble for citizens and increased the cost of government administration as the old bicycle registration system could barely prevent theft, said Wang Jiayan, deputy director of the Subcommittee of Legislative Affairs of the Beijing Municipal People's Congress, the city legislature.

While most foreigners connect China with bicycle-flooded streets, Chinese streets in major cities are actually flooded with automobiles. Some people began to take bicycle as a tool for physical exercise.

China is entering an automobile age and application for an automobile plate is becoming more difficult. The country registered more than 9 million automobiles and the figure is climbing by 15 percent each year.

This reform is similar to the abolishment of pre-marriage physical checks and of companies' permits for their employees' marriage, said Wang Yukai, a professor with the National School of Administration. It indicated the government began to pay attention to administration efficiency.




Today's Top News
Top China News

Economy grows 9.1% in third quarter




Pit disater set to be nation's worst this year




Draft property rights law to be discussed




Beijing adopts much debated traffic rules




Nation to send solar telescope up to space




Chinese seek justice before Japanese court