Study: US presidential race most expensive
(Agencies)
Updated: 2004-10-22 08:50
The 2004 US presidential election is set to smash all spending records according to an independent study, which estimates that more than a billion dollars will be spent on the race for the White House by election day.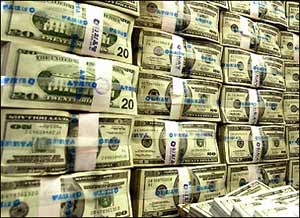 Stacks of US 20-dollar bills. The Center for Responsive Politics estimates that more than a billion dollars will be spent on the race for the White House by election day. [AFP/File]
The study by the independent Center for Responsive Politics found that combined spending on 2004 White House and congressional races will reach a record 3.9 billion -- almost a third more than the last election.
"Overall, if we look at what the federal elections are expected to cost in 2004, we're looking at about a 30 percent increase over 2000," Larry Noble, the center's director, told AFP.
Noble said the center's figures are based on conservative estimates and that total campaign spending is likely even higher, since the study focused only on the top spenders in presidential and congressional elections.
"The cost of campaigning continues to increase, the cost of our elections continue to increase," said Noble.
The center's research found that spending increases were partly a result of advent of independent "527" groups that have overshadowed the 2004 campaign.
527s -- political advocacy groups which enjoy tax benefits because of their non-profit status -- named for the legal code that defines them.
The groups are allowed to fund partisan advertisements as they are independent of a candidate's political campaign.
"527 organizations are having an impact on how much is being spent in the election," said Noble.
"We're expecting them to spend about 386 million," on federal races he said -- or about one tenth of all 2004 campaign spending.
The center estimated that 527s will spend about 187 million dollars on the presidential race alone.
527 groups have been responsible for some of the most controversial and influential ads during the presidential election, and there have been increasing calls -- as well as proposed congressional legislation -- to more strictly regulate them.
The most famous 527 group -- The Swift Boat Veterans for Truth -- launched a devastating series of ads earlier this year attacking John Kerry's Vietnam war record, but was criticized for alleged ties with officials in US President George W. Bush's reelection campaign.
Today's Top News
Top World News

Coal mine blast kills 62 workers, traps 86




Free trade pact with ASEAN in sight




Car production lower than expected




Farmers sickened by kitchen smoke




Cathay Pacific targets Air China IPO shares




Study: US presidential race most expensive