Myanmar PM ousted, under house arrest
(Agencies)
Updated: 2004-10-20 08:00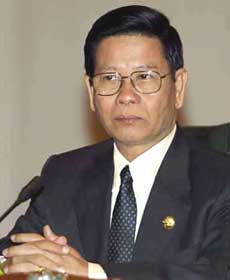 Myanmar's Prime Minister Khin Nyunt has been ousted and put under house arrest after a lengthy power struggle that has tightened the grip of hard-liners in the military government, Thai officials and diplomats said on October 19, 2004. The ouster, yet to be confirmed by Yangon, was not expected to trigger a wider conflict within the military. Khin Nyunt is shown Oct. 8, 2003. [Reuters]

Myanmar's prime minister has been ousted and put under house arrest after a lengthy power struggle in which hard-liners in the military government appear to have come out on top, Thai officials and diplomats said on Tuesday.

Mynamar state television and radio said Khin Nyunt had been "permitted to retire for health reasons" and replaced by Lieutenant-General Soe Win, a conservative in his mid-50s considered to be the number 5 figure in the government.

Diplomats said prospects for political change looked dimmer than ever in a country considered a pariah by the West for its detention of democracy icon Aung San Suu Kyi and a dismal rights record.

"Change has never looked farther off than it is now," a Bangkok-based Western diplomat told Reuters.

Myanmar's state media said the retirement had been authorized by Senior General Than Shwe, the head of the junta, but gave no further details in an announcement which followed the usual pattern after the ouster of a senior figure.

The removal of Khin Nyunt, a relative moderate, was not expected to trigger a wider conflict within the military, but it consolidated the grip of the hawks with the arrival of Soe Win, a trusted Than Shwe deputy.

Thailand said Khin Nyunt, 64, had been stripped of the prime minister's post and put under house arrest.

"The person who signed the order said Khin Nyunt had been involved in corruption and not suitable to stay in his position," Thai government spokesman Jakrapob Penkair told reporters after a cabinet meeting in Mae Sot, a town near the Myanmar border.

Witnesses said security had been tightened in Yangon, with troops seen in the streets. But the city was calm.

Diplomats said that according to rumors Khin Nyunt was arrested by officers loyal to army commander and Vice Senior General Maung Aye, the number two in the junta.

WIDENING RIFT

Speculation has been rife for months of a widening rift between Khin Nyunt, who had struggled since he was appointed last year to implement his "roadmap to democracy," and Than Shwe.

The military has ruled the former Burma in various guises since 1962 and refused to hand over power to Nobel laureate Suu Kyi after her National League for Democracy (NLD) won a 1990 election.

Signals that an internal power struggle had reached a climax emerged early in the day from Thai military sources.

A Thai army general said he had been told that Maung Aye, unhappy with Khin Nyunt's leadership, had pressed the prime minister to resign during a meeting Monday night.

The last leadership shakeup in Myanmar occurred in 1992 when Than Shwe, with Khin Nyunt's backing, ousted Senior General Saw Maung and diplomats said they did not expect Khin Nyunt's supporters to put up a fight.

"He doesn't have a big power base because he's not infantry, he's from military intelligence," the Western diplomat said.

Khin Nyunt had announced his seven-stage roadmap in August last year, saying it paved the way for civilian multi-party rule.

Analysts said they believed Than Shwe later dug in his heels, refusing to free Suu Kyi from house arrest before a constitution-drafting convention, which prompted an NLD boycott.

Yangon's intransigence has embarrassed its Southeast Asian neighbors as they prepare to hand the chair of the 10-nation ASEAN grouping to Myanmar in 2006.

Some Myanmar watchers said the latest upheaval may be a battle over business interests in a country where the military controls the levers of the economy.

"I don't think they're squabbling over Aung San Suu Kyi and democracy -- more likely a conflict over how much territory and area they can control in terms of business and armed forces," said Aung Zaw, editor of the Thailand-based Irrawaddy magazine.

The Thai general said Khin Nyunt's removal could lead to renewed fighting between ethnic groups and the government in multi-ethnic Myanmar, which has a long history of internal conflict.

The government signed cease-fire agreements with several rebel groups in the 1990s, but is still negotiating a deal with the largest, the Karen National Union.





Today's Top News
Top World News

Talks to be held on disputes with Japan




Earthquake injured 12 in Southwest China




China's GDP to exceed 8% in 2005




Traditional friendship with DPRK flourishes




Myanmar PM ousted, under house arrest




Forest fire under control in Northeast