Talks go on for release of kidnapped Chinese
By Guan Xiaofeng (China Daily)
Updated: 2004-10-12 08:41
Negotiations are ongoing with al-Qaida-linked militants for the release of two Chinese engineers kidnapped Saturday in Pakistan's tribal area bordering Afghanistan.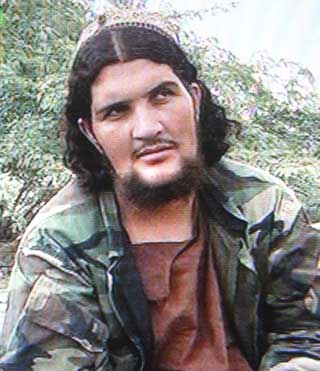 Abdullah Mehsood, Pakistani tribal commander and leader of the Islamic militants who kidnapped two Chinese engineers, makes a speech to the media in the Chagmalai area of the South Waziristan in this Reuters video image taken October 11, 2004. Islamic militants holding two Chinese engineers hostage in Pakistan threatened to kill one on Monday unless security forces ended a siege of their hideout, a tactic the interior minister said had echoes of Iraq. [Reuters]

Abdullah Mehsud, a former Taliban commander and now chief of tribesmen fighting alongside al-Qaida against the Pakistani Government in South Waziristan, claimed responsibility on Sunday for the abduction.

Mehsud threatened to kill the hostages if the government does not release militants arrested by security forces, said Pakistan's local English-language newspaper Daily Times.

Tribal sources said the kidnappers also demanded an end to military operations in South Waziristan, a remote tribal area where hundreds have died in battles between Pakistani security forces and al-Qaida-linked militants since March.

Wang Ende and Wang Peng were abducted by five gunmen Saturday morning and then put in the custody of the local tribal elders late Saturday.

Wang Ende, 49, has been working with the hydroelectric power construction company since 1971. He arrived in Pakistan on August 24 this year. Wang Peng joined the engineering company in 1996 after graduation, and he married not long ago and his wife was in Pakistan on vacation when he was kidnapped.

Pakistan's Interior Minister Aftab Ahmed Khan Sherpao said the kidnappers had not yet said whom they want released.

"We will decide when we are given the list," he told a private TV channel on Sunday.

The kidnappers have threatened to kill one of the Chinese engineers unless security forces end a siege of their hideout, Reuters reported.

A grand tribe meeting was held yesterday to negotiate with the kidnappers for the peaceful resolution to the issue but there were no conclusive results, said another English-language newspaper Dawn.

Zhang Yiming, a spokesperson for the Chinese Embassy in Islamabad, said negotiations are ongoing but did not give more details.

"We thank the Pakistani Government for their all-out effort to rescue the hostages and believe that they will solve the issue," Zhang said.





Today's Top News
Top China News

Talks go on for release of kidnapped Chinese




Electronics retailer tops China richest list




Annan applauds China's role in United Nations




WHO report highlights traffic safety in China




China issue rules on overseas investment




Assessing status of nation's health