Car bombs kill 11 as Rumsfeld visits Iraq
(Agencies)
Updated: 2004-10-11 08:52
The United States may be able to reduce its troop levels in Iraq after the January elections if security improves and Iraqi government forces continue to expand and improve, Defense Secretary Donald H. Rumsfeld said Sunday. Meanwhile, car bombers struck twice in rapid succession in the capital Sunday, killing at least 11 people including an American soldier.
Rocket-propelled grenade explosions and machine gun fire rocked the insurgent stronghold of Ramadi, west of Baghdad, late Sunday. Residents reached by telephone said insurgents launched attacks in a half dozen parts of Ramadi, and that four huge explosions shook the center of the city Sunday night.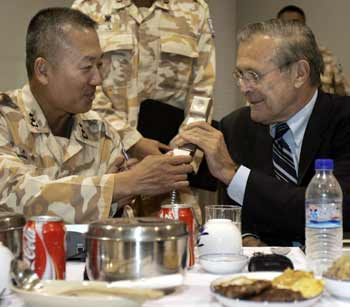 South Korean Maj. General Hwang (L) hands a phone to Secretary of Defense Donald Rumsfeld so he can talk with South Korea's Minister of Defense, Kwang Yung Yoon, during Rumsfeld's visit to the South Korean camp in Arbil, October 10, 2004. [Reuters]


Iraq's most feared terror group ¡ª Tawhid and Jihad ¡ª claimed responsibility for the near-simultaneous car bombings, one near an east Baghdad police academy and the other outside an east Baghdad market as an American military convoy was passing by. At least 16 people were wounded.

In a question-and-answer session with hundreds of Marines assembled in a concrete-line aircraft hangar at this desert air base in western Iraq, Rumsfeld was asked what the future holds for the length and frequency of troop deployments in the country.

Rumsfeld, on his first visit to Iraq since its interim government was installed in June, said the insurgent violence is likely to get worse in the weeks ahead, so troop reductions are almost out of the question. The United States now has about 135,000 troops in Iraq.

"Our hope is that as we build up Iraqi forces, we will be able to relieve the stress on our forces and see a reduction in coalition forces over some period of time, probably post-Iraqi elections," the Pentagon chief said. "But again, it will depend entirely on the security situation here in this country."

Later, Rumsfeld flew to the northern city Kirkuk where he received a briefing from the top commander in that area, Maj. Gen. John Batiste, and other American officers, who told him that insurgent attacks had decreased in number since July. They also said that U.S-trained Iraqi forces in the Kirkuk area were improving so quickly that they recently were able to plan and execute offensive operations on their own, with U.S. officers present only as observers.

Rumsfeld had dinner with South Korean soldiers, members of Zaytun Division, who began arriving in Iraq last month to provide combat and support troops in the area around the city of Irbil, west of Kirkuk.

Before Rumsfeld appeared at the main operating base of the 3rd Marine Air Wing, the approximately 1,500 Marines in his audience were give instructions by Sgt. Maj. Dennis Reed on what not to ask. "Don't ask when you're going home. We'll tell you when you're going home," Reed said.

Rumsfeld then gave a pep talk and fielded questions at a town hall style meeting. "We're so fortunate to be able to count on you in this time of peril," Rumsfeld said to applause.

The secretary then flew to Baghdad and met with U.S. Ambassador John Negroponte, Gen. George Casey, the top American commander in Iraq, and Lt. Gen. David Petraeus, who is in charge of training and equipping Iraqi security forces.

Accompanying Rumsfeld on the flight in a Black Hawk helicopter was Hazem Shaalan, Iraq's interim defense minister.

As a reminder of the tenuous security situation in the Iraq capital, the fleet of Black Hawks carrying Rumsfeld and his entourage flew at high speed, just above rooftop level, occasionally zigzagging en route to the International Zone where the U.S. Embassy is located.

In a brief exchange with reporters after the Baghdad meeting, Rumsfeld grew agitated by questions about the possibility of needing to bring in extra American troops before Iraq's scheduled elections.

"There's a fixation on that subject!" he said with exasperation. "It's fascinating how everyone is locked on that."

He asserted that the news media and others are ignoring the fact that the number of U.S.-trained Iraqi security forces is growing ¡ª standing now at about 100,000 ¡ª and that they are fighting and dying.

"They do exist. Over 700 of them have been killed," Rumsfeld said.

Casey told reporters that he and Rumsfeld did not discuss U.S. troops levels in their meeting.

"If I need more troops, as the secretary said, I will ask for them." He added that the number of trained Iraqi forces is going to increase by 45,000 by election time.

Rumsfeld also met with Ayad Allawi, the interim Iraqi prime minister, at the government's headquarters not far from the U.S. Embassy. The two sat side by side in large chairs; an Iraqi flag was behind them.

Allawi, referring twice to Rumsfeld as the secretary of state, thanked him for the United States' help in giving Iraqis their freedom.

Rumsfeld replied that it was important for him to meet with Iraqi leaders to talk about preparations for elections and "to make sure they happen and this country continues on a path toward democracy."

The trip was Rumsfeld's sixth to Iraq but his first to Anbar province, which includes portions of the Sunni Triangle north and west of Baghdad. The region had been the heart of tribal support for deposed President Saddam Hussein.

Anbar is an insurgent stronghold, including the provincial capital of Ramadi, and the city of Fallujah, where Marines fought fierce battles in the spring. In recent months, Marines have taken a large share of U.S. causalities.

In light of the violence in Iraq, Rumsfeld's visit was not announced in advance. Reporters traveling with the secretary were instructed not to disclose his plans until he arrived in Iraq from Bahrain aboard an Air Force C-17 cargo plane.

Later this week, Rumsfeld is attending a meeting of NATO defense ministers Romania. Expected to be on the agenda Wednesday and Thursday are issues such as the alliance's role in Afghanistan, where it commands the International Security Assistance Force, and Iraq, where it has agreed to help train Iraqi security forces.

Another expected topic is the work under way to terminate the NATO peacekeeping mission in Bosnia by the end of this year, when it is scheduled to be turned into a European Union security mission. The United States now has about 700 troops in Bosnia and 1,800 in Kosovo.

On Saturday, Rumsfeld was aboard a U.S. aircraft carrier in the Persian Gulf for a meeting with 18 of his counterparts from U.S. allies in the terrorism fight. The ministers discussed the way ahead in Iraq and Afghanistan.




Today's Top News
Top World News

Chirac supports one-China policy, lifting arms embargo




Chen Shui-bian's call for talks discredited




Economy to grow 9.4% this year and 8.9% next




China, Australia to hold joint naval exercises




Airbus to expand procurement from China




Lawmakers call for protection of drivers