Rumsfeld: US faces test of wills in Iraq
(Agencies)
Updated: 2004-10-10 21:17
U.S. Defense Secretary Donald Rumsfeld said Sunday the United States and its allies were locked in a test of wills with insurgents in Iraq and must overcome the "pain and ugliness" of the conflict.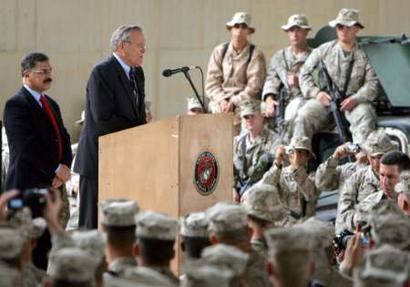 U.S. Secretary of Defense Donald Rumsfeld (2L) speaks to U.S. troops as he stands with Iraqi Minister of Defense Hazim al Sha'laan, (L), at the Al Asad Air Base in the western Iraqi desert, October 10, 2004. [Reuters]


"They know they cannot defeat us militarily," Rumsfeld, making his first visit to Iraq in five months, told about 1,500 U.S. marines at Al Asad air base in Iraq's western desert.

"But they are hoping they can win the test of wills," he added in a speech punctuated by the roar of warplanes overhead.

"It's a battle of morale. It's a battle of perception. They are hoping to cause members of the coalition to decide that the pain and the ugliness and the difficulty of the task is simply too great."

Rumsfeld also hinted at a possible reduction in U.S. troops after January elections if the security situation improved.

He later flew by helicopter to the Green Zone, a heavily fortified complex in central Baghdad that is regularly attacked by guerrillas, and met with Gen. George Casey, the top U.S. commander in Iraq and U.S. Ambassador John Negroponte, and later with interim Iraq Prime Minister Iyad Allawi.

During his stop-over in western Iraq Rumsfeld was asked by a marine whether there was "any relief in sight" in terms of the length of deployments. Army soldiers face yearlong stints, while marines stay for seven months.

The 72-year-old defense secretary said he expected an increase in violence in the run-up to elections due in January, and said troop numbers were unlikely to drop in the near term.

However, he told the marines that Iraq's own security forces were being steadily strengthened, with a targeted 150,000 police, National Guardsmen and others expected to be on duty by January, up from about 100,000 now.

'RELIEVE THE STRESS'

"So our hope is that as we build up Iraqi forces, we will be able to relieve the stress on our forces and see a reduction in coalition forces over some period of time, probably post-Iraqi elections. But, again, it is going to depend entirely on the situation here in this country," Rumsfeld said.

Marines based in Iraq's western desert, around the rebel bastions of Falluja and Ramadi, have faced some of the toughest fighting. In April, they tried to overrun Falluja, but withdrew after weeks of heavy clashes and a high Iraqi death toll.

The withdrawal was seen by rebels as a defeat for U.S. forces and some U.S. commanders have expressed disappointment that they didn't pursue the offensive.

Rumsfeld, making his sixth visit to Iraq since the March 2003 invasion, was one of the chief architects of the war.

Earlier, he had raised the possibility of increasing the number of U.S. forces in Iraq ahead of the January poll. But Casey said after their meeting that the subject did not come up.

"If I need more troops...I will ask for them," Casey told reporters, without indicating whether or not he wanted them.

Asked whether more troops were needed, Rumsfeld chastised a reporter: "There's a fixation on that subject, isn't there. Isn't it fascinating how everyone is locked on that."

The United States has about 138,000 troops in Iraq, the vast majority of a 160,000-strong coalition battling an insurgency that has strengthened and deepened since Saddam's overthrow.

Rumsfeld's trip comes about three weeks before the U.S. presidential election. President Bush's Democratic challenger John Kerry has accused Bush of mismanaging the war and launching it on the pretext of Iraqi weapons of mass destruction that even Washington now admits did not exist.




Today's Top News
Top World News

French Alstom signing US$1.23 billion deals




Two abducted Chinese engineers now safe




China condemns US on Taiwan issue




China joins Galileo project




Bank card spending hit record high




Nobel-winning novel to be published in China