French Alstom signing US$1.23 billion deals
(chinadaily.com.cn)
Updated: 2004-10-10 09:30
Chinese-French partnership is expected to take a big stride closer as the two presidents agreed in Beijing on Saturday to meet every year, and develop an all-round relations focusing on trade and investment.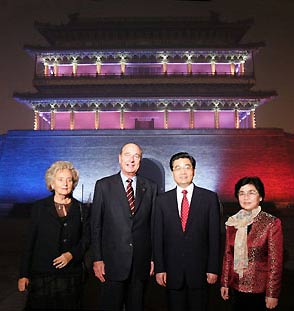 Chinese President Hu Jintao (2nd R) and his wife Liu Yongqing (1st R) with French President Jacques Chirac (2nd L) and his wife Bernadette Chirac in front of the Zhengyang Gate at southern Tian'anmen Square in Beijing Oct. 9. The Gate is bathed in the light of three colors representing that of French national flag. Chirac was in China on a five-day state visit. [Xinhua]

To add to the atmosphere, Chinese President Hu Jintao and French president Jacques Chirac walked to the famous Zhengyang Gate south of the Forbidden City, a structure of more than 500 year old, which was decorated with red, white and blue lights to represent the color of French national flag. The two presidents and first ladies also took photos there together.

Hu Jintao put forward four basic proposals on promoting bilateral ties during talks with visiting French President Jacques Chirac in Beijing's Great Hall of the People.

Hu suggested that China and France enhance strategic dialogue and cooperation, enhance exchange between state leaders and forge a mechanism of annual meeting between the two countries' leaders.

Secondly, he proposed to strengthen the Sino-French economic and trade ties. Active measures should be taken to consolidate and further Sino-French cooperation in aviation, space-flight, communication and nuclear energy by transfer more technology and upgrade industrial cooperation, Xinhua quoted Hu as saying.

Cooperation between China and France in high-tech industry, small and medium-sized enterprises, agriculture and environmental protection should also be expanded and strengthened, he said.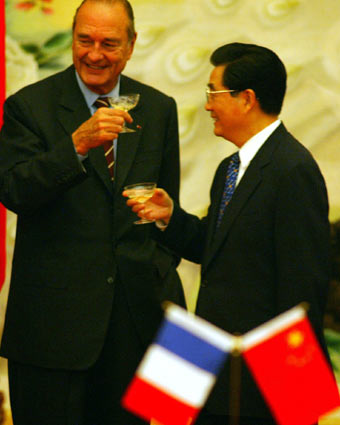 Visiting French President Jacques Chirac (L) chats with Chinese President Hu Jintao during a subscription ceremony Saturday in Beijing. Chirac arrived in Beijing Saturday on a state visit to help boost economic and cultural ties China and France. [newsphoto]
Thirdly, Hu said that the two countries should also enhance exchange and cooperation in culture, education and science and technology. The two sides could learn from the experience of holding Chinese Culture Year in France and French Year in China and then explore new methods of furthering exchange and cooperation in those fields, Hu said.
Fourthly, Hu suggested that the two countries enhance coordination and cooperation in international and regional issues, promoting democracy in international relations and diversity in ways of world development.
Chirac said during the talks that he fully agrees with Hu on his proposals, noting that France will make joint efforts with China to enhance French-Chinese cooperation.
Paris will firmly support the one-China policy and opposes any move that will lead to intensification of cross-Strait situation or Taiwan independence, Chirac said.
Hu and Chirac agreed that the Sino-French Culture Year activities is a "pioneering undertaking" in the history of bilateral cultural exchanges, and will exert profound influences on the development of bilateral relations.
Chirac started his five-day China tour from Friday evening at Chengdu, capital city of southwest China's Sichuan Province. Chinese Vice President Zeng Qinghong greeted him and his entourage at the airport.
In a related development, French heavy engineering company Alstom signed contracts worth up to 1 billion euros (1.23 billion dollars) for the delivery of trains and locomotives, the company said.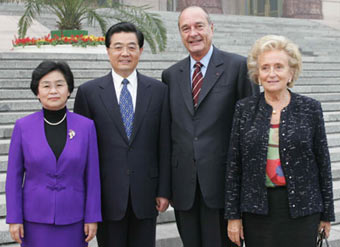 President Hu Jintao (2nd L) and his wife Liu Yongqing (1st L) pose for a photo with French President Jacques Chirac (2nd R) and his wife Bernadette (1st R) during a welcoming ceremony at the Great Hall of the People in Beijing Saturday, October 9, 2004. [Xinhua]
Alstom also inked a letter of intent for the 357-million-euro sale in hydroelectric turbine and pumping equipment to the provinces of Hubei, Henan and Guangdong, it said in a statement.
One contract valued at 620 million euros was for the delivery of 60 regional trains, to be built in China, capable of reaching speeds of up to 200 kilometers an hour.
The deal, signed with the Changchun Railway Company, includes the transfer of technology for the production in China of 51 trains. Nine other trains are to be delivered complete or in kits.
A second contract worth 383 million euros was signed with Datong Electric Locomotive Company, for the sale of 180 double high-pressure locomotives, also to be furnished by Alstom.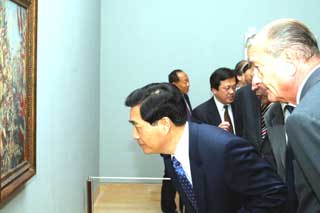 Chinese President Hu Jintao (L) takes a close look at an artistic work of French impressionist painters in Beijiing October 10, 2004 while French President Jacques Chirac looks on. This year has been marked as the "Year of France in China." [newsphoto]

"China is a market which is growing fast and is key to our global business," Philippe Joubert, Alstom's executive vice-president and president for the company's power generation sector, was quoted last month as saying by China Daily.

"If we are not a leader in our businesses here, we cannot succeed in the world. China is always the number one country in our investment list," said Joubert.

Presidents Hu and Chirac met Saturday in Beijing for a wide-ranging summit with the two overseeing a series of lucrative economic and trade deals.

Airbus Industries announced an order for six Airbus A-319, and over 20 agreements were signed, including six governmental agreements as well as a 120-million-dollar joint venture deal between French oil giant Total and China's fourth largest oil company Sinochem.




Today's Top News
Top China News

French Alstom signing US$1.23 billion deals




Two abducted Chinese engineers now safe




China condemns US on Taiwan issue




China joins Galileo project




Bank card spending hit record high




Nobel-winning novel to be published in China