Britain shocked by death of Iraq hostage
(Agencies)
Updated: 2004-10-09 09:56
Washington's closest ally in Iraq was horrified by the beheading of a British hostage there and Prime Minister Tony Blair urged Britons not to let it undermine their support for continued involvement in the country.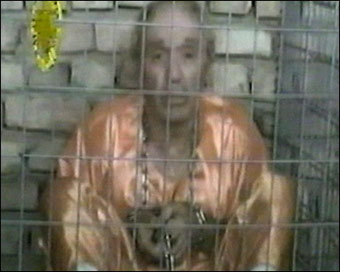 File TV grab taken from a videotape broadcast on Qatar-based satellite news channel al-Jazeera shows British hostage in Iraq, Kenneth Bigley huddled in a cage. Bigley, kidnapped in Baghdad last month, has been killed, Sky News television reported, quoting government sources. [AFP]
Blair's government, which for three weeks refused to bargain with Kenneth Bigley's kidnappers even after they killed his two American colleagues, revealed that it had opened secret contacts with them in the days before his death on Thursday.
But on Friday a Reuters journalist saw a video in Baghdad in which the 62-year-old construction engineer made a final despairing plea for his life before militants suspected of fostering ties to al Qaeda severed his head with a knife.
British and Iraqi officials denied that Bigley died after a failed attempt to rescue him somewhere in rebel-held Sunni Muslim territory west or south of Baghdad but declined comment on a report from a Western security source that he was killed after making an attempt to escape with help from an insider.
"I feel a strong sense, as I hope others do, that the actions of these people whether in Iraq or elsewhere should not prevail over people like Kenneth Bigley, who after all, only wanted to make Iraq and the world a better place," Blair said.
The video scene was familiar from tapes of the deaths of Americans Eugene Armstrong and Jack Hensley, seized with Bigley from their Baghdad home on Sept. 16, and of other killings by a group led by Jordanian Islamist Abu Musab al-Zarqawi.
Abu Dhabi television said it had the tape but would not broadcast it, refusing to serve as a "mouthpiece" for one of many groups that have severely restricted movement by foreigners in Iraq and hampered U.S.-led efforts to rebuild infrastructure.
Reuters Iraqi cameraman Maher Nazih, who saw the video but has only a limited command of English, said Bigley, unshaven and clad in an orange, prison-style jumpsuit, had spoken before he died. He said something along the lines of: "I need help. I need my government's help. I am a simple man. I want to live."
Pressure on Blair
Iraq's Interim Prime Minister Iyad Allawi told Reuters he believed Zarqawi had intended to kill all his hostages from the start and was never serious in its demand that the United States free female prisoners in Iraq. Washington says it holds only two women, both weapons scientists under Saddam Hussein.
"This is a horrible, barbaric act," said Allawi, who is relying on U.S. and British military support to stabilize the country sufficiently to hold elections in January.
"We are determined to pursue those terrorists who killed Mr Bigley and put them on trial as soon as possible."
Blair has faced fierce criticism at home since joining the U.S.-led invasion that toppled Saddam last year and was put under further pressure this week when U.S. inspectors concluded that Saddam had had none of the banned weapons on which Blair had based his decision to take Britain to war.
Though his center-left Labour party is still favorite to win a third term at an election expected next year, analysts said Bigley's death would hamper Blair's efforts to turn public debate away from the difficulties in Iraq.
Bigley had appeared in two previous videos pleading directly with Blair to save his life. After Italy, which also has troops in Iraq, as widely assumed to have paid a ransom for two women aid workers last week, Britain insisted that negotiating with the hostage-takers would only put other Britons at risk.
"I feel utter revulsion at the people who did this, not just at the barbaric nature of the killing but the way frankly they played with the situation over the past few weeks," Blair said.
Last-ditch Contacts
Foreign Secretary Jack Straw said messages between London and the kidnappers began after a man approached the British embassy in Baghdad four days earlier "presenting himself as a potential intermediary." There was no negotiation, he said, but an attempt to "dissuade them from carrying out their threat."
"I don't believe there was or could have been anything further we could have done," Straw said.
One of Bigley's brothers praised the government's efforts but another, Paul Bigley, urged Blair to end the war in Iraq, and said: "Mr Blair has blood on his hands."
Some 30 foreign hostages are thought to have been killed in Iraq. Two Westerners are still being held -- French journalists Christian Chesnot and Georges Malbrunot. They were seized in August by a different group, the Islamic Army in Iraq.
U.N. Secretary-General Kofi Annan called Bigley's killing a revolting public display and urged "the immediate and unconditional release of all civilian hostages in Iraq..."
In somewhat more positive news for the interim government's efforts to end fighting with armed groups that control several parts of the country, Defense Minister Hazim al-Shalaan said Iraqi officials and residents of Falluja had reached an agreement meant to halt bloodshed in the rebel-held city.
Shalaan told the London-based Asharq al-Awsat newspaper the agreement included a three-day cease-fire of strikes on Falluja, the entry of Iraqi forces into the city and disarming its people of heavy weapons. He did not say when this would begin.
Zarqawi's group is believed to have bases in Falluja, 30 miles west of the capital. Sources among militants there said Bigley was killed at Latifiya, to the south of Baghdad.
Today's Top News
Top World News

ASEM calls for UN role in war on terrorism




Viet Nam vows to honour commitments




Britain shocked by death of Iraq hostage




Year of events brings a lot of France to China




Russia denies cutting oil exports to China




Psychological problems on the rise