Video shows British hostage beheaded in Iraq
(Agencies)
Updated: 2004-10-08 22:19
A video released by Muslim militants on Friday showed them beheading British hostage Kenneth Bigley, a Reuters witness said.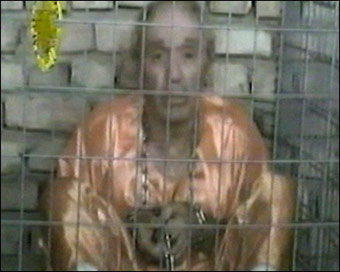 File TV grab taken from a videotape broadcast on Qatar-based satellite news channel al-Jazeera shows British hostage in Iraq, Kenneth Bigley huddled in a cage. Bigley, kidnapped in Baghdad last month, has been killed, Sky News television reported, quoting government sources. [AFP]


Bigley was shown making a statement as six militants stood behind him, before one cut his head off with a knife.

Guerrilla sources in the rebel-held city of Falluja said earlier that he was killed on Thursday afternoon in Latifiya, a Sunni Muslim town southwest of Baghdad.

The tape showed Bigley wearing an orange jump suit of the type worn by detainees in U.S. prisons including the detention center at Guantanamo Bay in Cuba.

The Britain government and the U.S. military in Iraq said earlier they could not confirm the report.

The head of news at Abu Dhabi TV in the United Arab Emirates, Nart Bouran, said the report was based on "informed sources" in Baghdad, but he would not comment when asked if a videotape had been received. The broadcast did not say when Bigley was supposed to have been killed.

In Britain, Sky News TV quoted an unidentified British government source as saying Bigley was dead.

Asked about the Sky News TV report, a spokesman for British Prime Minister Tony Blair's office in Downing Street said: "We're aware of the reports but can give no further information."

Bigley's brother, Paul, who lives in Amsterdam, said: "I have heard these reports and I am looking into them right now."

U.S. military officials in Iraq said they have not found a body they suspected was Bigley's.

Abu Dhabi TV said only that it was confident in its sources and would not say if it had a tape of the killing. There have been past claims about hostages being killed — including Bigley — that could not be substantiated.

No postings surfaced immediately on Islamic Web sites, where such claims often are posted, about Bigley being killed following the Abu Dhabi report Friday.

In London, a British Foreign Office spokesman said he had no information that would confirm the report.

Bigley, 62, was abducted Sept. 16 with two Americans from their residence in an upscale Baghdad neighborhood by the militant Tawhid and Jihad group, led by Jordanian militant Abu Musab al-Zarqawi.

The Americans, Eugene Armstrong and Jack Hensley, were decapitated. Graphic videos of their slayings were posted on the Internet, along with videotapes of Bigley pleading with Blair to save him.

The Abu Dhabi TV report came a day after Iraqi Prime Minister Ayad Allawi hinted there might be progress in efforts to secure Bigley's release.

"There are certainly areas which are quite good," Allawi told British Broadcasting Corp. television. "We are trying very hard. The situation is dynamic. We don't know whether it will produce a good result."

On Sept. 25, an Internet posting claimed that the al-Qaida-linked group had killed Bigley. Britain's Foreign Office described the Web site where the claim appeared as "discredited."

That Web site has often carried messages from Zarqawi's followers, including the gruesome videos of Hensley and Armstrong being killed.

But it is not as prominent as other sites airing similar content, and some of its earlier claims were picked up from elsewhere. It also carried messages that appeared not to be true, including that two Italian aid workers kidnapped Sept. 7 were killed.

Those aid workers — Simona Pari and Simona Torretta — returned to Italy last week.

Kidnappers have abducted more than 150 people in Iraq this year. Most hostages have been freed, but at least 27 have been killed.

Some kidnapping groups seek political objectives such as the withdrawal of foreign forces or companies from Iraq in a bid to undermine the U.S.-backed interim government, while others demand ransom money.




Today's Top News
Top China News

ASEM calls for UN role in war on terrorism




Viet Nam vows to honour commitments




Year of events brings a lot of France to China




Russia denies cutting oil exports to China




Psychological problems on the rise




Guangdong to invest RMB139b on railway