Psychological problems on the rise
By Wang Ying (China Daily)
Updated: 2004-10-08 22:41
Working at least 13 hours a day, seven days a week, Beijing taxi driver Bai Fengshan finds life is too heavy a burden to bear.
Bai, 43, father of a middle-school boy, has to work hard to support a whole family.
His wife got laid off last year.
"I would have committed suicide if I had no children," Bai said.
The only way Bai has to ease the pressure of the everyday grind is to chat with his passengers.
However, many other people who are under high pressure might not be so lucky. They often find no one to talk to.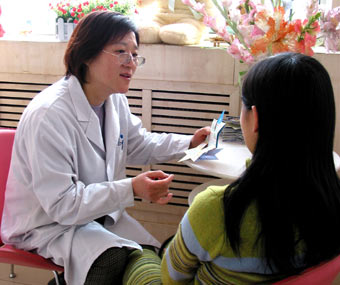 A psychological consultant talks with a female student in March, 2003 at the Psychological Care Centre for Adolescents in Ji'nan, capital city of East China's Shandong Province. Statistics suggest that nearly 10 per cent of children and adolescents in China, or 30 million, are inflicted with depression. [newsphoto]

Psychologists have warned that an increasing number of people suffer from psychological problems as China's urbanization gathers pace.

Loneliness, anxiety and depression are common problems for some urban people and migrant workers who often live on the fringes of urban society.

Recent media reports have recounted cases of college students who became murderers after minor confrontations with peers, migrant workers committing suicide after failing to obtain overdue wages and members of the social elite falling into mental depression.

Behind these incidents is an unhealthy state of individuals who fail to deal with an abruptly changing society in this transitional period, said Wang Dengfeng, a psychology professor with Peking University.

Many Chinese have seen their incomes increase tenfold, or even hundredfold, due to the economic boom in the past two decades.

But psychological studies show their desires for things also increased tremendously. In the process, their growing salaries are often not enough, Wang said.

Instead of feeling contented, they get frustrated and depressed.

Depression is the main cause of suicide, said Hui Xiaoping, an emergency physician with a Shanghai hospital, who has received more than 40 patients who tried to commit suicide since April.

Lack of psychologists a problem

"In a fast-paced modern society where people shoulder more pressure, suicide has become an expanding problem," Hui said.

The World Health Organization reports that about 1 million people commit suicide around the world every year, and the number of those who attempt suicide is 10 to 20 times larger.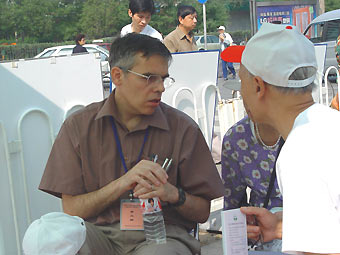 Michael Phillips, executive director of the Beijing Suicide Research and Prevention Centre, meet two elderly people on September 10 at a promotion activity about mental health. Phillips and his team found that risk of suicide was substantially greater in people with schizophrenia; about ten per cent of all suicides are attributable to schizophrenia. [newsphoto]


The worldwide suicide rate is about 16 per 100,000, making it the 13th most common cause of death. In China, the figures are equally distressing.

According to a survey by the Beijing Psychological Crisis Research and Intervention Centre, more than 200,000 people in China take their own lives every year.

The suicide rate in China is more than 20 per 100,000, making it the fifth cause of death in the country. Women in rural areas make up the largest group of suicide victims.

Emotional release is an essential phase in suicide intervention, Wang, of Peking University, said.

Venting depression and anger through discussion with psychological professionals is a good way to prevent suicide attempts.

However, psychological services in China are inadequate, with a shortage of trained specialists and no professional standards, said experts attending a national psychologists convention in Shanghai in September.

They said it is estimated that 20 per cent of China's 1.3 billion people had psychological problems. But there are only a few hundred professional psychologists to cope with the problems.

In Shanghai, with a population of 17 million, including 3 million migrant workers, there are only about 100 therapists.

Medical experts warn that long-term mental pressure harms the body's immune system and weakens people.

Many government health departments and non-government organizations have attached increasing importance to the psychological health of people in recent years as almost every big city across the country has established special mental counseling hotlines and websites.

Shanghai established its first suicide intervention group in early September. Dozens of trained volunteers lend a sympathetic ear and heart to those in need.




Today's Top News
Top China News

News analysis: Big prize builds on basic research




Hu, Bush discuss trade, Taiwan issue




Wen urges Viet Nam to handle ties properly




HK$660,000 stolen in e-bank scam




Bomb rocks Indonesia's Paris embassy




Beijing slams US report on human rights