US air raid kills 11 in Iraq's Falluja
(Agencies)
Updated: 2004-10-08 22:19
A U.S. air strike aimed at foreign militants led by Abu Musab al-Zarqawi killed 11 people and wounded 17 after a wedding party in Falluja Friday.
Rescuers dug bodies from rubble with their hands after the raid on a house where residents said a wedding party had just been held. They said the groom died and the bride was wounded.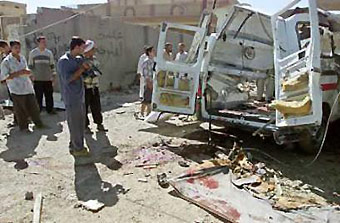 Iraqis inspect a destroyed car following U.S. air strikes in the town of Falluja, September 13, 2004. U.S. forces launched air strikes on the rebel-held city Monday, targeting what they said was a meeting of key loyalists of their top foe in Iraq, Jordanian militant Abu Musab al-Zarqawi. Iraqi doctors at Falluja Hospital said 16 Iraqis were killed, including women and children. But the U.S. military said its intelligence suggested only Zarqawi followers were killed. [Reuters]


At the local hospital, where blood pooled on the floor, doctor Khaled Nasser said nine females aged between 5 and 50 were among the wounded. Reuters television footage showed four women lying bloodied and bandaged in the hospital.

"We were celebrating my cousin's wedding and my relatives gathered in this house for the wedding," said Suad Mohammed, 26. "The wedding ended at 10 p.m., but some people gathered outside the house and the bombing began.

"I lost consciousness and this morning I knew I was in hospital," said Mohammed, wounded in the legs and chest.

The U.S. military said a "precision strike" hit a safe-house being used by associates of the Jordanian militant Zarqawi in northwest Falluja at 1:15 a.m.

Repeated U.S. air strikes on Falluja have coincided with efforts by Iraq's interim government to arrange the return of its security forces to the rebel-held city and other trouble spots ahead of a January deadline for nationwide elections.

The government welcomed an offer by a Shi'ite militia led by Moqtada al-Sadr to disarm, and indicated willingness to meet at least some of the fiery cleric's demands in any deal.

"The government welcomes the announcement by Sadr that his militia will disband, hand over their weapons, respect the authority and the unity of the state and abide by the rule of law in Iraq," said a statement issued in the name of Kassim Daoud, Iraq's national security adviser and chief negotiator.

The government promised to honor an amnesty offer for "those who have not committed crimes against the Iraqi people."

The government could also pay to repair damage caused by nightly clashes in recent weeks between Sadr's Mehdi Army militia and U.S. forces in Baghdad's Sadr City slum district.

Daoud's statement followed a disarmament offer made by Sadr's top aide in a televised address Thursday.

Ali Smeism said on the Al Arabiya channel the Mehdi Army would disarm if the U.S. military freed Sadr aides, stopped "persecuting" the militia and paid reparations. Sadr's aides have also demanded financial assistance to rebuild Sadr City.

PACIFYING IRAQ

If a deal were struck with the Mehdi Army in Sadr City and other Shi'ite flashpoints around Iraq, it could go some way to restoring stability ahead of the elections, although a Sunni insurgency still grips some central and northern regions.

The U.S. military said Friday soldiers had caught a suspected bomb maker in Baghdad and seized a truck carrying more than 1,500 155-mm artillery rounds. It said Thursday's haul was one of the biggest to date. Insurgents often use artillery rounds to make car bombs and roadside charges.

Before the latest Falluja raid, the city's chief negotiator said talks with the government could bear fruit soon. "The negotiations with the Iraqi government and the U.S army have reached a positive stage," Sheikh Khalid al-Jumaili said.

Jumaili, a mosque preacher and member of the Mujahideen Shura (council), which has some influence in the lawless city, said he hoped an agreement would be completed Saturday.

Interim Prime Minister Iyad Allawi denied the government was negotiating over Falluja, saying rebels should accept his terms, lay down their guns and join the political process.

"There are really no negotiations about this," he told Al Arabiya. "Those who conduct violence ... and who harm the Iraqi people should abide by these conditions."

It is not clear whether battle-hardened Iraqi guerrillas or foreign militants said to be holed up in Falluja would accept any deal reached by representatives such as Jumaili.

Zarqawi, who Washington says has links to al Qaeda, ranks as the top U.S. target in Iraq, with a $25 million price on his head. His Tawheed and Jihad group has said it carried out some of Iraq's bloodiest suicide bombings and hostage killings.

The U.S. military said recent air strikes had killed several Zarqawi leaders, including Abu Anas al-Shami, described as his deputy and spiritual adviser, and Mohammed al-Lubnani.

Residents and local doctors say many of the raids have inflicted civilian casualties in a city held by Sunni fighters since a U.S. assault in April failed to dislodge them.




Today's Top News
Top World News

News analysis: Big prize builds on basic research




Hu, Bush discuss trade, Taiwan issue




Wen urges Viet Nam to handle ties properly




HK$660,000 stolen in e-bank scam




Bomb rocks Indonesia's Paris embassy




Beijing slams US report on human rights