Wen urges Viet Nam to handle ties properly
By Hu Qihua (China Daily)
Updated: 2004-10-07 23:21
Viet Nam state leaders Thursday witnessed the efficiency of Chinese Premier Wen Jiabao's first official visit to Viet Nam which aims to strengthen economic and political ties between the two neighbours.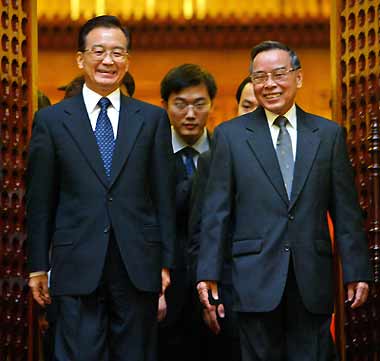 China's Premier Wen Jiabao (L), in town for the 5th Asia-Europe Meeting (ASEM), smiles as he walks with Vietnam's Prime Minister Phan Van Khai after exiting the Government Office in Hanoi on October 7, 2004. [Reuters]
A flurry of one-on-one meetings between Wen and senior leaders of Viet Nam have taken place since early Thursday morning, including those with Prime Minister Phan Van Khai, President Tran Duc Luong, National Assembly Chairman Nguyen Van An and General Secretary of the Central Committee of the Communist Party of Viet Nam Nong Duc Manh.
Wen told Khai that China highly valued friendly relations with Viet Nam, and urged both sides to properly deal with bilateral relations in the basic interests of both countries and peoples.
The two leaders said that the enacting of the Beibu Bay Demarcation Agreement and the Beibu Bay Fishery Co-operation Agreement is a significant event in the two countries' relations, which creates conditions for building stability and peace in the Beibu Bay, and helps enhance their friendly and comprehensive ties.
The two sides expressed their desire to co-operate and jointly implement the two agreements, and satisfactorily settle new situations and issues in the early stages of their implementation, according to a Chinese Foreign Ministry source.
The Beibu Bay is a semi-enclosed sea surrounded by territories of China and Viet Nam. The negotiations between the two countries on the delimitation have been going on for years. Fishermen of the two countries have enjoyed traditional co-operative relations in the Beibu Bay. The fishery arrangement is a important component of the delimitation of the Beibu Bay.
Both leaders also stated that delineating and placing markers on the land border has made a good start, and agreed to speed up the process and complete the delineation of the border on time.
After the talks, they also witnessed the signing ceremonies of eight agreements between two governments, ranging from trade and economic development to increased disease control at the border.
According to one of the agreements, China will help Viet Nam build light rail networks in Hanoi and Ho Chi Minh City.
Viet Nam looks to China as a model for opening up to the world and has adopted similar economic reform policies along with promoting technology and the Internet.
During Wen's visit, both sides also expressed their wish for a faster growth of bilateral relations.
Khai said that Wen's visit would help strengthen and boost the traditional relationship and comprehensive co-operation between the two countries, particularly in the economy, trade, and investment sectors, to match the potential of both countries.
They also discussed practical co-operation in various fields and the goal of exceeding US$10 billion in bilateral trade volume by 2010.
The two premiers spent much time discussing measures to further boost economic and commercial ties between the two countries, laying a foundation for the firm development of the two sides' relations. They agreed to set up a working group to discuss the idea of building two economic corridors and an economic belt, according to an official source of Viet Nam.
Last year, trade between China and Viet Nam totalled US$4.6 billion, and the two nations have recorded the highest economic growth in the whole region.
Viet Nam is also hoping to be admitted into the World Trade Organization next year. Asia-based analysts believe the deadline of 2005 is particularly crucial for Viet Nam.
After their agreement on textile and clothing expires on January 1, 2005, WTO members will enjoy quota-free trade, which is expected to pose great challenges to non-member countries. To survive, Viet Nam, whose textile and garment industry is its second largest source of exports, is pulling its socks up to maintain and develop its garment export markets.
During the talks with Nong Duc Manh, Wen noted that the Chinese Communist Party and Government are willing to work with Viet Nam to cultivate the guiding principle of "long-term stability, orientation towards the future, good-neighbourliness and friendship and all-round co-operation" so as to upgrade bilateral ties and ensure the two countries will be good neighbours, friends, comrades and partners forever.
Today's Top News
Top China News

Wen urges Viet Nam to handle ties properly




Asia, Europe differ on summit expansion




Holiday concludes with growing spending




Beijing slams US report on human rights




Bomb kills 40 at Pakistan religious rally




Chirac hopes visit strengthens partnership