Holiday concludes with growing spending
By Qin Yuding (China Daily)
Updated: 2004-10-07 23:01
China's urban residents were busy spending money during the "Golden Week" National Day holiday, which came to an end Thursday.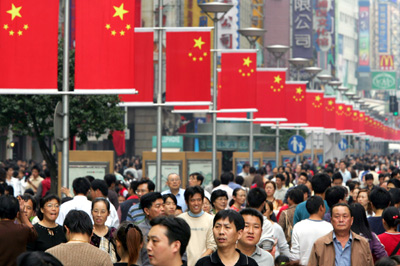 Chinese travellers flock along Nanjing Road Pedestrian Mall, one of Shanghai's popular tourist destinations October 6, 2004. Millions of holidaymakers are flocking to China's big cities during their 7-day National Day holiday. [Reuters]
According to statistics from the local commercial bureau, Beijingers spent 498 million yuan (US$60.2 million) on shopping in the first six days of the week-long vacation, 6 per cent up from the same period last year.
The holiday saw millions of Chinese on the move, part of the government's growth-boosting Golden Week of shopping, dining and travelling.
When measured in food consumption, holiday-related spending in restaurants with traditional characteristics seemed to reach new heights.
The statistics showed the total turnover of 29 selected restaurant enterprises, involving 132 restaurants in Beijing, reached 34.29 million yuan (US$4.15 million) in the first six days of the holiday, an increase of 7.2 per cent year-on-year.
Traditional delicacies, such as Beijing roast duck saw an apparent increase in business while fast food restaurants like McDonald's and other luxury restaurants offering shark fins witnessed a decrease in business volume.
One outlet of the Quanjude Beijing duck chain, a well-known roast duck restaurant, reported a totalof 5,287 ducks sold on October 2, setting a daily record for the company, according to Xinhua News Agency.
Xinhua also cited an incomplete survey of the hospitality industry, saying 27 major tourist hotels throughout the country had occupancy rates exceeding 80 per cent, and 13 had occupancy rates of over 90 per cent.
As Golden Week drew to a close, the second peak period of holiday traffic began, from Tuesday to Thursday, as people flocked home for work.
More than 500,000 passengers were predicted to have passed through Beijing railway stations on Wednesday. And train tickets were sold out on major inter-city travel routes Thursday.
Railway ticket booths were swamped as thousands of people tried to get return tickets.
The local railway bureau added 14 temporary trains on Wednesday to ease transportation pressure.
Sources with the bureau said though the tickets are hard to get, the railway system was capable of meeting traffic demands, the Beijing Evening News reported.
All local railway departments across the country have been ordered to make preparations by either adding more special trains or cracking down on ticket scalpers to meet the second spike in holiday traffic.
According to the latest information released by the Ministry of Public Security, the number of visitors to tourist sites and major tourists cities has been decreasing since Wednesday.
Unfortunately, the number of traffic accidents rose.
Six serious traffic incidents nationwide were reported, resulting in the death of 24 people.
The ministry warned drivers to abide by traffic laws, avoid driving if tired and control speeds in heavy traffic.
Though long-distance travel is returning to normal, internal travel within cities continues to heat up.
Tour packages named "one-day tour within the city" have attracted lots of local residents for the last two days of the holiday.
With today being the first day back at work, doctors with the emergency department of No 301 Hospital in Beijing asked people to be alert of cardiovascular disease following the holiday.
Doctors advised residents to reduce their fat-intake, drink less and take some physical exercise so as to fight post-holiday heart disease.
Studies show the cardiovascular disease mortality rate right after the holidays is 20 per cent higher than any other time of the year, the Beijing Evening News reported.
Today's Top News
Top China News

Asia, Europe differ on summit expansion




Holiday concludes with growing spending




Bomb kills 40 at Pakistan religious rally




Beijing slams US report on human rights




Chirac hopes visit strengthens partnership




Cambodia's king announces abdication