Bomb kills 40 at Pakistan religious rally
(Agencies)
Updated: 2004-10-07 16:54
At least 40 people were killed and more than 80 wounded when a car bomb exploded at a rally to commemorate an assassinated militant religious leader in central Pakistan early Thursday, police said.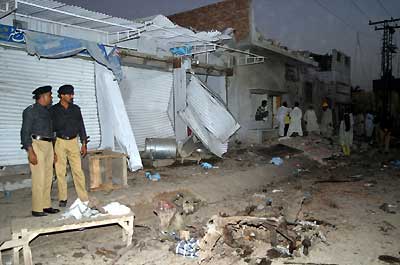 Pakistani policemen survey the damage caused by a car bomb explosion in central city of Multan October 7, 2004. At least 40 people were killed and more than 80 wounded when a car bomb exploded at a rally to commemorate an assassinated militant religious leader in central Pakistan early on Thursday, police said. [Reuters]
The blast ripped through a crowd of mourners at the overnight rally attended by several thousand in the city of Multan to mark the first anniversary of the shooting of extremist Sunni religious leader Azam Tariq.
It appeared to be the latest attack in a spate of sectarian violence that has racked Pakistan in recent years and came after a suicide bomber killed 30 people at a minority Shi'ite Muslim mosque in the eastern city of Sialkot on Oct. 2.
The rally in Multan had ended and people were dispersing in pre-dawn darkness from a meeting ground in the Rasheedabad area when the blast went off, said Sikander Hayat, district police officer of Multan, a city 425 km (250 miles) southwest of the capital, Islamabad.
"The probability is that it was detonated by a remote control," said Hayat, who earlier told Reuters that the attack appeared to have been a suicide bombing.
One of the wounded, Qari Hafeez, speaking from his hospital bed, said the car had been driven into the crowd: "When we came out of the rally at around 4:30 in the morning, a car came at us with its lights on. It hit the people and exploded. After that, I don't know what happened."
At least 40 people were killed and 84 wounded, 30 of them seriously, said Arif Sial, medical superintendent at Multan's main Nishtar Hospital.
Most at the rally were members of Sipah-e-Sahaba Pakistan (Soldiers of Mohammad's Companions), an outlawed Sunni group that Tariq headed and which has been blamed for many attacks on minority Shi'ites, who make up about 15 percent of Pakistan's mainly Sunni population of 150 million, residents said.
An angry crowd of hundreds gathered outside the Nishtar Hospital after the blast, screaming in mourning.
Interior Minister Aftab Ahmed Khan Sherpao said on private Geo TV that troops were being sent to Multan to maintain order.
"People are worried, so the army has been called to do patrolling and keep the situation under control," he said.
Group Blamed for Sectarian Attacks
Information Minister Sheikh Rashid Ahmed condemned the bombing as an act of terrorism. He said it was too early to say who was responsible, although a sectarian attack was suspected.
"It maybe sectarian, maybe a reaction to Sialkot, or something else," he said. "These are a few terrorist activists in sectarian organizations. We are after them."
Hayat reported two explosions, about 20 seconds apart. He said the second blast was apparently caused by the explosion of a petrol tank of a nearby motorcycle.
"It was dark and people were screaming for help," said one witness. "It was utter chaos."
Large patches of blood stained the ground and pieces of flesh lay scattered around. Nearby houses and shops were damaged. The car was completely destroyed.
Sipah-e-Sahaba was one of seven militant groups outlawed by President Pervez Musharraf -- five of them in a crackdown on religious violence -- after he joined the U.S.-led war on terror following the Sept. 11 attacks on the United States in 2001.
Tariq, who was a member of parliament, was among five people killed in an attack on his car on Oct. 6 last year on the outskirts of Islamabad. Like other such organizations, his Sipah-e-Sahaba now officially works under a new name.
Today's Top News
Top World News

Asia, Europe differ on summit expansion




Facts, figures reveal better life has dawned




Bomb kills 40 at Pakistan religious rally




Beijing slams US report on human rights




Wen extends neighbourly hand to Hanoi




Oil scales US$52 on winter fuel fears