Oil scales US$52 on winter fuel fears
(Agencies)
Updated: 2004-10-07 08:46
Oil's record-breaking rally lifted U.S. crude beyond US$52 a barrel on Wednesday, fueled by the impact of Hurricane Ivan on U.S. winter inventories.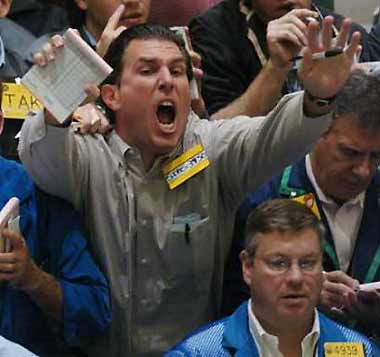 A New York Mercantile Exchange trader shouts and signals an order across a trading pit early in the trading day, October 6, 2004 in New York. Stocks were little changed as high crude prices drove up shares of energy companies, but profit warnings dragged on such sectors as auto parts and semiconductors. [AP Photo]
U.S. light crude set a new high of US$52.15 a barrel before settling at US$52.02, up 93 cents on the day. London Brent , the benchmark for European imports, peaked at US$48.10, settling up 86 cents at US$47.99.
Oil has surged nearly 60 percent since January 1, adding US$19 to the cost of U.S. crude, driven by the strongest demand growth in a generation and a thinning cushion of spare capacity to cope with supply outages.
"It's frightening how bullishly the market is shaping up from a fundamental perspective," said Yasser Elguindi of Medley Global Advisors in New York.
"There's strong demand in Asia and Europe as well as the U.S. and inventories are low in all regions."
With little sign yet of any significant slowdown in the economic growth that is driving price gains, investment funds appear to see no reason yet to sell.
"Momentum can't be denied in this market and so we find ourselves now ... atop US$50 perhaps headed for US$60 absent some unforeseen catalyst for a wave of speculative selling," said Marshall Steeves of brokers Refco.
Despite high prices, U.S. oil demand is up 3 percent in the year to date to 19.96 million barrels a day, according to U.S. government data released on Wednesday.
The latest focus of concern on supply is the United States. Damage from mid-September's Hurricane Ivan has kept closed 478,000 barrels per day from the U.S. Gulf of Mexico -- equivalent to about half the output of small OPEC producer Indonesia.
The U.S. government said that industry executives estimated it could take 45-90 days to restore crude production from offshore platforms.
The hurricane destroyed seven platforms and damaged several mobile rigs, the government's Energy Information Administration (EIA) said in its winter outlook report.
The storm also disrupted operations at Gulf Coast refineries, where plants were still working at only 89 percent of capacity last week, cutting into heating fuel supplies.
Distillate stocks, including heating oil, fell by 2.1 million barrels to 123.4 million last week, down 6 percent from year-ago levels, the EIA said in a weekly report.
"Ivan has completely eliminated the cushion of spare distillate stocks in the Atlantic basin," said Elguindi.
"This is the heart of the problem -- across the globe there is rising oil product demand and little spare refining capacity to meet it."
Other major oil consumers also are holding thin heating oil supplies, with world number three energy user Japan running a significant deficit against last year, Japanese data showed on Wednesday.
The Organization of the Petroleum Exporting Countries lifted production last month by 690,000 barrels a day to a 25-year-high of 30.15 million bpd, a Reuters survey found.
But most of the extra oil came from disrupted Iraq output after repairs following sabotage attacks. Spare world capacity is limited to Saudi Arabia.
Nigeria also remains a concern.
Nigerian oil union NUPENG is threatening to disrupt production on Sunday ahead of a general strike on Monday, unless the government starts talks on retail fuel prices.
Nigeria's oil unions have called strikes four times this year over rising fuel prices in the world's seventh largest exporter. So far none have hit output.
Today's Top News
Top World News

Wen extends neighbourly hand to Hanoi




Facts, figures reveal better life has dawned




Car bomb kills 16 Iraqis near Baghdad




Oil scales US$52 on winter fuel fears




Fireworks plant blast kills 27 in Guangxi




Iran says its missiles can reach 1,250 miles