Facts, figures reveal better life has dawned
By Zhou Xia (China Daily)
Updated: 2004-10-07 08:38
Life is changing every day.
People may have deep memories of some great changes, and have little impression of other minor ones which, in the long run, may affect our daily lives as well.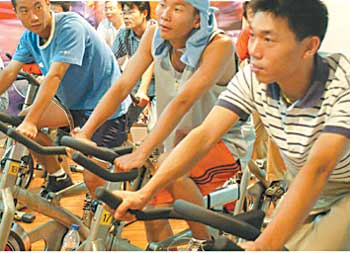 Local residents in Suzhou, East China's Jiangsu Province, enjoy exercises at the gymnasium. As living conditions change rapidly, people are paying more and more attention to their health. [newsphoto/file]
Figures recorded by a market research company during the past seven years reflect such changes in most Chinese lives.
The China Marketing and Media Study (CMMS) is conducted by a Sino-Japanese independent market research company, SinoMonitor, in collaboration with British market researcher BMRB International and US software firm Telmar.
CMMS has followed over 70,000 Chinese consumers aged between 15 and 64 in 30 major cities since 1997.
Ownership of durable consumer goods
The number of people who own some durable consumer goods as home appliances is increasing year after year. Especially, ownership of such appliances as mobile phones, microwave ovens, computers and autos, which started becoming popular among Chinese families in the mid-1990s, grew rapidly.
CMMS data shows that in 2003, 48.5 per cent of the people surveyed had mobile phones, more than doubling the ownership three years ago, which stood at only 23.8 per cent.
When the first generation cellular phone dageda, which looked like a brick appeared in the Chinese market in the early 1990s, it was seen as a symbol of wealth.
During the following decade, cell phones have improved many times. Today, cell phones have various designs and all kinds of functions.
Even migrant workers and school students use mobile phones.
With the opening of China's telecom market, telecom carriers are competing to lower communication fees and offer diversified services for customers, which means Chinese are enjoying more and more convenient and less expensive telecommunications and the mobile phone market is set to grow rapidly in years to come.
Of all the household electrical appliances, the microwave oven is the one that has spread among Chinese families fastest.
Just two or three years ago, microwave ovens were regarded as a "luxury items" costing at least 3,000 yuan (US$362). Most families could not afford one.
But now it is only an everyday home electrical appliance priced at some hundreds of yuan and considered an essential cooking appliance for Chinese.
Its convenience and quickness has changed the life style of modern people.
According to the CMMS data, 34.9 per cent of people surveyed had microwave ovens in 2000, while the figure increased to 47.5 per cent last year.
Today, 72.5 per cent of Chinese families use water heaters, CMMS data says.
Some 10 years ago, many Chinese went to public baths once or twice a week, due to their poor living conditions.
The crowding and the noise at the public baths is still fresh in many people's memories.
A famous Chinese movie Bathing, starring well-known actor Pu Cunxi, gives a clear picture of public bath houses at that time.
Though they still exist today, their function has changed.
They provide sauna, spa and other services and people go there for relaxation.
The CMMS data shows more than 50 per cent of families have air-conditioners, which enable them to be warm in winter and cool in summer.
The number of people who have private cars also increased rapidly in the last two years.
In 2003, 3.9 per cent of people surveyed had their own cars. The figure has grown to 30 per cent over the previous year.
Ownership of video players grows by about 7 per cent year-on-year. CMMS shows 68 per cent of Chinese families had video players last year.
The number of people who own computers grows even faster. In 2003, some 30 per cent of people surveyed had computers, compared with only 17 per cent three years ago.
The rapid growth in the number of people who have these durable consumer goods shows that life among Chinese is becoming more and more convenient and comfortable. The increase in video players and computer ownership reflects the colorful cultural life of the Chinese.
Use of fast moving consumer goods
Consumption of fast moving consumer goods, which mainly include articles for daily use, beverages and food, shows that Chinese living standards are improving year by year.
The per capita milk consumption is always regarded as a key criteria to weigh people's standard of living in a country.
In the early 1980s when the market was in short supply, many Chinese families did not even have milk powder to feed their babies.
Today, parents are often dazzled by all kinds of dairy products lying on the shelves of supermarkets.
At present, more than 75 per cent of Chinese buy dairy products, especially fresh milk, daily. The figure was 7 percentage points lower in 2000.
While that figure, as well as the per capita milk consumption in China is much lower than that of developed countries, it shows the improved life of the Chinese people.
As living standards rise, people are beginning to pay more attention to health.
To fill the stomach is no longer a concern for them, instead they care more about how to eat healthily.
Bearing such consumption concepts in mind, Chinese have welcomed to tea drinks and juices, which are said to be healthy.
CMMS data shows last year, more than 37 per cent of those surveyed bought tea drinks, and 39 per cent had juice drinks regularly.
In addition to food, the use of daily necessities also shows the improving lives in urban areas of China.
In 2003, nearly half of the people surveyed used shower and bathing gels. And there are many kinds of facial cleansers and hand cleaners on the domestic market.
A dozen years ago, soap was the only cleaning product for private hygiene in the country.
Shopping habits
The improvement in Chinese living standards is also reflected by the change of life style.
In the 1990s, Chinese people still went to free markets and bargained with dealers, when buying food stuffs like meat, eggs, vegetables and fruits.
The appearance of supermarkets changed the shopping habits of most of urban residents.
When supermarket first emerged in China, Chinese went there just for curiosity.
Their comfortable environment, abundant goods, good services and relatively reasonable prices have lured more and more people.
CMMS data shows the number of people who shop at supermarkets is climbing every year. In 2000, 89.6 per cent of those surveyed went there, and the figure rose to 95.1 per cent last year.
In addition, goods and services offered by supermarkets have become more comprehensive.
From home appliances to needles and threads, from seafood to processed foods, all can be found in supermarkets.
Today, people can easily go to a supermarket and find what they need, as supermarkets of different sizes are everywhere in urban areas.
Data collected by the study shows the number of Chinese who buy food and commodities for daily use from supermarkets grew fast in recent years.
Fifteen per cent of the surveyed bought vegetables and meats in supermarkets in 2003, compared with 8.6 per cent in 2000.
The proportion of people who bought fruit in supermarkets more than doubled to 11.1 per cent in 2003 from 5.4 per cent three years ago.
And 29 per cent of customers purchased daily commodities in supermarkets, 30.5 per cent for beverages and 13.3 per cent for durable consumer goods last year.
Aside from supermarkets, more and more people buy daily necessities, durable consumer products, cigarettes, alcohol, and garments in zhuanmaidian, a Chinese term meaning a store which sells products under a single brand name, especially famous ones.
CMMS data shows the number of such people grew by 25 per cent year-on-year.
Only a few years ago, most Chinese believed that zhuanmaidian is a place for the richest people.
The phenomenon shows people pay greater attention to the quality of products, and cheap prices is no longer the most important factor people make when deciding where to shop.
Change in transportation
Statistics show 19.8 per cent of those surveyed choose to walk to their offices every day last year.
The figure was 12.5 per cent in 2000, 12.9 per cent in 2001, and 16 per cent in 2002.
The reason is that as life improves, Chinese have also grown more aware of the importance of exercise for maintaining health. However, the intense life and work patterns of most urban residents made going to the gym impossible.
Thus, people walked from home to the office in the morning and back after work, to stay fit and save money.
As the number of people who went to work on foot grew, the number of people who took bicycles as their major mode of transportation decreased.
The proportion was 40.9 per cent three years ago, but was down to 34.4 per cent last year.
The number of people who used motorcycles as their main mode of transportation also went down, as many cities did not allow motorcycles in downtown areas for easing traffic pressures.
Four per cent of the surveyed took motorcycles as major traffic means last year, compared with 5.6 per cent in 2001.
Meanwhile, 2.6 per cent of people travelled mainly by private car. The figure was 2.4 per cent in 2001.
The growth is much lower than the ownership of private cars during the past three years. Currently, more than 33 per cent of Chinese took buses for their major traffic means.
This is due to crowded roads and few parking lots.
Now city governments are putting more effort into developing road networks and public transportation, such as more bus lines and subways, to make public transportation quicker, convenient and comfortable.
Today's Top News
Top China News

Asia, Europe differ on summit expansion




Facts, figures reveal better life has dawned




Bomb kills 39 at Pakistan religious rally




Wen extends neighbourly hand to Hanoi




Oil scales US$52 on winter fuel fears




Four children killed in Hunan school attack