Wen extends neighbourly hand to Hanoi
(Hu Qihua)
Updated: 2004-10-07 08:28
HANOI: China will adhere to its neighbouring diplomacy of "building good-neighbourly relationships and partnerships" and will work with Asian countries to maintain regional stability and common prosperity, said Premier Wen Jiabao.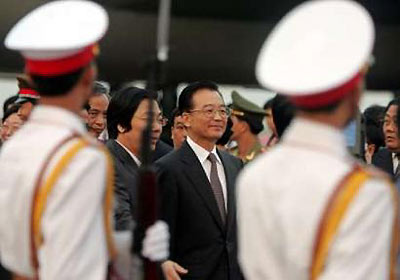 Premier Wen Jiabao walks past a Vietnamese honor guard after arriving in Hanoi for the 5th Asia-Europe Meeting (ASEM) on October 6, 2004. ASEM, which will take place in Hanoi from October 7-9, is a grouping of 39 delegations including 38 Asian and European countries plus the European Commission which aims to promote ties and cooperation between the two continents. [AFP]

Wen's statement was read out at the airport as he arrived in the capital city of Viet Nam, starting a two-day official visit.
Wen said China and Viet Nam had deepened their political mutual trust and increasingly expanded ties in different areas under the guidelines of "long-term stability, future orientation, good neighbourliness and comprehensive co-operation," which also serves the fundamental interests of the two peoples.
The progressive settlement of the border and territory issue not only conforms to the fundamental interests of the two countries but also contributes to regional peace and stability.
Wen will today meet his counterpart Phan Van Khai, President Tran Duc Luong, National Aeesmbly Chairman Nguyen Van An and General Secretary of the Central Committee of the Communist Party of Viet Nam Nong Duc Manh.
In Hanoi, Wen will attend the Fifth ASEM (Asia-Europe Meeting) Summit from Friday to Saturday.
He met Finnish Prime Minister Matti Vanhanen there last night and is scheduled to hold one-to-one talks with more leaders during the summit.
ASEM, an informal process of dialogue and co-operation, addresses political, economic and cultural issues, with the objective of strengthening the relationship between Asia and Europe.
This time, the summit will adopt a declaration on a closer ASEM economic partnership and a declaration on dialogue among cultures and civilizations. This will be the first time ASEM members have made such high-level commitments to beef up economic and cultural ties between Asia and Europe.
Wu Yikang, an international relations expert with the Shanghai-based Centre of European Studies, said that with the growing influence of the Asian economy, there will be large potential for the two continents to enlarge their platform for closer economic ties.
This summit will also mark its largest enlargement since its foundation in 1996. It is expected to admit the three remaining ASEAN countries (Cambodia, Laos and Myanmar) and the 10 new EU member countries (Hungary, Poland, Estonia, Lithuania, Latvia, the Czech Republic, Slovakia, Slovenia, Cyprus and Malta.)
Wu regarded the enlargement as a milestone for the ASEM, saying that the roles of Europe and Asia become more and more "irreplaceable" in international affairs.
As the host, Hanoi, a city of 1,000-plus square kilometres with more than 3.5 million population, has tried every possible means to receive the 39 delegations.
Today's Top News
Top China News

Wen extends neighbourly hand to Hanoi




Facts, figures reveal better life has dawned




Car bomb kills 16 Iraqis near Baghdad




Oil scales US$52 on winter fuel fears




Fireworks plant blast kills 27 in Guangxi




Iran says its missiles can reach 1,250 miles