Cheney, Edwards go toe to toe in debate
(Agencies)
Updated: 2004-10-06 13:56
US Vice President Dick Cheney accused the Democratic presidential ticket Tuesday night of turning against the Iraq war for political gain. "We need a fresh start" countered Sen. John Edwards in campaign debate, accusing the administration of mismanaging the conflict.
In a clash at close quarters, the Democratic vice presidential candidate accused Cheney of "not being straight" with the public about a war that has claimed more than 1,000 American lives. He said casualties are rising monthly and the United States is bearing 90 percent of the cost of the conflict as well as suffering 90 percent of the dead and wounded.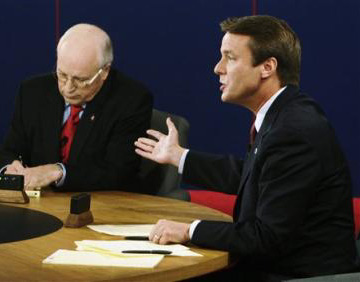 US Vice President Dick Cheney takes notes as Democratic vice presidential candidate Sen. John Edwards speaks during their vice presidential debate at Case Western Reserve University in Cleveland on Tuesday, Oct. 5, 2004. [AP]
Cheney challenged that, saying the Iraqi security forces had taken nearly half of the casualties. "For you to demean their sacrifice is beyond the pale," he said to Edwards, seated practically at his elbow.
The vice president also criticized Democratic presidential candidate John Kerry for taking "the wrong side" on defense issues over the past three decades.
"I'm saying specifically that I don't believe he has the qualities we need in a commander in chief," he said.
The two men debated exactly four weeks before Election Day in a race for the White House that has drawn closer in recent days. The debate format encouraged give-and-take — and neither the Bush administration's powerful second-in-command nor Kerry's running mate shrunk from the task in their only encounter.
"Frankly, senator, you have a record that's not very distinguished," Cheney said to Edwards, citing him for a pattern of absences during his single term in the Senate.
Edwards summed up his points like the former trial lawyer he is.
In a jab at the Bush-Cheney campaign's claim on experience, he said, "Mr. Vice President, I don't think the country can take four more years of this type of experience."
Cheney listened politely to Edwards — a contrast to Bush, who repeatedly grimaced and scowled last week while Kerry attacked the administration's record.
From the first moments of the debate, the vice president also sought to place the war in Iraq into a larger context than Bush was able to emphasize, saying it must be viewed as part of the overall global war on terror.
Cheney, 63, and Edwards, 51, sat a few feet apart around a semicircular table on a stage at Case Western Reserve University. Bush and his Democratic rival held the first of three presidential debates last Thursday, an encounter that Kerry is widely perceived to have won.
Polls since then have shown the four-term Massachusetts senator gaining in the polls, closing the gap with Bush in some and pulling into a statistical tie in others.
Cheney and Edwards got some encouraging news from post-debate polls. An ABC News poll of debate watchers said the vice president had won. A CBS survey of undecideds said Edwards had triumphed.
Edwards was on the attack from the opening moments of the debate. Cheney sought methodically — sometimes sarcastically — to rebut his rival's claims.
Edwards said that in addition to mismanaging the war in Iraq, the administration had Osama bin Laden cornered in the mountains of Afghanistan at one point. But, he said, Bush turned over the hunt for the mastermind behind the Sept. 11 terrorist attacks to Afghan warlords.
"The senator has got his facts wrong," said Cheney, one of several times he accused his counterpart of misstatements. "We've never let up on Osama bin Laden from Day One. We've actively and aggressively pursued him."
As for Iraq, the vice president said Kerry voted to authorize the war, then voted against an $87 billion aid package for Iraq and Afghanistan. He said the Massachusetts senator — as well as Edwards — had changed their mind due to the pressure of the Democratic primary campaign.
"These are two individuals who have been for the war when the headlines were good and against it when their poll ratings were bad," the vice president said. He added, "If they couldn't stand up to pressures that Howard Dean represented, how can we expect them to stand up to al-Qaida?" he said.
Cheney also said Kerry had declared during last week's debate that he would put American military commitments overseas to a global test. He said that was part of a record that led Kerry to oppose the first Persian Gulf War in 1991 and "always being on the wrong side" of defense issues.
On domestic issues, Edwards said Bush has presided over a loss of jobs during his administration — the first president to do so since Herbert Hoover sat in the White House. He also said more Americans are in poverty, and living without health insurance, than when the president took the oath of office in 2001.
"The economy is on an upswing," the vice president said, with the creation of jobs. He noted that on Monday Bush had signed his fourth tax cut into law in four years.
He said a Kerry administration would seek to raise taxes — a claim Edwards disputed even before it was spoken. The Democrat said Kerry's proposal calls for rolling back the Bush tax cuts on only those earning $200,000 or more a year.
Cheney, whose daughter, Mary, is a lesbian, spoke supportively about gay relationships and said that "people ought to be free to choose any arrangement they want." At the same time, Bush supports passage of a constitutional marriage to ban gay marriage, and Cheney said, "He sets policy for this administration, and I support him."
Edwards said it was obvious that the Cheneys loved their daughter and that "you can't have anything but respect" for them. "I believe marriage is between a man and a woman and so does John Kerry," Edwards said. But, he added, "We should not use the Constitution to divide this country."
Edwards also charged that Cheney, as the chief executive officer of Halliburton, pushed to lift U.S. sanctions against Iran, did business with countries that were "sworn enemies of the United States," and that Halliburton paid millions of dollars in fines for providing false information "just like Enron and Ken Lay," the now indicted former chief.
Cheney accused Edwards of "trying to throw up a smoke screen" and said "there's no substance to the charges."
Kerry and Edwards have sought to link Cheney to Halliburton as a symbol of corporate greed and insider connections. Halliburton has reported making more than $7.6 billion so far from U.S. government contracts in Iraq.
Kerry and Bush have two remaining debates, Friday in St. Louis and Oct. 13 in Tempe, Ariz.
Today's Top News
Top World News

BASE jumping takes flight in Shanghai




Fireworks plant blast kills 27 in Guangxi




Iran says its missiles can reach 1,250 miles




Country makes strides in space technology




White House on defensive after Bremer talk




Nation's media urged to promote safe sex