Fireworks plant blast kills 27 in Guangxi
(China Daily)
Updated: 2004-10-06 08:43
A blast at a fireworks factory in South China's Guangxi Zhuang Autonomous Region on Monday killed 27 people and wounded a further 59.
The deaths at the factory were not the only tragedies during the National Day holidays. Two other incidents in Guangxi and North China's Shanxi Province during the week-long National Day holidays resulted in four deaths.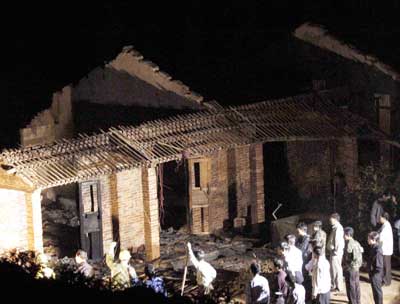 Local people inspect the wreckage of the blast. [Xinhua]
The blast at the fireworks factory in Pubei County, Qinzhou, may have been caused by a blast inside a workshop, the initial investigation found.
Xinhua News Agency said three major shops at the factory were destroyed by the blast while the roofs of four surrounding rooms were also blown off.
The township factory employed nearly 100 people and had an output value of 5 million yuan (US$604,600) last year.
The wounded were all rushed to local hospitals and are being taken care of. More than 80 medical workers were organized to help them, Xinhua News Agency reported yesterday.
The Guangxi government has called on all fireworks plants in the autonomous region to stop production and improve safety measures, China News Service reported yesterday.
A Pubei County official told China News Service that the accident was the third blast at a fireworks factory in the county since May.
The official said the other two incidents in May and August killed three and injured more than 10, including two children, who were hurt by fireworks left at the site of the May explosion.
There are growing safety concerns regarding to fireworks factories, the official was quoted as saying.
Guangxi is a fireworks manufacturing base and fireworks factories are major sources of income for local governments in cities like Beihai, Yulin and Qinzhou.
However, fireworks production is hazardous.
Guangxi launched a campaign last year to phase out unqualified companies.
According to Xinhua, the number of private producers dropped by more than a half by May.
In an separate incident, two people died of gas poisoning at a limekiln in Guangxi's Liucheng County on Monday.
Xinhua said the two were killed trying to rescue other poisoned people at the bottom of the limekiln.
The lives of the other victims are no longer in danger.
Experts said the gas may have been carbon monoxide, sulphur dioxide or cyanogen sulphide.
In a third incident, two women died in a climbing accident in Lingchuan County in Shanxi on Saturday, Xinhua reported.
Both women fell after safety ropes broke while they were climbing over a gorge. Both were from Central China's Henan Province and were in their twenties.
More than 30 Chinese teams and four from England, France and Germany had been climbing since Friday. All climbing was stopped after the falls.
Today's Top News
Top China News

Asia, Europe differ on summit expansion




Facts, figures reveal better life has dawned




Car bomb kills 37 at Pakistan rally




Wen extends neighbourly hand to Hanoi




Oil scales US$52 on winter fuel fears




Fireworks plant blast kills 27 in Guangxi