Blair: Ready to open contact with Iraq captors
(Agencies)
Updated: 2004-09-30 07:45
British Prime Minister Tony Blair said on Wednesday he was ready to open up contact with captors of a British hostage in Iraq, shown on video begging Blair to save his life.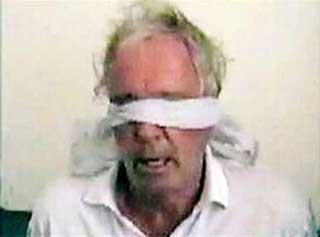 British hostage Kenneth Bigley is seen in this video posted on the Internet September 18, 2004. With time running out to save a British hostage in Iraq. [Reuters]

Kenneth Bigley, 62, appeared on the tape chained and squatting in a cage, pleading to the prime minister for help while accusing him of lying over the hostage crisis.

Italy rejoiced at the release of two women aid workers after paying a ransom and France was also gripped by a hostage drama when a freelance negotiator, disowned by Paris officials, said two French journalists held for six weeks could be free in days.

"They've made no attempt to have any contact with us at all. If they did make contact, it would be something we would immediately respond to," Blair told reporters on the fringes of his Labour Party's annual conference in the southern town of Brighton.

"I don't think we can take any hope from anything until we know exactly what the intentions of these people are," Blair said. "They're not in contact with us, it's impossible for us to make contact with them."

Blair has said repeatedly he will not negotiate with the kidnappers, who demand release of women prisoners held in Iraq.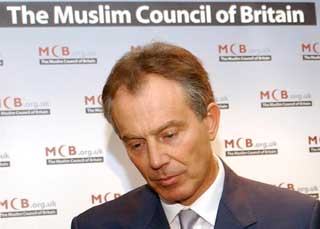 Britain's Prime Minister Tony Blair looks down as he attends a Muslim Council of Britain meeting on the fringes of his Labour Party's annual conference in Brighton, September 29, 2004. Blair said on Wednesday Britain would respond to the captors of Kenneth Bigley being held in Iraq if they made contact with his government. Bigley, made an impassioned plea to Blair to help free him in a videotape aired on Wednesday that left relatives relieved to see him alive but appalled at his caged conditions. [Reuters]

The French mediator said a condition for the journalists' release was for U.S. forces to provide safe passage between the rebel towns of Falluja and Ramadi.

Iraq's defense minister, however, said U.S. and Iraqi troops were about to launch offensives to re-establish their control ahead of elections planned for January.

"You wait and see what we are going to do. We are going to take all these cities in October," minister Hazim al-Shalaan told Reuters.

Kidnapping has flourished in the lawlessness that has engulfed parts of Iraq since the fall of Saddam Hussein but the United States has said it will restore order in the next few months so that planned elections can go ahead in January.

Al Jazeera television broadcast the tape showing a haggard and distraught Bigley dressed in an orange jumpsuit of the kind associated with Muslims held by U.S. troops at Guantanamo Bay.

"Tony Blair is a liar. He doesn't care about me. I'm just one person," Bigley said, his voice cracking under the strain.

FRENCH MOVES

The tape was aired a day after the two Italian women and four Egyptian engineers were freed. Bigley's two American colleagues, seized with him from their house in Baghdad two weeks ago, have already been beheaded on video by a group led by Jordanian al Qaeda ally Abu Musab al-Zarqawi.

Guerrillas in Iraq are holding two other Western hostages -- French journalists Christian Chesnot and Georges Malbrunot.

Philippe Brett, the self-appointed mediator, told Al Arabiya television on Tuesday he had met them and had made a deal to secure their release without paying a ransom.

But the French government reacted coolly.

"We have been following what Mr Brett has been saying, but we have no information on his negotiations and we cannot therefore confirm anything," said a Foreign Ministry official.

The French pair and their Syrian driver were seized more than a month ago on a road south of Baghdad. Paris rejected the kidnappers' demands that France scrap a law banning girls from wearing the traditional Muslim headscarf in state schools.

ITALIAN RANSOM

Italy reacted with joy to the release of Simona Pari and Simona Torretta, who spoke of returning to Iraq despite their three-week kidnap ordeal.

But while most Italians were simply delighted that "the two Simonas" were safe and well, there was controversy over reports Rome paid a $1 million ransom to win the women's freedom -- the kind of response Iraqi officials said would promote kidnappings.

The chairman of the Italian parliament's foreign affairs committee confirmed media reports of a ransom.

"Yes it was paid, it was right because the life of the two girls was more important than the money. I think it was paid by the intelligence services," Gustavo Selva, a member of the ruling center-right coalition, told Reuters.

The hostage crisis has added to the problems facing Iraq's U.S.-backed government as it tries to deal with a mounting insurgency and prepares for January's elections.

In Mosul, 240 miles north of Baghdad, a car bomb exploded near the university as a U.S. patrol drove past, wounding six American soldiers, the U.S. military said.

In the latest slaying of a religious figure, gunmen in the city of Baquba killed a member of the pro-government Shi'ite party Supreme Council for the Islamic Revolution in Iraq.




Today's Top News
Top World News

Taipei's provocative actions condemned




Nation on alert against outbreak of bird flu




Elimination of quota on textiles welcomed




British hostage in Iraq pleads for help




Foreign debt rises due to policy changes




US$1 billion bonds issued in New York