Crushing burden of sickness
(Shanghai Star)
Updated: 2004-09-26 08:54
TO Zeng Shaotang, a farmer from South China's Guangxi Zhuang Autonomous Region, the medical bills he has to pay feels like a mountain on his shoulders.
If he continues to delay paying the bill, Zeng will have to take his seriously ill 1-year-old out of hospital.
"I feel so frustrated every day. Without money, we have to leave and the only thing we can do is to wait for our baby to die," said Zeng, who says he has spent all his savings and cannot borrow any more money from his relatives.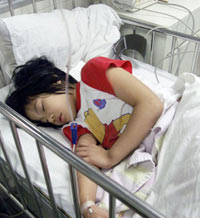 A patient receives treatment in a local hospital. [newsphoto]
The cost of hospital care and the fee for surgery on his baby has so far totalled 80,000 yuan (US$9,673) and has crushed the family financially.
It's a far cry from the happiness Zeng experienced when he married his wife in 2002. The birth of their baby, Zeng Lingxing, a year later brought great happiness to the family, who made a living running a small tea house.
But their joy was shattered last March when the baby began to choke and could not breathe.
He was admitted to hospital, where he was found to be suffering from pneumonia, a congenital heart disease and septicemia.
The couple took the baby to every hospital in Guangxi and saw all the experts on child care they could find.
But they had to end their search for medical help when their money ran out.
"My relatives tried to persuade us to abandon the baby, and sometimes I thought of giving up too," Zeng said.
When local hospitals appeared to have lost hope in finding a cure for the baby, Zeng was advised to try the Shanghai Children's Medical Centre.
As one of the leading medical facilities in China, the centre was optimistic about curing the sick infant.
He was placed in the centre's intensive care unit and began receiving the care of teams of the most experienced doctors and nurses. He began to recover.
But the mounting medical bills may crush the family's hopes of a full recovery for their only child.
Zeng has been busy appealing for help through newspapers and television.
"You have not known the happiness of the world," Zeng whispered to his son during a recent hospital visit. "If one day you leave, it will be your misfortune and due to our helplessness."
Money-consuming treatment
The Zeng family is not the only one in this predicament. If children are not covered by health care insurance, the high cost of medical care can quickly eat up a family's savings and even force it into bankruptcy.
Less than one-quarter of China's population is covered by any of the country's urban or rural medical plans, according to the ChinaCare Group, a Beijing-based health care consulting firm.
High medical bills and lack of insurance have forced many parents to delay obtaining treatment for their sick children or even to give up altogether.
According to Ji Qianying, an official from the Shanghai Children's Medical Centre, many parents end the treatment for their children when the cost is beyond their means.
A statistic from a blood treatment centre in Xiehe Hospital in Central China's Hunan Province showed that only 14 out of 80 patients were able to afford to see their treatment through to the end.
"The others gave up or came back for more treatment when they had money," said Dr Zhang Zhiquan from the hospital.
"The lack of a medical care insurance system is one of the main reasons why parents give up treatment. The disadvantages will show up when the children come down with a serious disease," said one official with the Shanghai Red Cross Association.
Children in China today are growing up in a rapidly changing society where there are new opportunities but also new insecurities. Although the economy is growing, the new health-care system adopted by the country has transferred most of the cost to patients and their families, instead of to government organs as under the old system. This has resulted in some parents struggling to pay for their children's health care.
Under-privileged children such as those from minority ethnic communities, orphans and migrant children are particularly vulnerable.
Commercial insurance may provide the only hope for parents.
"But the insurance companies have a limit on claims. The money is far from enough to cure a seriously sick child," said Ji from the Shanghai Children's Medical Centre.
Also making the situation tough for struggling parents are the rising costs of medical care in hospitals across the country.
Public support
An appeal for public support can be an effective way for parents to get help paying the medical bills. By turning to newspapers and TV stations for aid, they try to win sympathy and support with their heart-breaking stories.
"But that cannot solve the problem. It is impossible for every sick and impoverished child to show up on TV or in newspapers," said Jiang Li, vice-director of the Shanghai Children's Medical Care Fund. "A better way is to set up a fund and through it we call for the efforts of the whole society to help our children."
A fund was set up in 1996 aimed at helping children under 18 to receive medical care. The fund pays half the children's medical fees. "The only thing you have to do is to pay 40 yuan (US$4.80) every year," said Jiang.
Between September 1996 and October 2003, the fund has paid out 356 million yuan (US$43 million) for 487,700 sick youngsters.
The fund now also covers the children of migrant workers, one of the most disadvantaged groups.
But today the fund is finding it increasingly difficult to make ends meet. "In the past few years, there has been a little deficit," said Jiang.
As an independent non-governmental organization, the fund does not get financial support from the government.
The fund is about to raise the fee for students to 50 yuan (US$6) per year in the hope of staying ahead of the steadily increasing cost of medical care, Jiang added.
Today's Top News
Top China News

Taiwan people protest Chen's arms purchase




Premier pushes for stronger Russian ties




CPC central committee to give reforms boost




Iran says it tested 'strategic missile'




DPRK missile site movements said continuing




Chinese economy grows at 9% this year