Premier pushes for stronger Russian ties
(Chinadaily.com.cn)
Updated: 2004-09-26 08:30
Moscow: China will work with Russia to invigorate their strategic partnership, visiting Chinese Premier Wen Jiabao told Russian people.
In a speech delivered to 300 Russian representatives from all walks of life, Wen said the two of the world's largest countries must proceed from a strategic perspective when dealing with bilateral relations.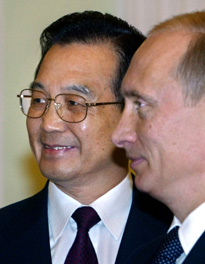 Russian President Vladimir Putin (R) welcomes Chinese Prime Minister Wen Jiabao in Moscow Kremlin, September 24, 2004. Wen arrived in Russian capital on Thursday for an official visit. [AFP]

At the start of his speech, Wen condemned the recent terrorist atrocities in Russia, in particular the horrific Beslan school siege.

Quoting the maxim that a trouble shared is a trouble halved, Wen expressed his condolences for the innocent victims and his deep sympathy to their families and all the Russian people.

"We believe that under the leadership of President Vladimir Putin and the Russian Government, the Russian people will overcome the current difficulties, maintain national stability and security and make further progress in economic and social development," he said.

"Whatsoever happens on the world arena, we should insist on mutual respect and trust, treat each other equally and maintain a good neighborly friendship," Wen said.

In addition to enhancing political mutual trust, the premier said Russia and China should expand economic co-operation, promote cultural exchanges and strengthen international accord.

Two-way trade volume grew from US$8 billion in 2000 to US$15.8 billion last year. It is expected to reach US$20 billion this year, achieving the goal set by leaders of the two countries for next year.

"We should strive to bring the trade volume to US$60 to US$80 billion by 2010," Wen said. Constantly expanding economic co-operation has become the cornerstone and major driving force of bilateral ties.

Wen proposed the two countries improve their trade structure with specific emphasis on the trade expansion of new and high technology products, engineering and electronic products.

He said both should explore new areas and means of co-operation, giving priority to collaboration in space exploration, communications, energy, nuclear energy, electricity and high technology.

Wen said China has firmly supported Russia's bid to enter the WTO.

The premier said China encourages its enterprises to invest in Russia and welcomes Russian companies to explore the Chinese market, in particular the development of China's vast western region and the revitalization of its old industrial base in the northeast.

Wen suggested that China and Russia further promote co-operation and exchanges in the fields of culture, education, science and technology, health and sports, expand people-to-people contact and deepen the traditional friendship between the two peoples.

This year marks the 55th anniversary of Sino-Russian diplomatic ties, and the top leaders of the two countries agreed to mark it as a year of friendship between the youth of their nations.

A Chinese delegation of roughly 100 young people are currently visiting Russia and the corresponding Russian delegation will visit China next month.

"The friendship and solidarity between the youth of the two countries represents our friendship in the future," remarked Wen.




Today's Top News
Top China News

Taiwan people protest Chen's arms purchase




Premier pushes for stronger Russian ties




CPC central committee to give reforms boost




Iran says it tested 'strategic missile'




DPRK missile site movements said continuing




Chinese economy grows at 9% this year