Elitist F1 leaves many in Shanghai out in cold
(Agencies)
Updated: 2004-09-25 14:53
An invitation-only Hugo Boss fashion show, free-flowing Veuve-Cliquot champagne at a private party hosted by Louis Vuitton, 4,000-dollar hotel suites and even 50 dollar box lunches.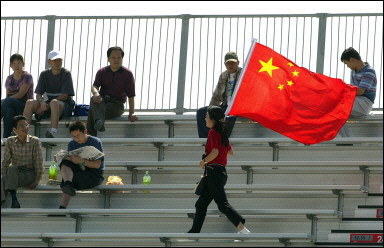 A Chinese woman holding a national flag walks on a grandstand of the first practice session of the Chinese Formula One Grand Prix in Shanghai.[AFP]

It's all part of Formula One fever that has swept China's wealthiest and glitziest city as it revels in a heady mix of glamour, speed and money that some are saying evokes Shanghai's past.

In the pre-race run-up that began as Formula One teams arrived this week, this city of nearly 17 million people has brimmed with pride and anticipation as promoters have shifted in to high gear for Sunday's race.

Motor racing may still be a novelty to ordinary Chinese but organisers here are working flat-out to stir local interest.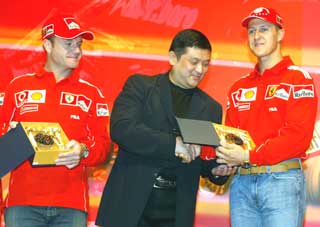 Ferrari's seven-times Formula One champion Michael Schumacher (R) receives a gift from Yu Zhifei, Deputy General Manager of Shanghai Circuit, as teammate Rubens Barrichello (L) looks on after a news conference in Shanghai September 22, 2004. [Reuters]

"We are doing more this week in China than other Grand Prixs," said Jim Wright, head of marketing for Williams F1, which recently opened a store in the city selling pricey team T-shirts, hats and key rings.

"It's a realization that global sports are coming to China," Wright said.

Hoping to cash in on the marketing bonanza, fine goods purveyors Gucci and Louis Vuitton also opened stores in Shanghai, while Jean Georges, one of the cities most expensive eateries was offering F1 box lunches worth the equivalent of a Chinese construction workers' wages.

Along Shanghai's historic riverfront Bund throngs of tourists gathered under new government banners and flags that called on residents to host a "Splendid F1", many transfixed by the glow of the city's futuristic skyline.

"You can't blame it (Shanghai), because the city needs to be packaged," Zhang Tong, a 24-year old lawyer, said about using Formula one to market the city to the world.

"It's something that should be done."

Next to the People's Square at the government hall, the latest twist was on display at the official Grand Prix exhibition.

"It's cool to be a F1 car model, cooler than any other kind of car model,"

Xu Yingli said, as she showed-off the racy aerodynamics of Mclaren's 1998 championship winning car.

Although Xu will not watch the race, some 160,000 spectators out of a possible 200,000 have snapped up tickets to see the likes of aces such as Ferrari's Michael Schumacher, Jenson Button of BAR Honda, Fernando Alonso of Renault and Mclaren's Kimi Raikkonen battle on Sunday.

Tickets, however, are for the privileged only.

Prices range 370 to 3,700 yuan (45 to 445 dollars) in a country where average annual salaries run to about 1,000, dollars, putting the spectacle well beyond most people's means.

"This is just too expensive, it's not suitable for China to hold such a thing," said Zhang Tian, a 23-year-old architecture student.

Controversy has in fact dogged the event since Shanghai won seven-year hosting rights in 2002, with the government coming under fire for spending 300 million dollars on just the construction of the state-of-the-art circuit.

"Sinopec just plunged the huge amount of the country's money into this, but what's the point of this? Who knows what they are doing?" Zhang said of the state-run oil giant, the race's main sponsor.

Health officials too have weighed in on the municipality's concession to allow tobacco advertising even though it runs contrary to Chinese law.

About 15 to 20 percent of ticket holders are from overseas, while another 50 percent will be travelling to Shanghai from other Chinese cities, organisers claimed.

The crush has resuted in nearly all of 578 of the Ritz Carlton's rooms being booked with many guests opting for Formula One packages that start at 500 dollars a day, said Michelle Wan, a director at the elite hotel.

"Many people who have come to Shanghai on business are staying a few extra days because Formula One is here," she said.

For those particularly well-heeled residents and guests, the Shanghai government Friday held a grand ball, where the powerful and monied rubbed elbows with Chinese Olympic stars and luminaries such as International Automobile Federation president Max Mosley, Schumacher and his Ferrari teammate Rubens Barrichello.

At one of the city's trendiest entertainment spots, Xintiandi, Button and teammate Takuma Sato arrived to promote their team and show themselves to the public, but police and a well-placed barricade kept the uninvited outside looking in.




Today's Top News
Top China News

Wen: China supports Russia's WTO bid




Nation gears up for incoming festival, holiday




36 still missing as search goes on




Dorm: A room of one's own




Telecom, Netcom to link wireless services




China launches military exercise 'Iron Fist-2004'