Hotelier checks in for literary greatness
(China Daily)
Updated: 2004-09-20 08:38
He is one of the most popular writers in China striking a chord with readers besotted with his detective tales that are mixed with heart-thumping romance and the mean streets of crime.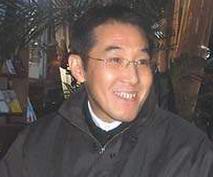 The popular novel writer Hai Yan [baidu]

For book-worms and drama fans - many of his books have been dramatised for TV -, Lu Haiyan is a household name and publishers are forever knocking at his door or constantly calling his mobile phone to plead with him to sign another contract.

You are perhaps picturing a writer with greying hair, wearing a furrowed brow, tweed jacket with leather elbow patches, and who lives a solitary life occasionally staring out of the window from his desk in search of inspiration. Wrong. This prolific writer works part-time, usually after office hours and well into the night.

For Lu is also a successful businessman with a polished corporate identity. He has for many years worked in hotel management and tourism - a career as prosperous as his literary calling.

He used to be general manager of the Kunlun Hotel, one of the country's most prestigious five-star hotels. Today, he is vice-president of Jinjiang Group, which Kunlun belongs to, and president of the China Tourist Hotels Association.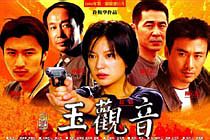 The post of the flim "Yu Guanyin" [baidu]

How has he managed to strike the perfect balance in his crammed diary would have the most sought-after Californian life-coach catching his breath. And if that's not enough to impress, then it is as this juncture that we learn this overachiever was a school dropout, and is thus one of those one-in-a-million, destined for greatness, as we mere mortals follow the correct path and put up with the mundane 9-to-five to flop down at the end of each day to read a good book or watch TV. Write a novel, we say? Love to, but way too tired...

Lu left school when he was a fourth grader aged 10 and has never looked back.

Call me Haiyan

Slim, slick and serene, Lu is known in literary circles simply by his first name, Haiyan.

He was born in Beijing on October 1, 1954, the fifth National Day of the New China.

His childhood was not a happy one. His parents were estranged when he was three years old, and divorced when he was nine.

Both his parents were persecuted during the "cultural revolution (1966-76)", and because of this the young Haiyan did not complete his primary school education.

At the age of 15, he was recruited into the People's Liberation Army. After four years of military service, he joined the public security department as a police officer.

This experience gave him rich nourishment for his future writing, as it revealed the sophistication of personal relationships.

In his late 20s he gradually developed a liking for writing. But he was too shy to let his family know about his hobby, so wrote secretly at night when he was off duty.

After finishing his maiden book in 1986, "Plain-clothes Policeman" (Bianyi Jingcha), he decided to send it to the People's Literature Publishing House, one of the country's most authoritative literature publishers at that time.

Although his home was located only several hundred metres away from the publishing house, the shy young man mailed his novel, instead of sending it to them directly.

He waited for more than three months but received no reply. Finally, he summoned up all his courage and made a visit to the publishing house.

There he was surprised to find his manuscript, which contained 450,000 Chinese characters, buried under waste papers, having never been read by anyone.

He picked it up and gave it to an elderly editor.

"I wrote 60 chapters. Please read at least one chapter, or one page," he begged.

A month later he was told the novel would be published.

"Plain-clothes Policeman," featuring the twists and turns of an ordinary young policeman's career during the "cultural revolution," rolled off the presses six months later and sold 300,000 copies.

It was the first batch of "real" best-sellers in China after the publishing industry, all but erased during the "cultural revolution," was rebuilt.

A year later, in 1987, the story was adapted for TV and the drama became an instant national hit.

Hotel calling

After his initial success, Haiyan temporarily stopped writing.

He says he was determined to be a good cop so put all his efforts into his first career.

At this time, a small hotel run by the public security department was short of hands and Haiyan was transferred to help out.

The posting was at first temporarily, but Haiyan, who showed an ability to cope with people of different characters, soon showed a talent for hotel management, and appeared a natural in this new field.

Haiyan became deputy general manager of the Kunlun Hotel, but his ability to run a five-star hotel was doubted by its American counterparts which took over the hotel's parent company, the Shanghai-based Jinjiang Group, in 1990.

But Haiyan convinced his critics with his practical achievement and personal skills and remained to become a respected senior manager.

While his business career took off, his writing career was suspended.

For nearly 10 years, he did not write a word.

Then, in 1994, Haiyan was invited by a TV station to write a detective story.

While conceiving the storyline, Haiyan thought of a musician who lost a valuable violin while travelling abroad. The musician had asked Haiyan to help him contact the International Criminal Police Organization.

This gave Haiyan inspiration. He decided to write a story about the smuggling of musical instruments.

It was called "Love Affair" (Nayichang Fenghua Xueyue de Shi), and was made into a hit TV drama by renowned director Zhao Baogang. This boosted Haiyan's confidence and inspired him to pick up the pen again.

He has since become an industrious writer. Every one or two years he publishs a new novel - and without exception, all become best-sellers immediately after appearing on shop shelves.

His latest novel, "Blood-red River" (Heliu Ruxie), was published by the People's Literature Publishing House in July. Again, the market response has been very, very good.

As popular fictions, Haiyan's novels have drawn some criticism for being too "superficial."

At the recent Beijing International Book Fair, while attending the interactive "Bertelsmann Blue Sofa Show," Haiyan met a seriously critical reader, Shang Jianguo, who claimed to have read all of his works.

Shang said while Haiyan does well in telling wonderful stories, he always fails to create impressive figures. The protagonists have similar characters in most of his novels.

He also charged Haiyan's novels for being too "commercialized" and "having no literary sense."

Shang's opinion was supported by other writers but who are reluctant to make public comments.

Haiyan argues that different readers have different standards, and says he never tries to cater to the tastes of readers. You are what you read, afterall.





| | |
| --- | --- |
| | |
| Elton John to make Chinese debut in Shanghai | |

| | |
| --- | --- |
| | |
| All star line-up for charity basketball match | |

| | |
| --- | --- |
| | |
| Film 2046 promoted in Shanghai | |
Today's Top News
Top Life News

Hu takes over as CPC military commission chief




China completes orderly power transfer




Iraq group shows tape of beheading 3 Kurds




WHO urges sharing of bird flu case samples




Corrupt land minister expelled from CPC




Bomb threat postpones Beijing trade fair