Violence dims Iraq election prospects
(Agencies)
Updated: 2004-09-17 13:47
Iraq's chances of holding credible nationwide polls in January are fast fading as violence shreds the authority of the US-backed interim government.
Despite the daily fare of bombings, battles and abductions in Baghdad and large tracts of central and northwestern Iraq, Interim Prime Minister Iyad Allawi and the U.S. government insist most Iraqis will go to the polls as scheduled.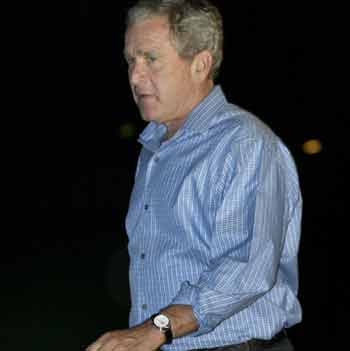 US President George W. Bush returns to the White House in Washington after a day of campaigning in Minnesota, September 16, 2004. Bush said Thursday freedom was on the march in Iraq even as a US intelligence report depicted a bleak outlook for the country. [Reuters]


But U.N. Secretary-General Kofi Annan says elections will be impossible if the bloodshed goes on. No one sees it stopping.

The United Nations, which is charged with helping the interim government run the elections, has only about 35 staff in Iraq, hunkered down in the fortified zone that houses Allawi's offices and the U.S. and British embassies in Baghdad.

This is a far cry from the thousands deployed to monitor and supervise elections in Bosnia, Kosovo and elsewhere, but Annan is wary of risking the lives of U.N. staff in Iraq after 22 people died in a bombing at U.N. headquarters there a year ago.

"If we are talking of holding elections equally all over the country, the prospects are pretty dismal," said British defence expert Timothy Garden. "There would have to be a real transformation in security between now and January."

U.S. President George W. Bush's spies appear to agree.

A secret National Intelligence Estimate prepared for him in late July says the best Iraq can hope for next year is tenuous security, the worst, civil war, the New York Times reported.

Interim President Ghazi al-Yawar said on Thursday it would be "premature" to say the elections could definitely take place.

Vicious circle

Iraqis were promised stability, democracy and a better life after last year's invasion toppled Saddam Hussein. Eighteen months on, reconstruction has come to a near standstill.

"Amid political instability and violence, Iraq's economic problems have been viewed as secondary and unrelated. They are not," the International Crisis Group said this month.

"Economic hardship and violence ... feed on each other. Heightened popular dissatisfaction and unemployment swell insurgent ranks and the growing insurgency further hampers development," the Brussels-based think tank argued.

To meet the self-imposed January deadline for elections, the United States is asking its generals to recapture towns in Iraq's rebellious Sunni Arab heartlands and pacify radical Shi'ite Muslim strongholds such as Baghdad's Sadr City.

Can they succeed now where they have failed before?

"If you mean drive tanks into the middle of town, raise the flag and drive out the next night, they can do that," said Tim Ripley, a defence expert at Britain's Lancaster University.

"But to turn everyone into loyal, steadfast citizens of the new Iraq -- that's different. They can mount armoured raids into hostile territory, but the effect is not enduring."

Iraq analyst Toby Dodge, at Queen Mary University of London, said there were not enough U.S. troops to control cities like Falluja and Ramadi, while Iraqi forces lacked the capacity.

Instead, U.S. generals were using artillery and aircraft to "kill the bad guys" rather than ground troops to hold territory.

"But you can't fight an insurgency at one remove," Dodge said. "The political reality in Baghdad and the northwest is the insurgency, and in the rest of the country it is militias.

"In no place in Iraq does the government shape reality."

Fraught decision

In such hostile circumstances, it might seem prudent to postpone elections, but this is also fraught with peril.

Powerful Shi'ite cleric Ayatollah Ali al-Sistani has long demanded elections as the best way for Iraq's majority community to gain the power denied them in Saddam's Sunni-dominated era.

After bowing to a U.N. ruling earlier this year that early polls were impractical, Sistani might react to any further delay by unleashing the street power he has so far kept in check.

"It's a huge political problem. The risk is that Allawi and the Americans will chug towards elections until the last possible minute and then renege," Dodge said.

"Instead of underestimating or steamrollering Sistani, they should use public diplomacy and private negotiations to bring him along in the decision-making process ... and convince him the security situation is not recoverable in the short term."

However, Bush and his British ally, Prime Minister Tony Blair, have invested so much political capital in the elections that it would be hard for them to roll back now.

"If elections were called off for security reasons, it would be a big admission of failure," Ripley said. "It would be a massive blow to Allawi's credibility and prevent the interim regime from having any basis of democratic legitimacy."




Today's Top News
Top World News

'Garden of gardens' to undergo revamping




English web platform launched




Most US companies making profits in China




Hurricane Ivan slams Gulf coast; 20 dead




Fixed investment rises 30.3%




China rejects US religion report