US attacks kill many in Iraq
(Agencies)
Updated: 2004-09-17 13:41
West of the Iraqi capital of Bagdad, US forces launched attacks Thursday in the Sunni insurgent strongholds of Fallujah and Ramadi, killing up to 60 insurgents, a military statement said. The military said that the "foreign fighters" were killed near Fallujah.
Dr. Ali Awad of the Fallujah General Hospital said 30 people were killed and more than 40 were injured, including women and children.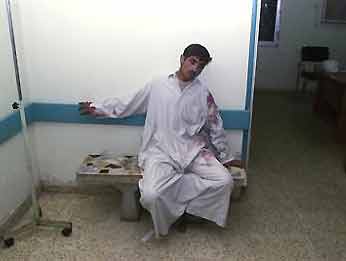 His shirtsleeves soaked in blood from carrying his injured child, a man waits for word on the fate of his child, brought to the hospital Friday September 17 2004, after sustaining injuries during US airstrikes late Thursday night and early Friday morning in Fallujah, Iraq. Hospital officials say at least 30 people were killed and 40 wounded in US strikes on Fallujah and nearby villages.[AP]


The military launched what it called a "precision strike" against a house in Fallujah and followed it with a second strike in a nearby town. The second strike destroyed three buildings allegedly used by Zarqawi's network.

Also Thursday, three US Marines assigned to 1st Marine Expeditionary Force were killed by hostile fire in separate incidents in the western Anbar province while conducting security operations, the military said. One Marine died at the scene and the two others died later of their wounds. No other details were released.




Today's Top News
Top World News

'Garden of gardens' to undergo revamping




English web platform launched




Most US companies making profits in China




Hurricane Ivan slams Gulf coast; 20 dead




Fixed investment rises 30.3%




China rejects US religion report