Putin rules out Chechen talks
(Agencies)
Updated: 2004-09-17 08:58
Russian President Vladimir Putin has ruled out negotiations with Chechen rebels after the Beslan school bloodbath, further straining ties with Western leaders who are pressing for a political solution to Chechnya.
The Kremlin leader put the gunmen who staged the school mass hostage-taking on the same footing as Osama bin Laden whose overtures he said had been rejected by all civilised societies because of his methods.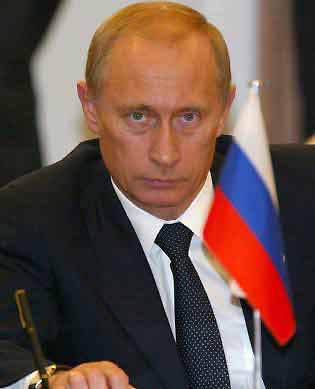 Russian President Vladimir Putin, shown in a recent file photo, has ruled out any negotiations with Chechen rebel leaders following the Beslan school hostage-seizure. [Reuters]


"The atrocities we encountered in Beslan give us the full moral right to insist that the people who are opposing Russia are part of the 'terrorist internationale'," Putin told a news conference in the Kazakh capital on Thursday, during a meeting of leaders of ex-Soviet states.

"Legality and toughness" were the only course to follow.

His uncompromising stand two weeks after the Beslan siege, in which more than 320 died, half of them children, is certain to ruffle relations with Russia's Western partners.

Many Western leaders have urged Moscow to put more emphasis on a political solution to Chechen separatism while expressing understanding for concerns on keeping post-Soviet Russia intact.

But Putin rejects any notion of talks with separatists, even relatively moderate activists like fugitive Chechen president Aslan Maskhadov, who denounced the seizure of the Beslan school.

And this week Putin proposed political changes that will boost Kremlin power. He says they are a key part of his drive against terrorism but senior US and European officials have warned he could also be undermining Russia's fragile democracy.

Some commentators say the Russian leadership's truculent mood is also reflected in this week's tough message to foreign investors in the huge oil sector.

On Wednesday, it said Russia was prepared to withdraw the production licence for oil giant BP's project in the Kovytka gas field because the TNK-BP joint venture had failed to invest in the field's infrastructure.

EU criticism

Though the European Union and the United States condemned the Beslan violence, they infuriated Moscow by pressing it to deal with the root causes of the decade-long Chechnya conflict.

The 25-nation bloc, Russia's biggest single trading partner, said on Wednesday that a settlement could be reached only through "far-sighted, humane and resolute" policies.

"I hope they (the solutions) are forthcoming and that the government of the Russian Federation will not conclude that the only answer to terrorism is to increase the power of the Kremlin," said EU External Relations Commissioner Chris Patten.

But Putin refuses to take a line which could be seen as showing weakness in the eyes of the powerful security and military establishment.

Moscow has instead threatened strikes on militant bases outside Russia, alarming neighbouring Georgia, and set a US$10 million bounty for Chechen leaders, including Maskhadov.

In his comments in Kazakhstan, Putin added: "There is only one way to deal with these people: with legality and toughness."

Terrorists, he said, were bandits using political, religious or nationalist slogans "to try to resolve questions that have nothing to do with what they publicly state".

On Wednesday, Foreign Minister Sergei Lavrov told the United States to mind its own business after US Secretary of State Colin Powell criticised the proposed political changes Putin said were needed to boost the fight against terrorism.




Today's Top News
Top World News

`Garden of gardens' to undergo revamping




English web platform launched




UN vetos Taiwan's attempt




Hurricane Ivan slams Gulf coast; 20 dead




Fixed investment rises 30.3%




China rejects US religion report