Two Americans, a Briton kidnapped in Iraq
(Agencies)
Updated: 2004-09-17 00:57
Gunmen abducted two Americans and a Briton in a brazen attack Thursday on a residence in an upscale Baghdad neighborhood housing many embassies and foreign companies.
The three, all employees of Gulf Services Company, a Middle East-based construction firm, were seized from a two-story house surrounded by a wall in the al-Mansour neighborhood, said Col. Adnan Abdul-Rahman, an Interior Ministry official.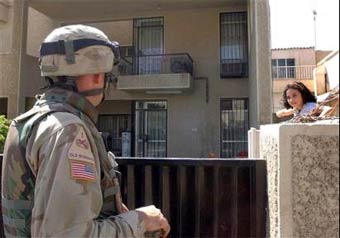 A young neighbor watches as U.S. soldiers investigate outside a house in al-Mansour, Baghdad, Iraq, from which gunmen abducted two Americans and a Briton on Thursday Sept. 16, 2004. [AP]


U.S. troops fanned out across the neighborhood to investigate the latest in a wave of kidnappings in Iraq. Hundreds of foreigners have been abducted and many of them executed by insurgents seeking to drive out U.S.-allied troops and deter foreign companies from working in Iraq's reconstruction.

The abductions bring to eight the number of Westerners currently held hostage in Iraq. In a statement, the U.S. Embassy identified the Americans as Jack Hensley and Eugene Armstrong but gave no ages or hometowns. Britain's foreign office did not identify the third hostage but said it was identifying the person's relatives.

At dawn, about 10 assailants pulled up on the tree-lined street in a minivan and snatched the three without firing a shot, said Abdul-Rahman. A car was also missing from their from the house, he added.

A neighbor who gave his name as Majid, 23, said he left his house around 6 a.m. during a power outage to switch on a generator.

"I noticed unusual movement in the garage. I heard voices that sounded like someone was trying to drag somebody else," he said. "I was frightened and left the area, but when I came back to the foreigners' house I saw that the outer gate was open and the foreigners' car had gone."

Another witness, 19-year-old Ziad Tareq, said he was walking down the street when he saw a man dressed in black, his face covered with a red scarf, dragging one of the hostages by the collar and pushing him into a car parked outside the house.

Several foreign embassies, contracting and security companies and many prominent Iraqi politicians are based in the al-Mansour neighborhood, which is normally teeming with security guards. It was not immediately clear whether the three were guards themselves or involved in reconstruction projects.

Iraq's 17-month insurgency and campaign of abductions and executions has created a seige-like mentality among the country's dwindling international community.

Foreign businesses, aid groups and news organizations have hired armed guards in bulletproof vests and built blast walls around their compounds to protect against the daily onslaught of mortars, car bombs and other violence. Security checkpoints have increased in the capital and many roads have been blocked off, frustrating city drivers with gridlock.

U.N. Secretary-General Kofi Annan warned Wednesday that he feared the continued insecurity in Iraq — including a surge in attacks that has killed more than 200 people since last weekend — would block elections slated for January.

He also reiterated his judgment that the American-led attack on Iraq, conducted without U.N. approval, was a violation of the U.N. charter. "From our point of view and the (U.N.) charter point of view it was illegal," Annan said in an interview with the British Broadcasting Corp.

Meanwhile Thursday, a U.S. Humvee hit a roadside bomb south of the insurgent stronghold of Fallujah, the military said in a statement. Witnesses said the vehicle was ablaze on a main road and that troops had sealed off the area.

The reports of more abductions came a day after villagers found three decapitated bodies in the town of Dijiel, 25 miles north of Baghdad.

The bodies were found Wednesday in nylon bags, the heads in bags alongside them, said Abdul-Rahman said. They were all men with tattoos, including one with the letter 'H' on his arm, but no documents were found on them, he said.

A U.S. military official said the bodies appeared to be Iraqis and had their hands tied behind their backs; that would be unusual, as Iraqis have usually been abducted for ransom and not executed.

Instead, insurgents have often beheaded foreigners in their fight to drive out coalition forces and destabilize Iraq's interim government — often taking and killing hostages whose countries are U.S.-allies or have businesses working in Iraq's reconstruction. Before Thursday, the Westerners held hostage in Iraq were two Italian aid workers, two French reporters and an Iraqi-American businessman.




Today's Top News
Top World News

China Daily, Sohu launch joint English website




UN rejects Taiwan's representation proposal




Rally marks 50th anniversary of NPC




Chen's separatist moves heighten tension




Sharp rise of FDI shows confidence




Three beheaded bodies found in Iraq