US: Suspect site in Iran shows nuke goal
(Agenceis)
Updated: 2004-09-16 22:30
A senior U.S. official said on Thursday that satellite photos of a suspected nuclear site in Iran demonstrated its intention to develop atomic weapons, an allegation Tehran dismissed as "a new lie."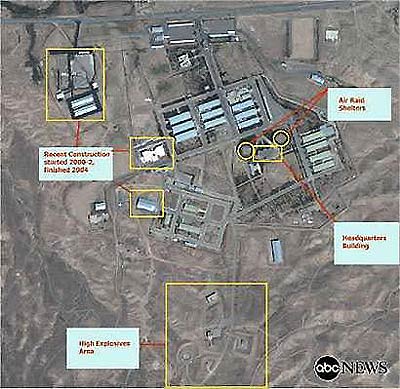 New satellite images show Iran's Parchin military complex, southeast of Tehran, may be a site for research, testing and production of nuclear weapons, a nuclear expert said on Sept. 15, 2004. David Albright of the Institute for Science and International Security, a think tank, released an analysis of the photos and said they show the site 'has a potential that would warrant (U.N. inspectors) going there' to determine the exact nature of the operation. [Reuters]


A prominent nuclear expert said on Wednesday that new satellite images showed the Parchin military complex southeast of Tehran may be a site for research, testing and production of nuclear weapons. Iran denies having an atomic bomb program.

"This clearly shows the intention to develop weapons," a senior U.S. official told Reuters.

A top Iranian official said the charge that Tehran was hiding an atomic site from U.N. inspectors was a carefully timed lie intended to influence a resolution on its nuclear program being discussed at this week's meeting of the board of governors of the International Atomic Energy Agency (IAEA).

"This is a new lie, like the last 13 lies based on news reports that have been proved to be lies," Hossein Mousavian, Iran's chief delegate to the IAEA board meeting told Reuters.

David Albright, a former weapons inspector who heads the Institute for Science and International Security think tank, said the IAEA had asked to inspect Parchin but had been ignored.

But Mousavian said: "They have not asked to see the site."

The IAEA declined to comment, but Western diplomats familiar with the talks said Parchin was not a new site for inspectors.

"The IAEA knew about Parchin but didn't include it the report," the U.S. official said, referring to IAEA chief Mohamed ElBaradei's latest paper on the Iranian nuclear program.

ElBaradei said on Monday he was not convinced Iran's activities were entirely peaceful, but that there was no hard evidence to prove the U.S. belief that Tehran was using its nuclear power program as a front to build an atom bomb.

Western intelligence agencies have recognized Parchin as a potential chemical, explosives and munitions production site since the 1990s. In November 2003 a Tehran parliamentarian complained publicly too much money was being spent on atomic technology and identified Parchin as a site for such activity.

DRAFT RESOLUTION

Mousavian said the latest accusation was aimed at influencing talks on a draft resolution that could set the stage for a November showdown at the IAEA, which could in turn lead to Iran's case going to the U.N. Security Council as Washington has demanded for more than a year.

France, Britain and Germany are in a sixth round of talks with IAEA board hard-liners -- the United States, Australia and Canada -- to find a compromise on the wording of a text on Iran.

Negotiators from the six states were close to an agreement in private talks on Thursday and might have a final text of a resolution that could be adopted on Friday.

The most contentious of the U.S.-backed proposals is for an "automatic trigger" leading to Iran being reported to the Security Council and possible economic sanctions if it does not stop its uranium enrichment program by Oct. 31.

France, Britain and Germany do not want the deadline and the enrichment suspension in the trigger, one Western diplomat said. They want to engage Iran rather than punish it and have support from Russia and a bloc of non-aligned states on the IAEA board.

Iran had promised France, Britain and Germany last year to suspend uranium enrichment but recently resumed production and testing of centrifuges used in the process.

"Iran will never abandon its ... right to have peaceful nuclear technology," Iran's student news agency ISNA quoted influential ex-President Akbar Hashemi Rafsanjani as saying.

"Although Europeans are using a different tone, Europeans and Americans are pursuing the same goal."




Today's Top News
Top World News

`Garden of gardens' to undergo revamping




English web platform launched




UN vetos Taiwan's attempt




Hurricane Ivan slams Gulf coast; 20 dead




Fixed investment rises 30.3%




China rejects US religion report