Making money from Formula One? Maybe!
By Wang Yu (Business Weekly)
Updated: 2004-09-16 10:50
Can Chinese people really enjoy the thunder of high performance cars on the prestigious Formula One (F1) circuit?
The quandary confronting organizers and sponsors is under the spotlight right before the start of the global sports event in Shanghai next week.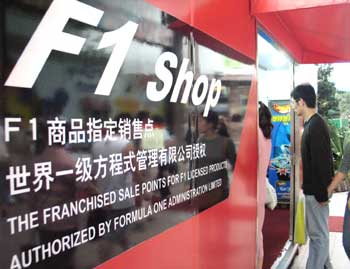 Customers visit a franchised F1 shop in Shanghai September 13, 2004. As the Shanghai F1 racing event draws near, local people's interests in F1 products also grow. Several dozens of franchised F1 shops have been opened in the city. [newsphoto]

Experts and organizers are trapped in a red-hot debate over whether F1 racing can roar to a commercial bonanza in China.

"The market is simply not there. How can the world's top auto commercial tournament be guaranteed a business success in China," Z. S. Jones, executive managing director of Shanghai WP Automotive Consultancy Co Ltd, asked China Business Weekly last week.

In eyes of the independent auto analyst, the F1 race is a complicated, high-end commercial operation involving advanced technology and a long-standing culture about automobiles that will require a solid and well-educated audience basis.

If there are no die-hard fans to support the market, it will simply be an impossible mission for commercial operations to make it function, Jones said.

"Small numbers of supporters will result in low audience ratings. In that case, TV stations will be reluctant to pay broadcasting fees and advertisers and sponsors will not get involved," he said.

However, China Central Television (CCTV), the major broadcaster of the Shanghai leg, will broadcast the event nationwide almost for free.

When organizers of the Shanghai leg tried to negotiate the broadcasting fee with CCTV, the country's largest TV station ruled out the possibility of paying.

"We will not pay for broadcasting the event, since the cost is an astronomical figure and the advertisement return is not satisfactory at all," a senior official with CCTV's sports division said.

Due to CCTV's monopoly status within the domestic broadcasting sector, the station finally captured the rights for a minimal fee.

But whether the tournament will attract a large audience and "drive" the Chinese audience crazy is still an open question, one which will be answered next week.

"We will just wait and see," Jones said.

Endorsing Jones' points, Yi Jiandong, senior researcher on the sports industry at the Beijing Physical Science Education University, told China Business Weekly that the audience ratings for F1 in China is much lower than that of the other well-developed markets, such as Japan and Australia, which indicates that China lacks the foundation, at least for the time being, to host the world class auto tournament.

There is in-depth research done by domestic sport economic institutions, demonstrating that not many people appreciate the sports event, and there are low levels of audience ratings recorded in the past when CCTV paid to broadcast F1 events held in cities around the world, Yi said.

"That explains why CCTV is showing less enthusiasm to F1 and why the TV station was not all that keen on the Shanghai leg this time," Yi said.

He said sponsors for the event and various racing teams, especially sponsors from China, would adopt a prudent strategy and hold purse strings tight if they get involved.

"Since no one is sure about the business prospects of the tournament in China, it is unlikely they will be fully involved. They may divide their contracts into several stages," Yi said.

Until now, most tournament and race team sponsors and partners have kept their sponsors' contracts confidential.

Positive effects

Both Jones and Yi reckoned that the race will undoubtedly give a shot in the arm to Shanghai's position as a global metropolis, although it may not lead to business success in China in the short run.

"If people weigh all the pros and cons from that perspective, the event will surely be a blessing for Shanghai, and China at large, since the positive effects on the local region's auto industry, tourism and city image will be immeasurable," Yi said.

Many experts share the same view.

"To host an F1 tournament in China - whether it is accepted or not by a mass audience - is not important. The key lies in the fact that it will spur Shanghai's economy and cement its image as an international metropolis," Sun Gaoling, executive director of Beijing Xihong Auto Market Research Centre, commented.

"People will be under the impression that since Shanghai can hold the top global auto race - no matter if it is commercially successful or not in its first few years - what other kinds of international tournaments the city cannot manage? This perception will then help Shanghai a lot to arrange other lower level auto rallies and other big events," Sun added.

The race, which is scheduled to run next week, has caused a sensation in Shanghai.

Various hotels have been fully booked long before the race is due, and accommodation is at a premium.

Potential spectators who could not secure a place in Shanghai next week have to reserve hotel rooms in nearby cities, such as Hangzhou.

"The world's top auto race held in China, Shanghai is surely a blessing," Xie Wei, senior auto analyst with China National Automotive Industry Consulting and Development Corp, told China Business Weekly last week.

"The race track built in Shanghai will be reusable and the shot in the arm by the tournament to local economic development will have lasting effects. Surrounding areas and regions will also benefit from the race," Xie said.

Yu Zhifei, deputy manager of Shanghai International Racing Circuit, is confident of F1's future in China.

"It will be a pity if F1 organizers do not allocate a race to China. The vigorous growth of the Chinese economy and the dynamic development of the country's auto industry can greatly push forward the race. Private car ownership is mounting, which will also produce more motor sports fans in the future," Yu said.

"Although track building and race organizing require huge investment, we can figure out various ways to make use of the facilities set up and experience gained. Once the contest is over, we can make the race track a tourism spot and organize tours or we can arrange auto fans to experience the track and racing vehicles. All these will help us earn investment back," Yu said.

But analysts do not agree.

"Despite growing auto sales, the industry is still in a primary stage. Private cars are still unreachable for ordinary citizens, let alone the F1. To most Chinese, owning a private car is still a dream. How can they easily appreciate one of the most high-end auto races," Gao said.

As to Yu's ideas about investment, experts pointed out that because all these hypotheses require further investment and also because the maintenance cost of a race track is hefty, these plans will not be achieved easily.

Construction of the Shanghai circuit race track started in October 2002. The whole project cost 2.6 billion yuan (US$317.073 million).

The annual hosting fee is 166 million yuan (US$20.24 million) and the television broadcast fee totals 1.2 billion yuan (US$146.34 million) for an eight-year period.

"I do not expect to make money from the spectators. We have been prepared if the F1 does not make money in the first three years. That will be the time to nurture more F1 fans and try to attract people's attention to the sport," Yu said.

Shanghai International Circuit Corp has announced a nine-tier ticket-pricing policy aimed at making the glamorous event as affordable as possible to the widest possible audience.

Prices range from 3,700 yuan (US$451) down to 370 yuan (US$45). That is cheaper than most existing nations staging Grand Prix races and reflects China's developing status.

High-end tickets have sold relatively well since the start of ticket sales in March, while tickets for ordinary consumers have only a poor sales record.

"That shows that the sport lacks mass support," Jones said.




Today's Top News
Top China News

UN rejects Taiwan's representation proposal




Rally marks 50th anniversary of NPC




Chen's separatist moves heighten tension




Sharp rise of FDI shows confidence




Three beheaded bodies found in Iraq




Second Beijing airport likely