Glossy magazines seek to score with Chinese men
(China Today)
Updated: 2004-09-09 16:39
It's almost impossible to find a bottle of men's deodorant in most Chinese cities. Chinese men are not renowned as Metrosexuals. But several publishing houses are banking on their ability to turn local men into sophisticates in shopping, and sex.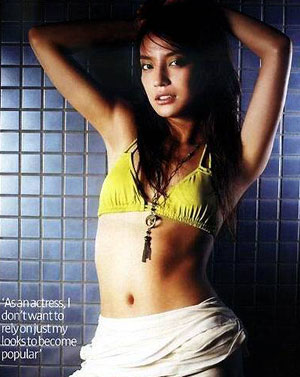 Chinese actress Zhao Wei has been chosen as the cover girl for FHM China in 2002. [yisou/file photo]

Publishers of men's magazines have identified Asia as the biggest market of the future, banking on the change in lifestyle and habits of local men.

Up to 1995 post office subscriptions were the only way in China of obtaining magazines. Today a flood of titles, many of them short-lived, has appeared but the market remains fragmented compared to the sophisticated newsagent distribution system of Europe and the U.S.

Publishers complain that the greatest drawback to China is its lack of distribution chains. Readers outside Beijing and Shanghai can be elusive because of the distribution issue, said George Green, president of Hearst Magazines International, which also publishes Cosmopolitan and Good Housekeeping in China with a local partner. "The big problem isn't sales. It's distribution," said Green.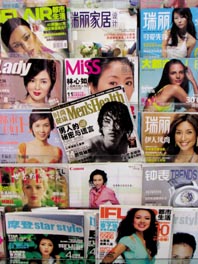 Various fad periodicals for women largely avilaible on Chinese market [baidu/file photo]

China's Esquire, published in China since 1999, currently has a circulation of 326,000. Most of those sales are reported in Beijing, Shanghai and Guangzhou according to Trends, the Chinese company licensed to produce the magazines.

Beijing-headquartered Trends also publishes Cosmopolitan, Harper's Bazaar and Cosmo. The company charges RMB20 for its 226 page June issue of Esquire Style. In the "Women We Love" section there are six pages of photos of Rose McGowan.

Interviews with Ethan Hawke and a Chinese film star are juxtapositioned alongside travel pages, book reviews and two main features, one of them about Zhao Bandi, a Chinese artists who pokes fun at authorities by carrying a panda bear.

The longest features details the lives of yacht-owners around the world. Dogs, businessmen, luxury fountain pens, Chinese starlets and bulletproof limousines are also given the double-page spread treatment.

Tiger Woods, golf techniques, sumo and insomnia also feature in pages punctuated by glossy adverts for aftershave, clothes, cars and watches.

FHM magazine, also produced by Trends, managed to get a lot racier with a recent cover featuring Hong Kong actress Christy Yung in a see-through negligee. Cover girl for the previous issue was Britney Spears dressed in clingy rubber.

FHM China's first cover girl was actress Zhao Wei, featured below the large headline, Zhao Wei, Opium of the Youth. About 30 percent of FHM China's articles are locally produced, the rest being lifted from international editions of the magazine.

Recent imported articles have included an illustrated list of 50 extreme sports, pieces on off-road vehicles and orienteering equipment, as well as a special on digital cameras and the results of an FHM sex survey of Britain.

Locally written features ranged from a pull-out map of Shanghai parking spaces to a spread on Beijing celebrities' favorite bars. Local fashion shoots and locally produced comic-strip guides for camping and cooking fill a good portion of the magazine.

The 6-page "Sex Confidential" section in the July 2004 issue looks at the pornography industry and home sex movies. Another locally produced article is a four-page photo spread on Shanghai PR consultant Tara Wang.

Racy content isn't difficult to find. Scholars on sexology and sociology from the prestigious Renmin University in Beijing late last year collected votes for the "top 10 sex-related news pieces" of 2003.

China's first sexual harassment lawsuit, a Shaanxi couple found by police watching x-rated films at home and the first sex culture exhibition in Beijing all made it on to the list, which, said the scholars, would be compiled annually.

Scantily clad girls - usually Western - are no longer difficult to find in Chinese media. State-owned news wire Xinhua has closely followed the ongoing Chinese craving for beauty pageants, running collections of photos of bikini-clad beauty queens on Chinese beaches. Internet portals also offer Chinese men multi-media animated clips that can be downloaded to mobile phones.

Appealing to reader's demands for sexy stories perhaps, a recent issue of Mangazine featured a photo spread and article about sex diarist and author Muzi Mei.

Mangazine, published by the Nanfang Newspaper Group, is an all-Chinese effort at a men's magazine. With long articles about local rich people, entertainers and sports stars, Mangazine also features fashion advice and articles imported from foreign publications.

"China's size and influence are such that current and aspiring players cannot afford to be absent from the market," says publisher Tom Gorman, who successfully launched the Chinese edition of Fortune magazine in 1996 and now works as a media analyst at CCI Asia Pacific Ltd. Author of Guidelines for Publishing in China, Gorman explains that "...advertising spending in the magazine category grew by an average of 33 percent annually from 1984 to 2002 and is likely to maintain very high rates of growth for the foreseeable future."

The UK's Dennis Publishing meanwhile launched Maxim magazine in China in April of this year. The Chinese edition is the title's 23rd. Published through a joint venture with Hong Kong's South China Morning Post; Maxim covers typically feature famous Chinese singers/actresses and it has a combined circulation of 180,000. "Maxim is publishing dynamite," says international publishing director, Kerin O'Connor. "In just ten years the magazine has scorched a trail around the world."

"Guys are very similar worldwide," said O'Connor. "They have the same kind of aspirations for the way they want to live their lives, and comparable interests."

Proving there's no holding back the invasion of foreign glossies, the China edition of British gossip bible OK! was launched in July. Featuring Britney Spears on the cover, less than a third of the content is local and reads noticeably tamer than that on foreign celebrities.

Lad mags and gossip magazines appear to have a long way to go to match China's best selling magazine, Reader. The bi-monthly mix of stories, health advice and home-keeping tips shifts 800 million copies every fortnight, making it the biggest selling title in Asia. Only the Reader's Digest, National Geographic and Time outsell it in world circulation rankings.




| | |
| --- | --- |
| | |
| Diving prince Tian Liang jumps for the mic | |

| | |
| --- | --- |
| | |
| Guests arrive for Brunei crown prince's wedding | |

| | |
| --- | --- |
| | |
| Kidman stirs up controversy at Venice with 'Birth' | |
Today's Top News
Top Life News

China tackles swollen auto production capacity




SW China floods have killed at least 177




Wu Yi: China to go further than WTO promises




Elders' problems centrestage at forum




Further opening in banking sector pledged




Russia vows to attack 'terror' worldwide