Russia vows to attack 'terror' worldwide
(Agencies)
Updated: 2004-09-09 00:57
Russia's top general threatened Wednesday to attack "terrorist bases" anywhere in the world, as security services put a $10 million bounty on two Chechen rebels they blame for last week's school siege.
In Vladikavkaz, capital of North Ossetia where the school is located, an angry crowd of around 2,500 protested against the president, forcing him to promise to sack his administration.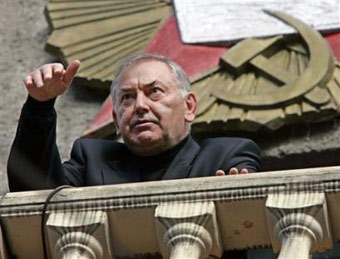 President of North Ossetia Alexander Dzasokhov speaks from a balcony of a regional administration headquarters during a meeting in the region's capital Vladikavkaz, Wednesday, Sept. 8, 2004. Dzasokhov said that the regional government would step down within two days, the first sign of officials being punished for failing to prevent last week's deadly raid on a school in Beslan. In the background is a Soviet era emblem. [AP]


"As for launching pre-emptive strikes on terrorist bases, we will carry out all measures to liquidate terrorist bases in any region of the world," said General Yuri Baluevsky, chief of Russia's general staff.

The FSB security service announced the $10 million reward for information leading to the "neutralization" of Aslan Maskhadov and Shamil Basayev, two Chechen separatist leaders who are household names in Russia after a decade of conflict in the mainly Muslim southern province.

But liberal parliamentary deputy Vladimir Ryzhkov said this twin approach only illustrated Russia's inconsistency.

"These are really strange statements because one of them indicates that we have not the slightest idea where the rebels are, while the second one indicates that we are still ready to use force anywhere," he told a conference.

In 2002, President Vladimir Putin accused neighboring Georgia of harboring Chechen rebel bases and said this gave Moscow the right to strike at suspects beyond Russia's borders.

In June, a Qatar court sentenced two Russians to life imprisonment for killing a Chechen rebel leader, Zelimkhan Yandarbiyev, in the Gulf state. The judge said they had been acting on orders from Moscow.

"It is a threat toward Europe," Maskhadov's London-based spokesman Akhmed Zakayev, told Reuters. "I do not exclude that what they did in Qatar they could try to do in any European country."

VLADIKAVKAZ PROTESTS

The protestors in Vladikavkaz accused North Ossetian President Alexander Dzasokhov of incompetence for allowing the siege in Beslan to end in catastrophe, his government failing to get ambulances or fire engines to the scene.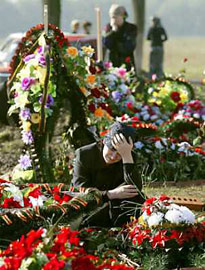 Relatives of killed hostages grieve over their graves in the town of Beslan, September 8, 2004. [Reuters]

"I promise that in the next two days there will be an order dismissing all the government," the Kremlin-backed Dzasokhov told the rally.

Over 1,200 people were taken hostage in Beslan, near Chechnya, at least 326 were killed -- half of them children -- and 727 wounded, Prosecutor General Vladimir Ustinov said. Only 210 bodies have been identified.

The broadcast on Russian television of graphic footage filmed by militants inside the school added to the horror as Beslan residents prepared to bury more dead.

The pictures showed the school gym littered with what appeared to be bombs and bomb-making equipment and crammed with hostages, watched over by around six of the masked militants, one of whom was heard murmuring, apparently in a Muslim prayer.

Authorities have blamed the hostage crisis on "international terrorists" -- something critics said was a fig leaf to mask the failure of Russia's Chechen policy.

The siege and ensuing battle were the latest in a string of attacks against Russian forces since Aug. 1, when Maskhadov promised a fiercer war against Moscow's rule. His spokesman Zakayev has denied that the group was behind the school siege.

One captured suspect said the hostage-takers numbered around 30, including two women, Ustinov said.

Their leader, whom they referred to as 'the colonel', used brutal methods to keep his own gunmen in line.

When some wavered by asking him why they had taken over the school he shot one dead. He killed two more later by detonating their explosive belts. Ustinov said the militants later tried to rewire their bombs but one exploded, triggering the storming of the school in what security analysts have slammed as a bungled operation.

FUNERALS CONTINUE

In Beslan funerals of the victims continued. Lydia Ormanova, who has already buried her daughter Larisa and granddaughter Julia, found the body of Julia's sister Yana, 12, at the morgue Wednesday, identifying it by her necklace. She was still searching for another granddaughter.

Intyra, 15, who was in the school for the whole of the siege, was still trying to come to terms with the tragedy.

"I used to want to become a teacher but after what happened I could never become that, it's too dangerous," she said. "Now I want to become a doctor so next time I can help people."




Today's Top News
Top World News

Wu Yi: China to go further than WTO promises




Southwest flood death toll reaches 164




Elders' problems centrestage at forum




Concern over mooncake prices




Russia vows to attack 'terror' worldwide




Presidents promote growth with Gabon